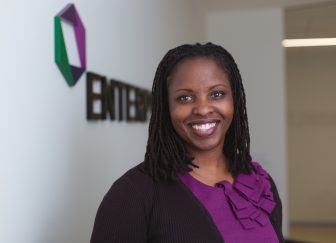 Job Title: Senior Consultant
Where were you before you started working with Enterprise Knowledge?
I spent over 10 years working as an educator in secondary and postsecondary environments and 10 years working in Knowledge Management and Project Management in the federal government and private sectors.
Why did you choose to work for Enterprise Knowledge?
Upon meeting Zach and Joe, I realized that their vision for the company aligned with the type of service I wanted to provide to clients — helping them improve efficiency by employing best practices in managing their organization's information assets.
What type of work do you do at EK?
I provide Knowledge Management consulting; primarily, I work as an expert in Taxonomy Design and Implementation.
What are some of your career highlights?
In 2001-2002, I worked with knowledge leaders in the field of Supply Chain Engineering to build the field's first taxonomy. The taxonomy provided a classification system for organizing 3D videos, drawings and white papers for a corporate knowledge center and would be discussed and utilized by leading supply chain organizations
In 2005, I lead an effort to deploy a new homeland security taxonomy and auto categorization module for a specialized academic digital library.
In 2010 I had the opportunity to lead a team of Culture and language SMEs in building a professional military education training module to help Marine Officers build cultural competency in regions across the globe.
Currently, after leading an integrated project team in building an enterprise taxonomy, I have the opportunity to present the work that was done to a diverse group of senior leaders to promote its widespread adoption and integration with all other enterprise information systems.
Guiding a worldwide publishing company build a taxonomy to classify its educational products and services for the purpose of doing more accurate profit and loss analysis.
What excites you most about your work?
The work I do gives me the opportunity to work with experts in a variety of fields. It is never boring and no two projects are the same. I feel it helps me grow as a professional and as a person.
Why is EK an ideal firm for someone with expertise/skills in your field of work?
EK provides the perfect environment for someone who really believes in knowledge management best practices and seeks to work with other experts in the field. Zach is a well-respected authority in the field and he has created a collaborative environment which helps to foster professional growth and expertise in the field of taxonomy.
What differentiates EK from other consulting companies?
EK is efficient and effective in the ways that we help our clients manage their knowledge. We use best practices and creative strategies to build solutions that will empower our clients to answer business problems. We are different from other IT consulting companies because we foster independence with the solutions we provide.