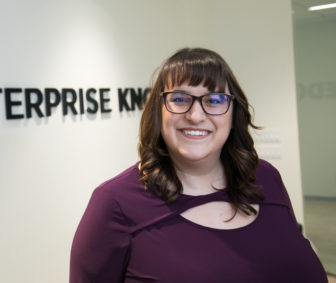 Job Title: Senior Solutions Consultant, Taxonomy & Ontology Design
Where were you before you started working with Enterprise Knowledge?
Before working for Enterprise Knowledge, I was working as an Information Architect for a utility company in Arizona. I began there as a digital library intern and completed my Masters in Library and Information Science (MLIS) while working there.
Why did you choose to work for Enterprise Knowledge?
I wanted a position where I would be working with taxonomies from design through implementation, collaborating with great colleagues and mentors, and be challenged to learn more about various industries, applications of taxonomies, auto-tagging, and knowledge graphs.
What type of work do you do at EK?
I design semantic metadata models, also called Knowledge Organization Systems (KOS) / Taxonomies / Ontologies to support our clients in achieving better knowledge management through search & browsing, overall findability, enterprise AI, etc.
What does a typical day look like for you?
I often have a mix of client-facing work (including status calls, focus groups, and workshops) where we speak with stakeholders and end users to understand their needs and business requirements, and heads-down work such as analyzing content and constructing metadata schemas, which often includes a lot of color-coding spreadsheets!
What are some of your career highlights?
Over the past 3.5 years, I've had the privilege of designing 25+ taxonomies or ontologies across many industries for many different use cases. One of my favorite projects to date was the design of a taxonomy and ontology for normalizing veterinary data, where many of our classes and concepts were describing dogs, cats, and preventative medicines! Another highlight of my career has been speaking at conferences to share my learnings and experiences with others in the industry. I've had the wonderful opportunity to speak at Taxonomy Bootcamp for the past three years in a row, allowing me to grow into a more confident speaker and facilitator (for someone who used to be terrified of public speaking, I think that says a lot!).
What excites you most about your work?
Every client and project brings a new challenge, and a new domain to learn so that I can design a taxonomy or ontology to solve a business need. I love the variety of projects that EK has to offer, from Insurance to Finance to Retail, and from simple taxonomies to ontologies, knowledge graphs, and recommendation engines.
Why is EK the ideal firm for someone with expertise/skills in your field of work?
EK offers a collaborative environment where a taxonomist can work with a team of other taxonomists and varied experts, and also work on a variety of taxonomies in a relatively short time period. From my experience in other organizations, a taxonomist is likely to work solo or on a small team of 2-3 others, and will spend most of their career maintaining the same existing vocabulary. While that can also have immense value and provide learning opportunities for maintaining and growing vocabularies, I prefer the variety that EK projects offer to design multiple, very different taxonomies over time.