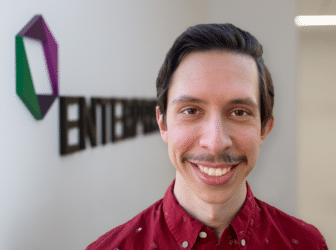 Job Title: Senior Analyst 
Where were you before you started working with Enterprise Knowledge?
Before EK, I worked as a Student Archivist at the University of Washington while I pursued my Masters degree in Library and Information Science (MLIS). 
Prior to enrolling at the University of Washington, I worked as a science communications intern for a contractor with Oak Ridge National Lab, where I had the chance to help their research services team with applying metadata. Upon seeing that I enjoyed and excelled at classifying, sorting, and recording information, one of the research team members suggested I pursue a degree in Library and Information Science. 
Why did you choose to work for Enterprise Knowledge?
Enterprise Knowledge was a great opportunity for me to improve my skills as a taxonomist and learn from peers while doing interesting work. EK provides a lot of resources and peer support for training.
What type of work do you do at EK?
As a Taxonomist, I work with clients to help them create a hierarchical list of terms for finding and presenting information, like how Netflix has genre categories and Amazon has checklists of product types, brand, and features. 
What does a typical day look like for you? 
I do a mix of taxonomy design work and client-facing meetings. My day-to-day tasks often include analyzing client content for key terms and metadata fields and refining taxonomies by adding synonyms, shifting hierarchies, and making other useful edits. I also create materials for and run sessions with potential taxonomy users to walk them through what we've done so far, gather user stories, and hear their feedback. 
What are some of your career highlights? 
The project I'm probably most proud of is one where EK was working with a government telecommunications company to create two taxonomies: one project-specific taxonomy to help the client team track reports, and another, enterprise-wide taxonomy for finding documents across the company. This was one of my earliest projects, and I remember feeling intimidated about constructing these taxonomies. Additionally, two of my teammates were out of office, so I knew I wouldn't be able to get immediate feedback on progress. However, with a bit of help and advice from another colleague (who wasn't even on the project!) I was able to do the content analysis on my own and restructured the entire enterprise-wide taxonomy. I had gone in feeling intimidated and a little concerned, but came out feeling good about the work I did. I gained confidence in my ability and that experience set the stage for future work. I also think my experience on that project is a great example of the supportive environment at EK, where co-workers are always willing to help out, even if they aren't assigned to your project. 
What excites you most about your work?
The work is pretty varied in terms of what subject area the client needs help in. It's always an interesting challenge to come up to speed so that I can help translate the client's technical knowledge into a list of terms that will work for them. I learn a lot from user interviews and other information gathering exercises, while creating something that, at the end of the day, helps people to find and understand their own information better.
What do you enjoy most about working at EK specifically?
The people are pretty great! Coworkers have been quick to help out when I need guidance, whether it be about a quick project question, learning about an unfamiliar topic, understanding a past project, or becoming familiar with new software. And it goes both ways! I know one of my coworkers always pulls in a taxonomist when he needs help thinking of synonyms for report-writing. 
People also recognize when you've done a good job. During our community of practice meetings, there are often shoutouts to folks doing great work. Even if you recently started at EK, people will mention the good work you've done to your practice lead or the CEO.