Curriculum development and knowledge management support to empower findability of learning assets.
Executive coaching and strategic planning for your learning organization.
Architect, develop, and maintain learning technologies to enable performance.
We are leading at the nexus of Learning and Knowledge Management to deliver at the point of need.
Our expert instructional design capabilities will combine with advanced knowledge, information strategy, and leading technologies to help you realize the promise of Enterprise Learning. EK will help you address today's unique business challenges and realize return on investment quickly.
Retention
Retention rates rise 30-50% for companies with strong learning cultures.
Turnover
Organizations with poor onboarding processes are twice as likely to experience employee turnover.
Learning Opportunities
70% of employees would be somewhat likely to leave their current job to work for an organization known for investing in employee development and learning.
Satisfaction
Only 34% of employees are very satisfied with their job-specific training even though 41% of them consider it to be very important.
Foster Your Learning Culture With EK
While the demand for online and blended learning is at an all-time high, many organizations are struggling with this shift. EK experts will guide your organization through digital transformation, providing full-lifecycle Enterprise Learning consulting from strategy to design, through implementation, encompassing all industry-leading learning technologies. Enterprise Knowledge's proprietary framework focuses on the organization's goals and values, culture, core competencies, performance management, knowledge management, training content, and technology. We will partner with you every step of the way to ensure the strategy brings value to the organization's overall goals.
As Your Partner, We Will Help You Make Key Business Changes
Customize and differentiate your curricula with a learning system that leverages and grows the content and knowledge of your workforce.
Track the efficacy and impacts of learning assets on your workforce to put organizational data into action using xAPI.
Utilize AI to enable adaptive learning paths and improve content governance, so employees can more efficiently navigate to the most up-to-date learning assets.
Develop an effective learning environment that reduces time for new hires to become more efficient, comprehensively upskills or reskills current employees, and increases overall retention.
EK's comprehensive view of an organization's training and learning goals looks beyond just the training materials or event, examining the organization's structures and bridging the gaps that inhibit learning.

There is no one-size-fits-all learning solution which is why Enterprise Learning brings together organizational strategy, pedagogically sound instructional design, and forward thinking learning technology to holistically improve learning outcomes for your organization. Big or small, commercial or governmental, enterprise-wide or group-based, EK possesses the knowledge, expertise, and resources to transform the way your organization learns.
Not sure where to get started? Explore some of our initial strategy and assessment offerings, or contact us now to begin the conversation.
Digital Training Accelerator Workshop
Our hands-on three-day Digital Training Accelerator Workshop is an opportunity to upskill your entire digital learning environment workforce. Offered to HR professionals, LMS administrators, L&D managers, and C-Level leadership, the workshop is a high impact, focused opportunity to work as a team to create a digital learning and content strategy transformation framework. EK's Enterprise Learning experts will:
Facilitate a series of cross-functional working sessions to map the current learning landscape including your organization's people, content, and technology.
Empower participants with learning and knowledge management best practices and processes that can be leveraged or refined to support your business needs.
Discover your organization's unique learning gaps, challenges, and inhibitors that have an impact on performance and goals.

Establish a customized communications plan to drive the transformation and engage your critical stakeholders.
Upon workshop completion, EK will provide your team with a comprehensive report documenting workshop findings and recommendations that your organization can use as a step for achieving your training and content goals.
Enterprise Learning Assessment and Strategy
The current state of the world has shifted. Internal and external technological, learning, and knowledge management needs have skyrocketed in a short span of time. Remote employees are away from colleagues' offices, leaving their tacit and implicit knowledge unstructured and siloed. Organizations need to adapt quickly to stay relevant and competitive. The light in the tunnel is the digital transformation.
Over the course of the analysis, our experts will work alongside your team to determine the best route toward an improved digital learning and knowledge management solution. EK's hybrid approach to analysis will result in an enterprise-wide evaluation of your organization's learning landscape.
Enterprise Knowledge utilizes its signature Enterprise Learning benchmarking tool to rapidly assess the efficacy of the organization's learning landscape. The benchmark evaluates five factors: an organization's People, Instructional and Competency Frameworks, Instructional Processes, Educational Technology, and Business and Culture. Under these analysis categories are over 30 indicators, each with its own success criteria. This benchmarking tool enables EK to promptly understand the business drivers and organizational context that necessitate a training plan to close competency and skills gaps.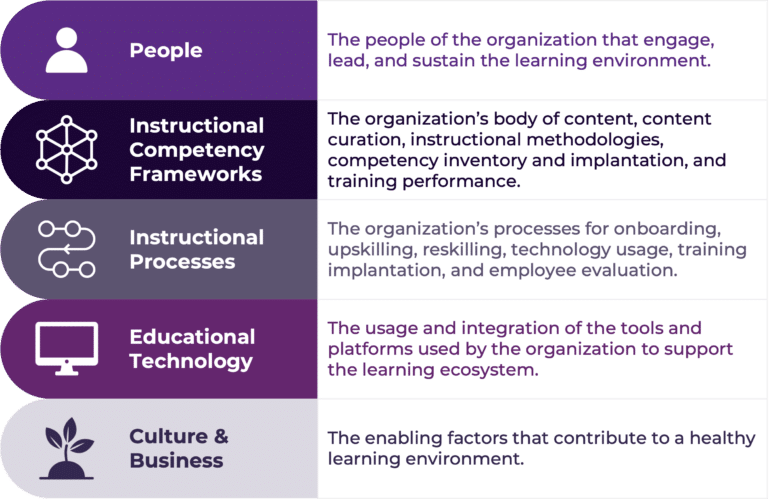 Our analysis will produce a comprehensive inventory and assessment of employee competencies and skills, a report on the current state of your organization's KM and L&D landscape, and a future state roadmap. It will deliver a detailed and immediately actionable plan, ensuring your organization can make immediate progress, demonstrate business value, and progress toward an Enterprise Learning transformation.
Implementing Your Enterprise Learning Strategy
Once you know where you are and where you want to be, our experts will partner with you to complete your Enterprise Learning transformation. Our consultants bridge project management, learning, KM, and technologies to deliver your transformation and realize your goals. We will work with you to deploy the right expertise and solutions, on your schedule, and matching your business model. Our instructional design services will help you plan, design, implement, and execute the full range of learning solutions, including in person and eLearning design and development, social learning strategy and implementation, and knowledge management to enable the findability and discoverability of learning assets. Our organizational planning services will guide your creation of competencies and skills and ensure you have the right people in the right places to be successful. Bringing it all together, our learning technologies services will deliver the complete set of learning solutions, ranging from Learning Management Systems and Learning Experience Platforms, through simulators and virtual reality, as well as gamification engines, and mobile applications.