Virtual and onsite training, competency assessment, and evaluation.
Microlearning and social learning to improve workforce performance.
Content and metadata expertise to enable learning asset findability and reuse.
At the core of our Enterprise Learning capabilities, our Instructional System Design and Support Services focus on getting the right learning opportunities to those who need them within the organization. Our Instructional System Design approach begins with developing a comprehensive understanding of learning goals both from the perspective of the organization and the learner. We recognize there is a myriad of options to achieve learning objectives, so we work in a highly collaborative manner with stakeholders to ensure we apply the right approaches to match the unique needs, goals, and culture of both the learner and their organization while working within any organizational and budgetary constraints.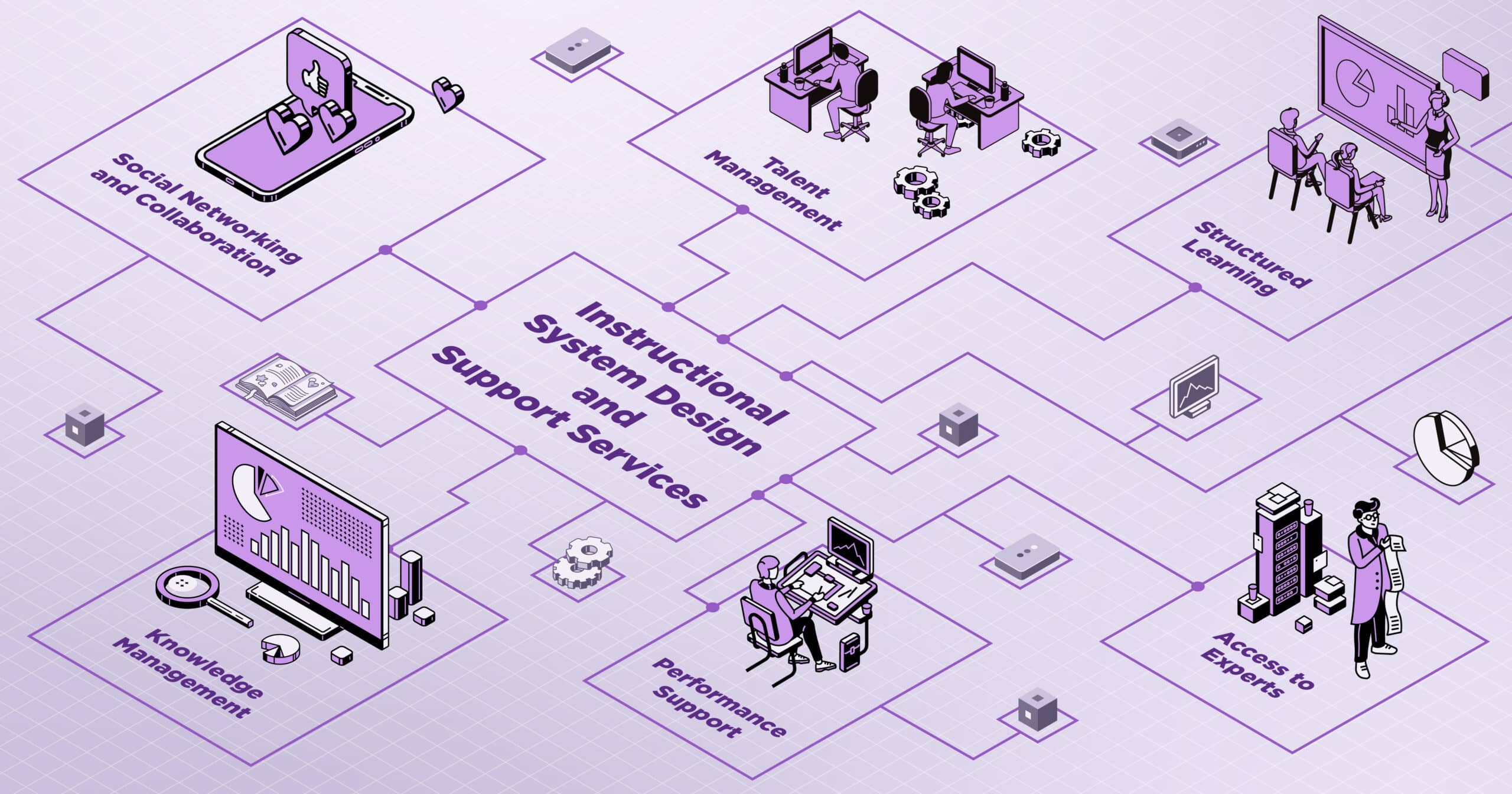 Formal Learning Design and Development
We offer a complete range of formal learning design and development services, including:
Training Design and Development – Design, development, and delivery of event-based webinars and courses (virtual or onsite).
eLearning Design and Development – Design and development of eLearning content including SCORM compliant content for an organization's learning management system (LMS).
Assessment Design and Development – Design and development of assessments to measure skills and knowledge mastery as well as learning material efficacy.
Informal Learning Design and Development
We consider and leverage the complete learning ecosystem in our support of individual and organizational learning goals. Our informal learning design and development services include:
Activity-based Learning Design and Development – Design, development, and delivery of microlearning content, leveraging an activity-based instructional strategy as well as xAPI/LRS to capture data about activity-based learning.
Performance Support – Design and development of job aides, in-app guidance, chatbots, knowledge bases, and intranets to improve workplace performance.
Social Learning Support – Instructional design and implementation for communities of learning (enabling technologies that include Slack and online forums) as well as collaborative knowledge building (enabling technologies that include wikis and learner feedback on learning assets).
Instructional Media Development – Pedagogically sound instructional video and infographic development.
Knowledge Management Enablement for Learning
At EK, we see Knowledge Management (KM) and Enterprise Learning as two highly complementary and often overlapping disciplines. KM can help make learning content findable, can identify gaps in your organization's knowledge, and can actively promote the creation of new learning content and systems. Our KM Enablement services for learning include:
Instructional Taxonomy & Ontology Design – Metadata strategy to enable the findability & discoverability of diverse instructional assets. Typical instructional taxonomies include learner/audience, level of proficiency, and competency and/or task.
Instructional Content Strategy – Gap analysis aligned to the instructional taxonomy and competencies (i.e. what content exists to teach each competency/skill at the desired proficiency level); Content creation and maintenance planning to close content gaps and update content.
Instructional Content Governance – Content, taxonomy, search, and system governance planning aligned to knowledge and content management best practices.
Core Capabilities
Training Needs and Gap Analysis
Course Design and Development
Curriculum Design and Documentation
Video/Audio Scripts and Production
Learning Experience Design
Personnel
Instructional Designers
Learning Experience Designers
Enterprise Learning Strategists
Talent Managers
Deliverables
Instructor-Led Training
eLearning Modules
Curriculum and Training Plans
Instructional Taxonomies and Ontologies
Content Strategy and Governance Plans