Though their official title is consultant, we more often refer to our team members as Rock Stars or Superheroes.  Our team members represent a diverse array of experiences, backgrounds, and areas of interest.  
They each bring their own unique perspectives and backgrounds to EK, but they share a passion for learning and partnering with our clients.  They each exemplify the expertise, commitment, and spirit of collaboration that makes EK what it is.
Though we pride ourself on the fact that no two days are often the same, below, we've captured some of our Rock Stars' stories.
Angela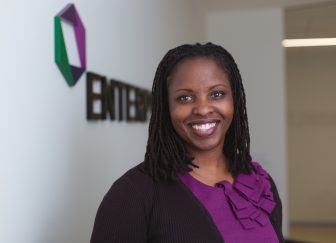 Job Title: Senior Consultant
Where were you before you started working with Enterprise Knowledge?
I spent over 10 years working as an educator in secondary and postsecondary environments and 10 years working in Knowledge Management and Project Management in the federal government and private sectors.
Why did you choose to work for Enterprise Knowledge?
Upon meeting Zach and Joe, I realized that their vision for the company aligned with the type of service I wanted to provide to clients — helping them improve efficiency by employing best practices in managing their organization's information assets.
What type of work do you do at EK?
I provide Knowledge Management consulting; primarily, I work as an expert in Taxonomy Design and Implementation.
What are some of your career highlights? 
In 2001-2002, I worked with knowledge leaders in the field of Supply Chain Engineering to build the field's first taxonomy.  The taxonomy provided a classification system for organizing 3D videos, drawings and white papers for a corporate knowledge center and would be discussed and utilized by leading supply chain organizations
In 2005, I lead an effort to deploy a new homeland security taxonomy and auto categorization module for a specialized academic digital library.
In 2010 I had the opportunity to lead a team of Culture and language SMEs in building a professional military education training module to help Marine Officers build cultural competency in regions across the globe.
Currently, after leading an integrated project team in building an enterprise taxonomy, I have the opportunity to present the work that was done to a diverse group of senior leaders to promote its widespread adoption and integration with all other enterprise information systems.
Guiding a worldwide publishing company build a taxonomy to classify its educational products and services for the purpose of doing more accurate profit and loss analysis.
What excites you most about your work?
The work I do gives me the opportunity to work with experts in a variety of fields.  It is never boring and no two projects are the same.  I feel it helps me grow as a professional and as a person.
Why is EK an ideal firm for someone with expertise/skills in your field of work?
EK provides the perfect environment for someone who really believes in knowledge management best practices and seeks to work with other experts in the field.  Zach is a well-respected authority in the field and he has created a collaborative environment which helps to foster professional growth and expertise in the field of taxonomy.
What differentiates EK from other consulting companies?
EK is efficient and effective in the ways that we help our clients manage their knowledge.  We use best practices and creative strategies to build solutions that will empower our clients to answer business problems. We are different from other IT consulting companies because we foster independence  with the solutions we provide.
Ben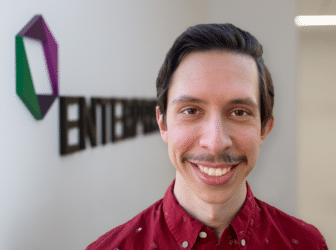 Job Title: Senior Analyst 
Where were you before you started working with Enterprise Knowledge?
Before EK, I worked as a Student Archivist at the University of Washington while I pursued my Masters degree in Library and Information Science (MLIS). 
Prior to enrolling at the University of Washington, I worked as a science communications intern for a contractor with Oak Ridge National Lab, where I had the chance to help their research services team with applying metadata. Upon seeing that I enjoyed and excelled at classifying, sorting, and recording information, one of the research team members suggested I pursue a degree in Library and Information Science. 
Why did you choose to work for Enterprise Knowledge?
Enterprise Knowledge was a great opportunity for me to improve my skills as a taxonomist and learn from peers while doing interesting work. EK provides a lot of resources and peer support for training.
What type of work do you do at EK?
As a Taxonomist, I work with clients to help them create a hierarchical list of terms for finding and presenting information, like how Netflix has genre categories and Amazon has checklists of product types, brand, and features. 
What does a typical day look like for you? 
I do a mix of taxonomy design work and client-facing meetings. My day-to-day tasks often include analyzing client content for key terms and metadata fields and refining taxonomies by adding synonyms, shifting hierarchies, and making other useful edits. I also create materials for and run sessions with potential taxonomy users to walk them through what we've done so far, gather user stories, and hear their feedback. 
What are some of your career highlights? 
The project I'm probably most proud of is one where EK was working with a government telecommunications company to create two taxonomies: one project-specific taxonomy to help the client team track reports, and another, enterprise-wide taxonomy for finding documents across the company. This was one of my earliest projects, and I remember feeling intimidated about constructing these taxonomies. Additionally, two of my teammates were out of office, so I knew I wouldn't be able to get immediate feedback on progress. However, with a bit of help and advice from another colleague (who wasn't even on the project!) I was able to do the content analysis on my own and restructured the entire enterprise-wide taxonomy. I had gone in feeling intimidated and a little concerned, but came out feeling good about the work I did. I gained confidence in my ability and that experience set the stage for future work. I also think my experience on that project is a great example of the supportive environment at EK, where co-workers are always willing to help out, even if they aren't assigned to your project. 
What excites you most about your work?
The work is pretty varied in terms of what subject area the client needs help in. It's always an interesting challenge to come up to speed so that I can help translate the client's technical knowledge into a list of terms that will work for them. I learn a lot from user interviews and other information gathering exercises, while creating something that, at the end of the day, helps people to find and understand their own information better.
What do you enjoy most about working at EK?
The people are pretty great! Coworkers have been quick to help out when I need guidance, whether it be about a quick project question, learning about an unfamiliar topic, understanding a past project, or becoming familiar with new software. And it goes both ways! I know one of my coworkers always pulls in a taxonomist when he needs help thinking of synonyms for report-writing. 
People also recognize when you've done a good job. During our community of practice meetings, there are often shoutouts to folks doing great work. Even if you recently started at EK, people will mention the good work you've done to your practice lead or the CEO. 
Jenni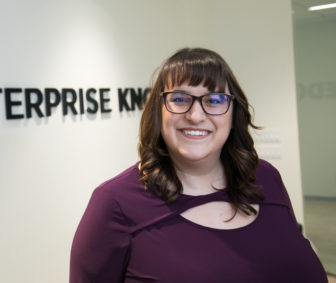 Job Title: Senior Solutions Consultant, Taxonomy & Ontology Design
Where were you before you started working with Enterprise Knowledge?
Before working for Enterprise Knowledge, I was working as an Information Architect for a utility company in Arizona. I began there as a digital library intern and completed my Masters in Library and Information Science (MLIS) while working there.
Why did you choose to work for Enterprise Knowledge? 
I wanted a position where I would be working with taxonomies from design through implementation, collaborating with great colleagues and mentors, and be challenged to learn more about various industries, applications of taxonomies, auto-tagging, and knowledge graphs. 
What type of work do you do at EK? 
I design semantic metadata models, also called Knowledge Organization Systems (KOS) / Taxonomies / Ontologies to support our clients in achieving better knowledge management through search & browsing, overall findability, enterprise AI, etc. 
What does a typical day look like for you?
I often have a mix of client-facing work (including status calls, focus groups, and workshops) where we speak with stakeholders and end users to understand their needs and business requirements, and heads-down work such as analyzing content and constructing metadata schemas, which often includes a lot of color-coding spreadsheets! 
What are some of your career highlights? 
Over the past 3.5 years, I've had the privilege of designing 25+ taxonomies or ontologies across many industries for many different use cases. One of my favorite projects to date was the design of a taxonomy and ontology for normalizing veterinary data, where many of our classes and concepts were describing dogs, cats, and preventative medicines! Another highlight of my career has been speaking at conferences to share my learnings and experiences with others in the industry. I've had the wonderful opportunity to speak at Taxonomy Bootcamp for the past three years in a row, allowing me to grow into a more confident speaker and facilitator (for someone who used to be terrified of public speaking, I think that says a lot!). 
What excites you most about your work?
Every client and project brings a new challenge, and a new domain to learn so that I can design a taxonomy or ontology to solve a business need. I love the variety of projects that EK has to offer, from Insurance to Finance to Retail, and from simple taxonomies to ontologies, knowledge graphs, and recommendation engines.
Why is EK the ideal firm for someone with expertise/skills in your field of work?
EK offers a collaborative environment where a taxonomist can work with a team of other taxonomists and varied experts, and also work on a variety of taxonomies in a relatively short time period. From my experience in other organizations, a taxonomist is likely to work solo or on a small team of 2-3 others, and will spend most of their career maintaining the same existing vocabulary. While that can also have immense value and provide learning opportunities for maintaining and growing vocabularies, I prefer the variety that EK projects offer to design multiple, very different taxonomies over time.
Guillermo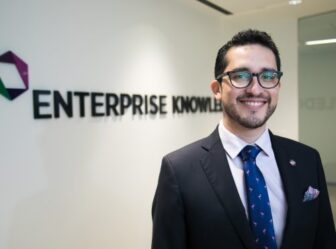 Job Title: Senior Consultant, Knowledge Management 
Where were you before you started working with Enterprise Knowledge?
My first job out of Library school was working as the Knowledge Manager for a professional association. In that role, I redesigned metadata schemes and corresponding taxonomies for public digital resources to improve their findability. I also managed search interfaces to help ensure members could find the resources they needed and facilitated a lot of internal knowledge sharing.
Why did you choose to work for Enterprise Knowledge?
I first heard about EK when I started working in the knowledge management (KM) field. I kept seeing EK everywhere – at meetups, doing presentations at KM World, authoring KM blogs and articles, and more. I particularly remember hearing EK's Technology Solutions practice lead, Rebecca, talking about EK's work with the National Park Service and thinking how fun and interesting such a project was. I recognized EK as a place where I could pursue a career in the field of KM and have the opportunity to learn and grow professionally. Ultimately, the combination of work in the KM field and the company culture is what drove my decision to join EK.
What type of work do you do at EK?
Enterprise Knowledge gives me the opportunity to wear many hats. As a Senior Consultant, my main role is to operate as a subject matter expert in the field of knowledge management (KM), and I use my expertise to help clients solve challenges around finding their content, preserving lessons learned, spurring innovation, and sharing information with each other. Most of my projects revolve around KM strategy, so I also help our clients understand how knowledge management aligns to their wider objectives, and define the steps to help them get to where they want to be.
What does a typical day look like for you? 
My work days often consist of two main 'categories' of work: 1) analysis and discovery, and 2) synthesizing and presenting findings. I facilitate conversations to gain an appreciation of our clients' needs and priorities, and then collaborate with the rest of the EK team to plan our work, identify which stakeholders we need to follow up with, and analyze outcomes from focus sessions. 
When it comes to synthesizing and presenting our findings, I help the EK team distill information from focus sessions into clear findings and present them in a way that is not only quickly understandable, but also draws a clear relationship between KM activities and our clients' business needs. I then help make recommendations that build on the unique culture, business priorities, and technologies of the client to provide the outcomes that the client needs and wants.
What are some of your career highlights? 
In 2019 I worked with one of the world's most prominent banking institutions to define a knowledge management strategy for the entire organization. This project was one of my favorites because the EK team had a chance to do a deep dive into each of the client's 24 business areas. It was a unique opportunity to interact with world-renowned experts in their respective fields and learn how the organization as a whole worked. It was also very rewarding to know that EK's KM strategy recommendation would have a very tangible and global impact. 
A second highlight that comes to mind is a project where EK worked with a telecommunications company that was looking to start their knowledge management program from the ground up. It was an exciting opportunity to help a client define what KM would look like for their organization from the get-go. This project was a lot of fun because EK was able to help the organization in defining and planning for an ambitious project with multi-year targets.
What excites you most about your work?
There are three things that come to mind here: problem-solving, helping our clients and their staff by improving their KM practices, and working with really brilliant people (both EKers and clients!). Each project brings its own challenges, and it's a joy to work with a team of experts to come up with a KM solution that helps people find the resources they need.
Why is EK an ideal firm for someone with expertise/skills in your field? 
Simply put, EK is the best in the field of knowledge management! But, as someone who knew they wanted to pursue a career in knowledge management, EK is an ideal firm because it is full of kind, generous, and intelligent people who will push you to keep learning and support you in your career growth.