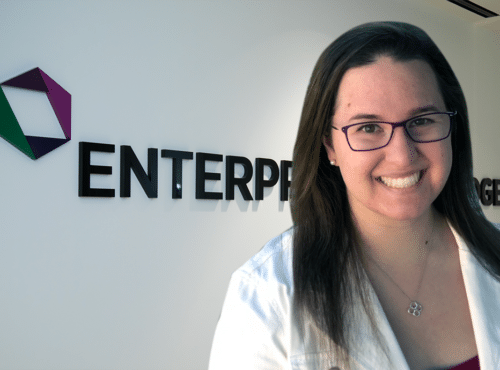 Job Title: Consultant
Where were you before you started working with Enterprise Knowledge?
Prior to joining EK, I worked in local government as the Records, Licensing, and Data Coordinator for a municipality.
Why did you choose to work for Enterprise Knowledge?
When selecting my next position after graduate school, I knew I wanted to be at the intersection of business and technology, specifically in the data space. After learning more about the culture at EK and the ability I'd have to chart my own professional path, I knew it was a place I could thrive.
What type of work do you do at EK?
Working with both public and private sector clients, my role sits at the intersection of data engineering and business/technical analysis. I facilitate sessions to understand our clients' needs, as well as develop and implement a variety of data solutions from governance and strategy plans to data catalogs and advanced knowledge graph solutions. Supporting the technical side of these implementations as well, I engage with ETL and data mapping activities as well as data quality, reporting, and analysis work.
What does a typical day look like for you?
My days are a combination of client-facing sessions to drive the development and adoption of our solutions and technical implementation work.
What are some of your career highlights?
I'll describe my highlights from two angles–client work and my interactions with the knowledge management community at large.
Throughout my time at EK, I've been fortunate to work on many types of projects. What never fails to be a highlight is hearing about how our work makes our clients' lives easier. We get to know the clients we work with well throughout an engagement. So, professionally speaking, not much beats hearing that your code is in production and already clarifying and simplifying things for them.

As for my interactions with the Knowledge Management (KM) community at large, speaking at conferences and leading workshops every year have definitely been highlights for me. Getting exposure to other KM thought leaders and having the opportunity to share what I have been working on, whether it's explaining how to get started with a data catalog or how to leverage machine learning to take a knowledge graph to the next level, is truly an invaluable experience.
What excites you most about your work?
My job is to essentially drop into our clients' worlds, understand their challenges and the way they currently operate, and develop and implement solutions that solve their very real problems. This ability to go behind the scenes and effect real productive change, and the creativity it involves, is what excites me most about my work.
What do you enjoy most about working at EK specifically?
EK empowers its employees to flourish, and I feel heard when talking about my professional goals. The leadership team has also cultivated an extremely collaborative, supportive environment where, even if someone isn't on my specific project team, they'll take the time to help me however they can. I enjoy how we're all constantly learning from each other.
Why is EK an ideal firm for someone with expertise/skills in your field?
EK is an ideal place for someone in my field not just because of the variety of projects we get to work on (it's never boring!), but because we are thought leaders in the knowledge graph space and actively utilize cutting-edge technology in the data solutions we develop. EK asks "What's the best way to solve this problem" and doesn't settle for "This is how it has always been done."