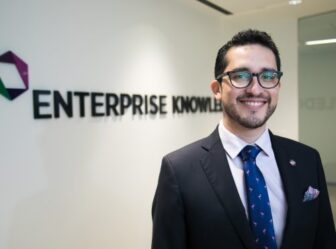 Job Title: Senior Consultant, Knowledge Management
Where were you before you started working with Enterprise Knowledge?
My first job out of Library school was working as the Knowledge Manager for a professional association. In that role, I redesigned metadata schemes and corresponding taxonomies for public digital resources to improve their findability. I also managed search interfaces to help ensure members could find the resources they needed and facilitated a lot of internal knowledge sharing.
Why did you choose to work for Enterprise Knowledge?
I first heard about EK when I started working in the knowledge management (KM) field. I kept seeing EK everywhere – at meetups, doing presentations at KM World, authoring KM blogs and articles, and more. I particularly remember hearing EK's Technology Solutions practice lead, Rebecca, talking about EK's work with the National Park Service and thinking how fun and interesting such a project was. I recognized EK as a place where I could pursue a career in the field of KM and have the opportunity to learn and grow professionally. Ultimately, the combination of work in the KM field and the company culture is what drove my decision to join EK.
What type of work do you do at EK?
Enterprise Knowledge gives me the opportunity to wear many hats. As a Senior Consultant, my main role is to operate as a subject matter expert in the field of knowledge management (KM), and I use my expertise to help clients solve challenges around finding their content, preserving lessons learned, spurring innovation, and sharing information with each other. Most of my projects revolve around KM strategy, so I also help our clients understand how knowledge management aligns to their wider objectives, and define the steps to help them get to where they want to be.
What does a typical day look like for you?
My work days often consist of two main 'categories' of work: 1) analysis and discovery, and 2) synthesizing and presenting findings. I facilitate conversations to gain an appreciation of our clients' needs and priorities, and then collaborate with the rest of the EK team to plan our work, identify which stakeholders we need to follow up with, and analyze outcomes from focus sessions.
When it comes to synthesizing and presenting our findings, I help the EK team distill information from focus sessions into clear findings and present them in a way that is not only quickly understandable, but also draws a clear relationship between KM activities and our clients' business needs. I then help make recommendations that build on the unique culture, business priorities, and technologies of the client to provide the outcomes that the client needs and wants.
What are some of your career highlights?
In 2019 I worked with one of the world's most prominent banking institutions to define a knowledge management strategy for the entire organization. This project was one of my favorites because the EK team had a chance to do a deep dive into each of the client's 24 business areas. It was a unique opportunity to interact with world-renowned experts in their respective fields and learn how the organization as a whole worked. It was also very rewarding to know that EK's KM strategy recommendation would have a very tangible and global impact.
A second highlight that comes to mind is a project where EK worked with a telecommunications company that was looking to start their knowledge management program from the ground up. It was an exciting opportunity to help a client define what KM would look like for their organization from the get-go. This project was a lot of fun because EK was able to help the organization in defining and planning for an ambitious project with multi-year targets.
What excites you most about your work?
There are three things that come to mind here: problem-solving, helping our clients and their staff by improving their KM practices, and working with really brilliant people (both EKers and clients!). Each project brings its own challenges, and it's a joy to work with a team of experts to come up with a KM solution that helps people find the resources they need.
Why is EK an ideal firm for someone with expertise/skills in your field?
Simply put, EK is the best in the field of knowledge management! But, as someone who knew they wanted to pursue a career in knowledge management, EK is an ideal firm because it is full of kind, generous, and intelligent people who will push you to keep learning and support you in your career growth.