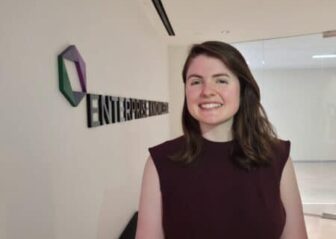 Job Title: KM Analyst
Where were you before you started working with Enterprise Knowledge?
I was finishing up my senior year at Dickinson College, where I majored in Mathematics and Quantitative Economics.
Why did you choose to work for Enterprise Knowledge?
Honestly, it was two things: the company atmosphere and the promise of variety. Throughout the entire application process, from the initial career fair presentation to the final interview, I was blown away by the approachability and sheer intelligence of everyone I spoke to. They all effused about the open and collaborative environment they work in every day at EK, and how each project is just a little bit different, so every day presents a unique set of challenges – you never get bored!
What type of work do you do at EK?
I typically work on projects with a focus on content management or knowledge management (KM) strategy. I interact with clients on a weekly basis, but I do a lot of behind-the-scenes research and support for presentations, proposals, workshops, and reports.
What does a typical day look like for you?
Almost all of my daily tasks require a keen eye for detail. I do a lot of formatting slide decks (PowerPoint presentations), writing reports and proposals, copyediting for other projects, and taking meeting notes. I might meet with a client once or twice a week, but the rest of my time is spent syncing with coworkers and contributing to project deliverables (reports and/or presentations).
What are some of your career highlights?
I really enjoyed working on a project recently where my team and I created a content governance model from scratch for an energy lab; content governance models help establish the roles and responsibilities each team member should play in making sure that content is well-organized and findable, both now and in the future. What made this project unique was that the EK team created a model that cross-referenced content governance with taxonomy governance, allowing the client to interlock and optimize their taxonomy and content teams. I played a key role in the visualization of our content governance model, and had the opportunity to present our work to our KnowDS Practice. It was very rewarding to see our work recognized by not only the client but also within our Practice team.
Another highlight for me was an experience that isn't necessarily related to a specific project, but helped me grow as a professional. Through EK's Training Assistance program, I had the chance to take an Agile and Design Thinking course at the Knowledge Management Institute (KMI). During the course, I had the opportunity to facilitate a small group activity where we created a wireframe for a KM search solution and pitched it to the larger group. It was empowering to be able to contribute value to a session with other KM professionals, some of whom had much more experience than me. I found that I enjoy facilitating these types of working sessions and it sparked my interest in possibly pursuing more facilitation or management roles at EK.
What excites you most about your work?
Because knowledge management is still a relatively new application within the corporate world, a lot of what we do at EK is original – we're able to build things like governance models from scratch, which really exercises our creativity muscles, and we have access to a myriad of experts within EK to learn from and collaborate with. It's a constant learning experience, which is really exciting!
What do you enjoy most about working at EK specifically?
My favorite part about this job is the camaraderie. EK places a lot of emphasis on being a team player and owning your own personal nerdiness, which the company encourages constantly with happy hours on Fridays, occasional after-work events, and just a general social atmosphere at the office. Odds are, you'll find someone who has the same niche interest as you, and there are countless opportunities to form these friendships that then make working on project teams that much easier. Every single employee goes above and beyond to offer their help and expertise, and they're always reachable if you need assistance, even for the tiniest of questions.
What differentiates EK from other consulting companies?
We focus on the people just as much as, if not more than, the technology. It is equally as important to make sure the users of a system or practice are satisfied as it is to create a good general product. We customize our process and recommendations to our client's needs from a people perspective, which always leaves us feeling accomplished and our clients feeling fulfilled.