Requirements gathering, tool selection, and development of learning technologies – and the integrations between them.
Technologies that are able to simulate realistic scenarios on any device.
Personalized learning content and dynamically curated learning paths.
Even the greatest learning materials are worthless if they don't reach the right people. Our Learning Technologies put the learner at the center, creating usable and intuitive systems that allow each individual user to access, consume, and act upon the learning content they need to complete their journey. At the same time, learning technologies should make it easy for the organization to maintain their learning content, easily updating it to reflect rapidly changing organizational environments, and applying advanced analytics to track learner journeys, measure learning content efficacy, and fill learning asset gaps.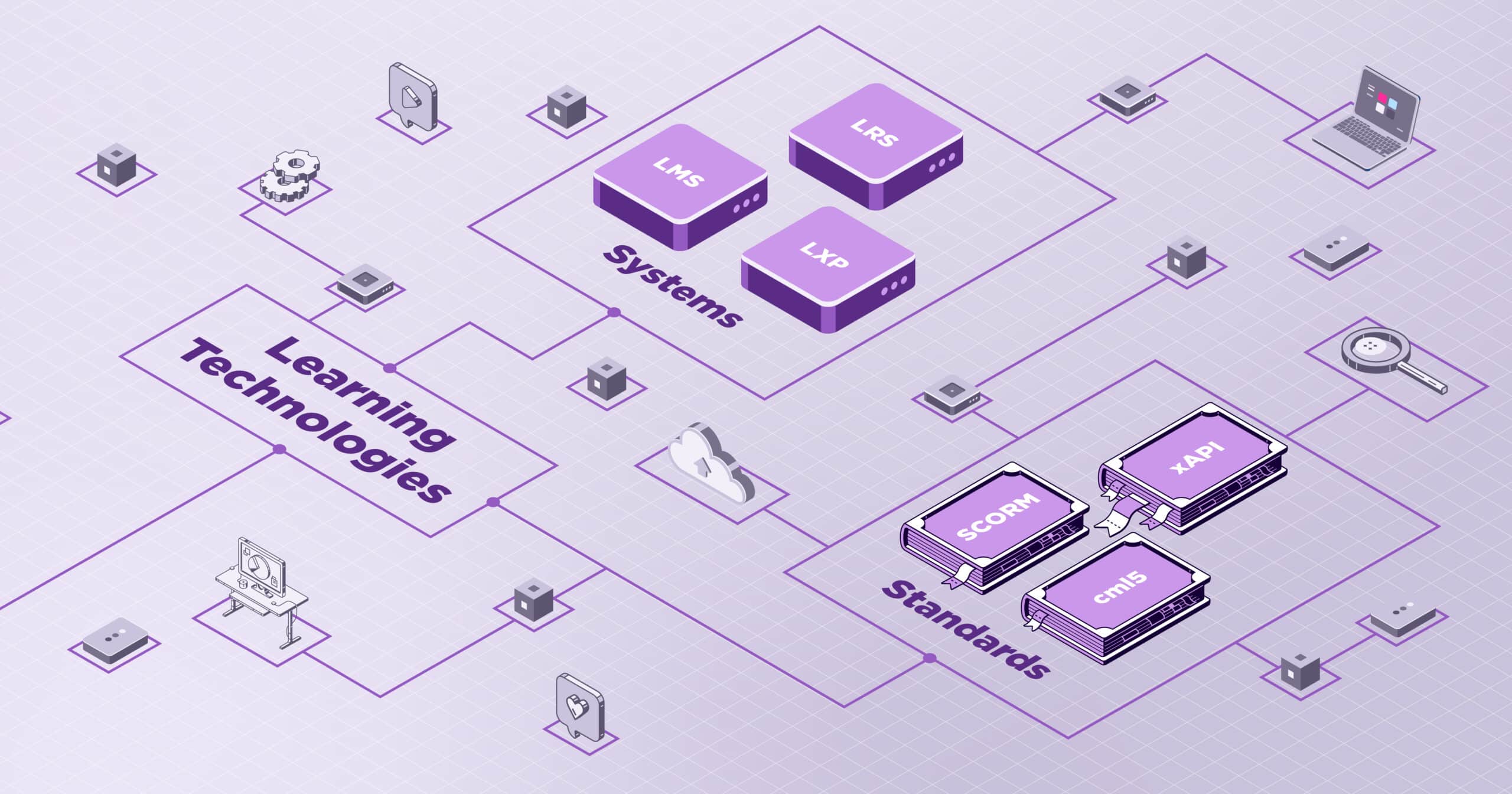 Learning Technology Architecture and Development
Learning technologies present an array of usability, scalability, and interoperability challenges. The technology is rapidly changing, with traditional Learning Management Systems giving way to a host of trending learning technologies including Learning Experience Platforms, immersive learning with VR and AR, gamification and social platforms, and advanced analytics to measure learning efficacy across all of these diverse learning experiences. Our learning technology services can help you approach this field strategically, making the right choices at each stage. Our services include:
Learning Stack Analysis – Audit of existing learning content and technologies weighed against requirements and plans, to define new solution architectures and technology roadmaps.
Software Evaluations and Selection – End-to-end evaluation and selection of learning technologies, including developing prototypes and pilots to guide selections.
Design, Implementation, and Operations – Leveraging our team of solution architects, systems engineers, and Agile specialists, we possess all of the in house expertise to run every stage of the software development lifecycle.
In today's increasingly remote work environment, our advanced learning technologies bring the learning to the learner, delivering learning at the point of need in flexible formats and customized experiences. Our advanced learning services include:
Simulators & Live/Virtual Services – 3D scene visualization databases and enhanced geospatial intelligence data such as maps, imager, and terrain, including man-made and natural cultural features, to recreate any location in a Live/Virtual learning environment which can be loaded into VR/AR equipment for a fully immersible experience.
Gamification & Game Design – Game-based learning experiences that immerse learners in thought-provoking scenarios and purposeful play. Games can be configured for single-player or multiplayer challenges in elearning, virtual, or classroom settings. These games can be custom-built from scratch, based on game templates, or a combination of the two approaches. In addition to creating games, Team EK can assist with the gamification of learning programs and pathways.
Workforce Readiness Mobile Applications – Design and development of mobile applications which support learning and deliver performance support content at the moment of need.
Adaptive Learning and Artificial Intelligence
Leveraging ontologies, knowledge graphs, and AI engines, we can deliver fully customized learning experiences for each individual within your organization. What would historically have required an endless team of learning professionals can now be delivered in an automated fashion, saving the organization's resources while delivering optimized learning at the specific pace, style, and preference of each individual learner. Our Adaptive Learning and AI services include:
Adaptive Learning – Personalize the learning rate, depth of content, repetition, and discovery based upon learner activities and assessed proficiency.
Automated Learning Path Assembly – Automatically construct personalized curricula for each learner based on their goals, assessed proficiency, and role.
Graph Search – Enable natural language querying of diverse learning assets via a single, intuitive experience.
Core Capabilities
Technology Analysis and Implementation
Simulations and Gamification
Mobile Apps
Software Development
Live/Virtual Learning Services
Personnel
Instructional Systems Designers
Learning Solution Architects
Learning Technologists
Deliverables
Technology Current and Future State
Future State Roadmap
Custom Web and Mobile Applications
LMS and LXP Tool Selection and Configuration