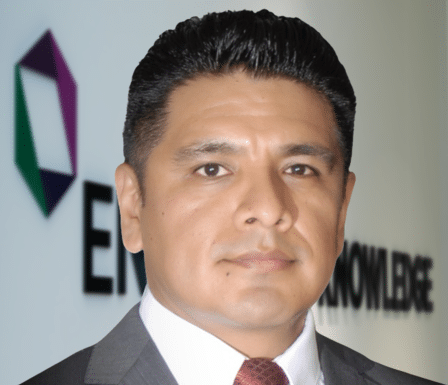 Job Title: Consultant
Where were you before you started working with Enterprise Knowledge?
Before joining EK, I worked in several industries including the public sector, multilateral organizations, and nonprofits. I began my career more than fifteen years ago in my hometown of Mexico City where I worked in libraries and archives dedicated to the preservation and dissemination of the arts, anthropology, and history. Later, I moved to the Washington DC region where I have occupied several knowledge management roles in organizations dedicated to economic development, international finance, medicine, engineering, and the sciences.
Why did you choose to work for Enterprise Knowledge?
The main factor in my decision to apply for a job at EK was curiosity. After relocating to the Washington DC region, it didn't take long for me to hear the name of the company or to see their booth at Knowledge Management conferences. I even had the chance to collaborate with some EKers when a couple of my former employers contracted some EK services.
I was always very impressed by the quality of the EK presentations, the expertise of the consultants, their ability to elicit requirements, their capacity to summarize information, and the quick turnaround. I wanted to know who these people were and how did they manage to be so good in their trade, and in so many domains! When the opportunity arose, of course, I wanted in!
What type of work do you do at EK?
I am a consultant in taxonomies and ontologies. My bread and butter are categories and representation models, in other words, language. My work consists in devising opportunities, developing capabilities, and implementing solutions that address decision-making needs through the right combination of data, information, and knowledge artifacts.
Depending on the client and the type of project, I might create glossaries, curate lists of terms, design metadata schemes, codify enterprise requirements in semantic formats, query graph databases, or create business schemes and diagrams.
What does a typical day look like for you?
My day is usually structured around the needs of my clients. Since my work requires lots of collaboration, dialogue, and interaction, I must be very disciplined and reflect time accurately in my calendar to help me plan my daily goals and deliverables.
Typically, I glance at my calendar the night before to make sure I don't miss any important events the next day. This also helps me determine when it will be more efficient to work from home or the office. Once I login in the morning, I double-check my schedule and allocate time to work offline. Whenever possible, I try to have some buffer time in between meetings to process the information I received, for planning, and reporting.
I appreciate structure and consistency; therefore, my favorite time is when I can sit down to encode ontologies, query knowledge graphs, or populate databases—there's nothing like seeing a set of results that work as expected!
Between meetings and encoding, days go back so quickly!
What are some of your career highlights?
Lately, I have been focused on the development of a semantic model to manage risk in the financial sector. It has been a very rewarding experience where I have been able to expand the realm of my information management expertise and become fluent in a domain previously unknown to me.
What excites you most about your work?
The most exciting aspect of being a knowledge management professional is the opportunity to learn new things constantly: domains, people, technologies, and solutions.
What do you enjoy most about working at EK specifically?
Enterprise Knowledge feels like being at one of those expert annual conferences but we get to experience it every day. It is not just the talent; it is the energy and comradery among the employees. Creativity bleeds off the walls, literally—whiteboard diagrams and marks left from spirited brainstorming sessions; employee pictures from successful events and trips; post-its, crafts, and didactic materials from past facilitation activities; a recipe for a cocktail, a token left from one of the impromptu happy hours on a casual Friday.
Why is EK an ideal firm for someone with expertise/skills in your field?
I always tell the junior employees that EK is the type of company I wish I had as my first job. There is so much going on, always!

In addition to the professional exposure to all types of industries, enterprise issues, and cutting-edge technologies, EK is also a safe space for employees. When we find ourselves challenged and are required to step out of our zone of comfort, managers, supervisors, mentors, and peers constitute a support network that I have not found in any other place. "Fail early"—I've heard our VP say. That's the only way to correct course and grow!