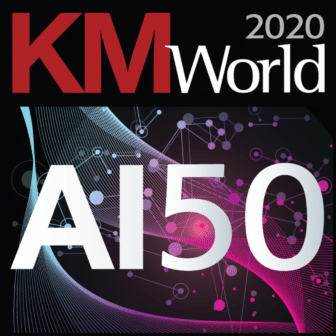 Enterprise Knowledge (EK) has been listed on KMWorld's inaugural list of leaders in Artificial Intelligence, the AI 50: The Companies Empowering Intelligent Knowledge Management. KMWorld developed the list to help shine a light on innovative knowledge management vendors that are incorporating AI and cognitive computing technologies into their offerings.
As a services provider and thought leader in Enterprise AI, Knowledge Management, and Semantic Search, EK is one of the few dedicated services organizations included on the list. EK was uniquely recognized for our leadership in this area, including our AI Readiness Benchmark and range of functional demos that harness knowledge graphs, natural language processing, ontologies, and machine learning tools.
"As the drive for digital transformation becomes an imperative for companies seeking to compete and succeed in all industry sectors, intelligent tools and services are being leveraged to enable speed, insight, and accuracy," said Tom Hogan, Group Publisher at KMWorld.  "To showcase organizations that are incorporating AI and an assortment of related technolo­gies—including natural language processing, machine learn­ing, and computer vision—into their offerings, KMWorld created the "AI 50: The Companies Empowering Intelligent Knowledge Management."
Lulit Tesfaye, EK's Practice Leader for Data and Information Management stated, "We are thrilled for this recognition and extremely proud of the cutting edge solutions we're able to deliver for organizations looking to optimize their data and Knowledge AI initiatives. This recognition demonstrates EK's ability to leverage our real-world experience and define the enterprise success factors for maturity and readiness for AI, bringing the focus back to business values, and the tangible applications of AI for the enterprise. Allowing organizations to go past the common AI limitations is what helps us show where we are leading."
EK CEO Zach Wahl added, "Thanks to KMWorld for this recognition and congratulations to my amazing colleagues for their thought leadership. Alongside our recognition as one of the top 100 Companies That Matter in Knowledge Management for the sixth year in a row, this demonstrates EK's leadership position at the nexus of KM and AI."
About Enterprise Knowledge
Enterprise Knowledge (EK) is a services firm that integrates Knowledge Management, Information Management, Information Technology, and Agile Approaches to deliver comprehensive solutions. Our mission is to form true partnerships with our clients, listening and collaborating to create tailored, practical, and results-oriented solutions that enable them to thrive and adapt to changing needs.
About KMWorld
KMWorld is the leading information provider serving the Knowledge Management systems market and covers the latest in Content, Document and Knowledge Management, informing more than 21,000 subscribers about the components and processes – and subsequent success stories – that together offer solutions for improving business performance.
KMWorld is a publishing unit of Information Today, Inc.