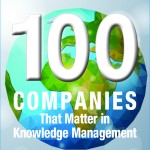 Enterprise Knowledge (EK) has been named to the 17th annual list of KMWorld Magazine's "100 Companies that Matter in Knowledge Management."
This is the second year in a row that EK has made this list of Global Knowledge Management consultancies and solutions providers. EK is recognized for providing end-to-end Knowledge and Information Management solutions focused on providing practical business value.
"Being named to our list of 100 Companies That Matter in Knowledge Management is a prestigious designation because it represents the best in innovation, creativity and functionality," says KMWorld Editor Sandra Haimila. "The 100 Companies offer solutions designed to help users and customers find what they need whenever and wherever they need it, and what they need is the ability to access, analyze and share crucial knowledge."
EK CEO, Zach Wahl stated, "our inclusion on this list is welcome recognition that we're doing things differently. We're focusing on providing real world value and partnering with our clients to ensure their success." Joe Hilger, COO of EK, added, "We're happy to have KMWorld recognize our leadership in the knowledge and information management services field."
About Enterprise Knowledge
Enterprise Knowledge (EK) is a services firm that integrates Knowledge Management, Information Management, Information Technology, and Agile Approaches to deliver comprehensive solutions. Our mission is to form true partnerships with our clients, listening and collaborating to create tailored, practical, and results-oriented solutions that enable them to thrive and adapt to changing needs.
Our core services include strategy, design, and development of Knowledge and Information Management systems, with proven approaches for Taxonomy Design, Project Strategy and Road Mapping, Brand and Content Strategy, Change Management and Communication, and Agile Transformation and Facilitation. At the heart of these services, we always focus on working alongside our clients to understand their needs, ensuring we can provide practical and achievable solutions on an iterative, ongoing basis.
About KMWorld
KMWorld (www.kmworld.com) is the leading information provider serving the Knowledge Management systems market and covers the latest in Content, Document and Knowledge Management, informing more than 30,000 subscribers about the components and processes – and subsequent success stories – that together offer solutions for improving business performance.
KMWorld is a publishing unit of Information Today, Inc. (www.infotoday.com)