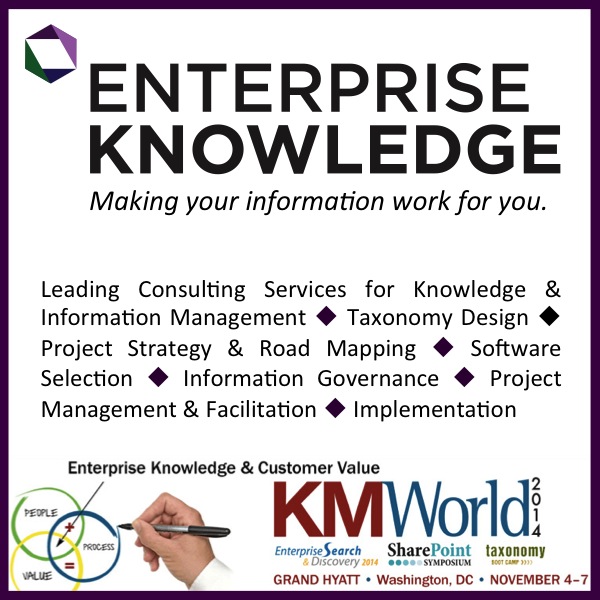 Enterprise Knowledge, LLC today announced that they will be Platinum Sponsors for this year's KMWorld Conference.  Enterprise Knowledge (EK) is a leading provider of knowledge management, Agile project management, information management strategy, and taxonomy consulting services to the public and private sectors.
Enterprise Knowledge Founder and Principal Zach Wahl noted, "Thought leadership is a guiding principle on which EK was founded.  Our sponsorship at KMWorld continues this tradition.  We're excited to be an active participant at this great event and to share our deep Knowledge Management consulting experience."  EK Principal Joe Hilger added, "KMWorld is the premier conference for KM solutions.  We are excited to have this platform to share our KM solutions with KMWorld attendees."
In addition to sponsoring, EK team members will be speaking throughout KMWorld and the related events.  EK will also be hosting a booth during KMWorld's Enterprise Solutions Showcase.  KMWorld 2014 will be held November 4 – 7, 2014 at the Grand Hyatt Washington, Washington, DC.  This year's central theme is "Enterprise Knowledge & Customer Value."  For more information, click here.
About KMWorld
KMWorld (www.kmworld.com) is the leading information provider serving the Knowledge Management systems market and covers the latest in Content, Document and Knowledge Management, informing more than 40,000 subscribers about the components and processes – and subsequent success stories – that together offer solutions for improving business performance. KMWorld is a publishing unit of Information Today, Inc. (www.infotoday.com).
About Enterprise Knowledge, LLC
Enterprise Knowledge, LLC is a consulting firm that helps organizations better capture, manage, present, and leverage their information.  We operate globally, throughout the public and private sectors to help organizations get the most out of their people and their information.  Through knowledge and information management, taxonomy design, project management, and application development, we provide practical solutions with the goal of ensuring your organization's information can be found, used, and reused, providing the greatest returns and satisfaction for your customers and employees.