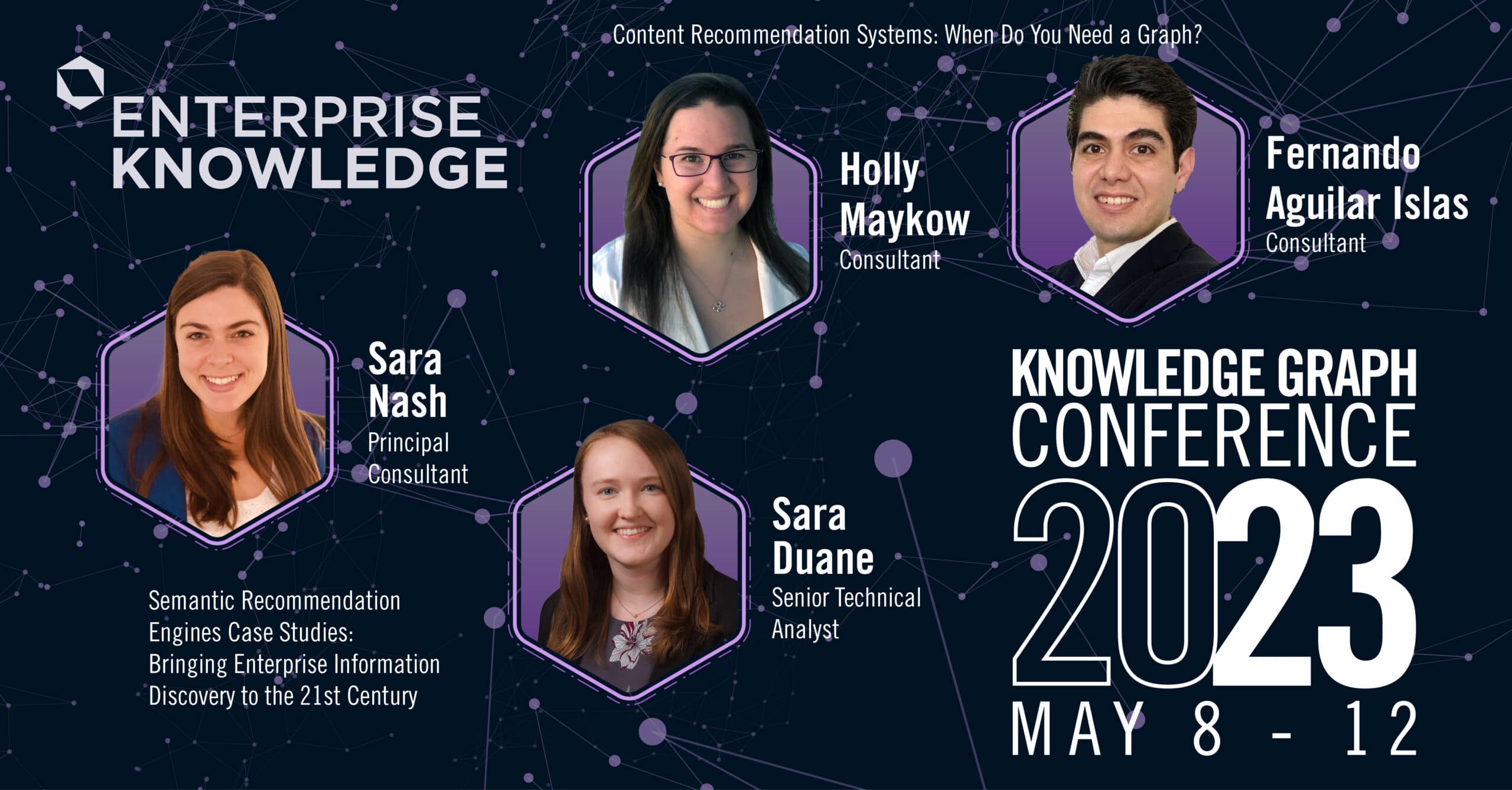 Enterprise Knowledge (EK) is leading two sessions at the upcoming Knowledge Graph Conference (KGC) 2023, to be held both virtually and in-person at Cornell Tech in New York City from May 8th to May 12th. KGC 2023 will be covering a multitude of topics related to knowledge graph technologies through workshops, tutorials, and conference sessions.
Principal Consultant Sara Nash and Senior Technical Analyst Sara Duane will be leading 'Semantic Recommendation Engines Case Studies: Bringing Enterprise Information Discovery to the 21st Century'. As many large platforms struggle to provide their employees and customers with easy content and information discovery, they are turning to semantic recommendation engines to solve this challenging problem. In their presentation, Nash and Duane will highlight the importance of enterprise semantic recommendation engines, a clear approach for establishing a recommender, and the best practice for successful implementation by sharing case studies and lessons learned. 
Holly Maykow and Fernando Aguilar Islas, both Consultants at EK, will also be discussing recommender systems, diving into the question 'Content Recommendation Systems: When Do You Need a Graph?' Their presentation will focus on the business use case of a leading national learning management system (LMS) in the healthcare industry using a recommender system to navigate boundless information on the Internet. Aguildar Islas and Maykow will provide listeners with an overview of common problems and the solution architecture, including technical dives into NLP taxonomy enrichment, knowledge graph development, and recommender logic.