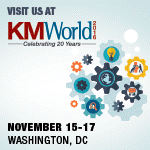 For the past two years, Enterprise Knowledge has been recognized by KMWorld Magazine as one of the top 100 companies that matter in Knowledge Management. This year, EK will be sponsoring the 2016 KMWorld Knowledge Management and Enterprise Solution Conference. The event will be held on November 14-17, 2016 at the JW Marriott at 1331 Pennsylvania Avenue NW Washington, DC 20004.
The conference's theme, Hacking KM: People, Processes, & Technologies, will look at novel ways to support knowledge sharing and organizational culture. It will examine processes and technology to foster collaboration between self-organizing and cross-functional teams to promote early delivery and stimulate innovation, continuous improvement, and encourage rapid and flexible response to change.
The Enterprise Solutions Showcase is a one-stop shop for serious buyers to meet with vendors offering knowledge management, content management, enterprise search, and SharePoint-related products & services. If you are looking for a particular product, evaluating completing systems, or keeping up with the latest trends and developments, be sure to visit the Enterprise Solutions Showcase where you can find the Enterprise Knowledge team at Booth 311. Find EK by using the 2016 Floor Plan.
Follow the event via Twitter using @KMWorld.
About Enterprise Knowledge
Enterprise Knowledge (EK) is a services firm that integrates Knowledge Management, Information Management, Information Technology, and Agile Approaches to deliver comprehensive solutions.  Our mission is to form true partnerships with our clients, listening and collaborating to create tailored, practical, and results-oriented solutions that enable them to thrive and adapt to changing needs.
Our core services include strategy, design, and development of Knowledge and Information Management systems, with proven approaches for Taxonomy Design, Project Strategy and Road Mapping, Brand and Content Strategy, Change Management and Communication, and Agile Transformation and Facilitation.  At the heart of these services, we always focus on working alongside our clients to understand their needs, ensuring we can provide practical and achievable solutions on an iterative, ongoing basis.