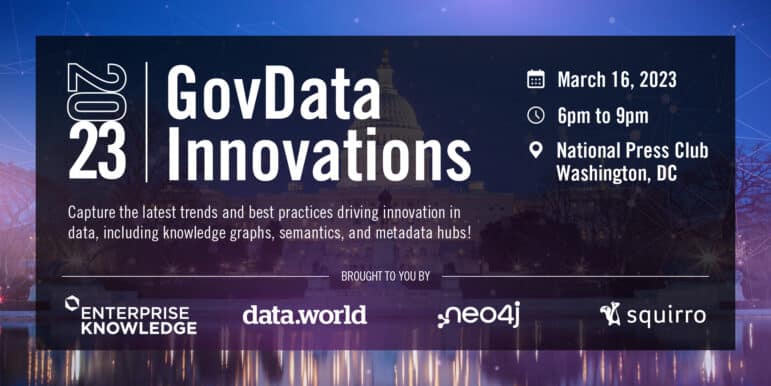 Enterprise Knowledge is excited to be hosting the upcoming GovData Innovations Summit, where we will convene industry thought leaders and government executives to discuss the latest trends and best practices driving innovation in data, including knowledge graphs, semantics, and metadata hubs.
This is an invite-only event. To express interest or to request an advance or follow-up briefing, please email or use our contact form:
Special thanks to our cosponsors for this event, three market leaders in advanced data and knowledge solutions, data.world, Neo4j, and Squirro.
This event will be held on March 16th from 6pm to 9pm at the National Press Club in Washington, DC.
The Keynote Speaker for GovData Innovations 2023 on March 16th in Washington, DC will be Zach Whitman, Chief Data Officer for the U.S Census Bureau.
Zachary Whitman has been leading the Census Bureau's data transformation and fulfilling the agency's strategic objectives for improved stakeholder engagement through more relevant data, crafting a data culture of innovation, and modernizing the government's largest data portal to enhance user experience and data reliability.
---
In addition to the keynote, Anthony Zech, Data and AI Community of Excellence Director at ECS will sit down with EK's Chief Operating Officer Joe Hilger to discuss, "Dream Data Mesh Model – Creating Solutions to Define What."
Anthony (Tony) Zech is the Data and AI Community of Excellence Director at ECS and a Marine Reservist. Tony Zech oversees ECS's Community of Practice for Data and AI and supports ECS's many customers with advanced data management solutions. Most recently, Tony presented "Building the AI-Powered Information Enterprise at last February's Potomac Officers Club Artificial Intelligence Summit.
---
Agenda:
7:00 – 7:05 pm Opening Remarks by Zach Wahl (EK CEO) and Joe Hilger (EK COO)
7:05 – 7:20 pm Keynote – Zach Whitman (CDO, US Census Bureau)
7:25 – 7:45 pm Fireside Chat – Joe Hilger and Tony Zech (Data and AI Community of Excellence Director, ECS)
7:50 – 8:10 pm Industry Panel – Joe Hilger, Michael Moore (Neo4j), Juan Sequeda (Data.World), and Tim Murphy (Esri)
8:10 – 9:00 pm – Networking
Attendees will:
Learn from the experts about modern data architectures like Semantic Data Stacks, Knowledge Graphs, Data Mesh, and Data Fabrics
Leveraging the Private Sector for Next Generation Data solutions
Find out about the newest trends in Data and Infrastructure to Follow or Avoid in 2023
Contact us, to express interest in joining us on 3/16 for an evening of networking and insightful discussions!
To request an advance or follow-up briefing, please email:
[email protected]