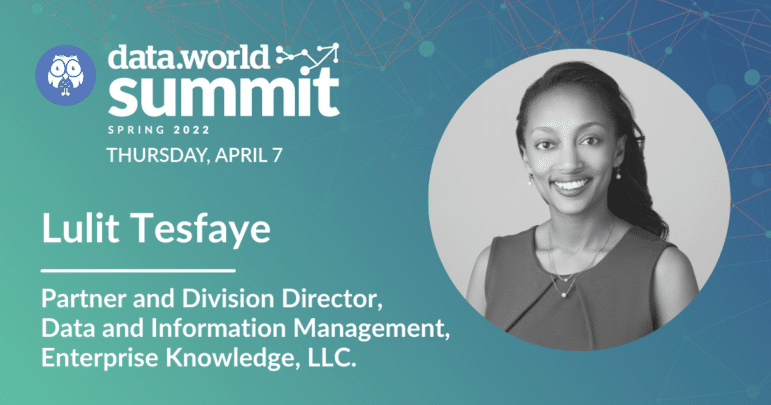 Lulit Tesfaye, a Partner and Director for Enterprise Knowledge's Data and Information Management Division, will be speaking at the data.world Spring Virtual Summit 2022 on the topic of Translating AI from Concept to Reality: Five Keys to Implementing AI for Knowledge, Content, and Data.
Lulit will discuss how foundational knowledge management and knowledge engineering approaches can play a key role in ensuring enterprise Artificial Intelligence (AI) initiatives start right, quickly demonstrate business value, and "stick" within the organization. The session will be held under the Knowledge First Track Breakout and will be anchored around real world case studies and examples of how organizations are approaching their data and AI transformations through knowledge maturity models to translate organizational information and data into actionable and clickable solutions. 
The presentation will be followed up by a breakout panel discussion with the presenters for deeper dive conversations and to discuss questions from the audience. 
About the data.world and the Summit
data.world is the enterprise data catalog for the modern data stack. The cloud-native SaaS platform combines a consumer-grade user experience with a powerful knowledge graph to deliver enhanced data discovery, agile data governance, and actionable insights. The spring summit experience is intended to be a fast moving, highly educational virtual conference that provide multiple breakout tracks including the Knowledge First track, Practitioner's Paradise for a more technical discussion for practitioners, and Open Data For the Win track to showcase the transformative power of open data in society, public projects, journalism, and the enterprise.