Enterprise Knowledge's Lulit Tesfaye, Practice Lead for Data and Information Management, and Yanko Ivanov, Solutions Architect and Partnership Manager, are presenting at this year's Graphorum 2019 to be held from October 14 – 17 in Chicago, Illinois. The conference provides an educational platform and brings together emerging disciplines around intelligent information gathering and analysis, including graph technologies, knowledge graphs, data modeling, ontologies, graph analytics, graph databases, and AI.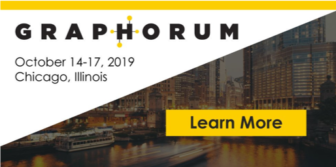 Tesfaye and Ivanov will be speaking on the topic of Knowledge Graphs as a Pillar to IA on October 16th under the Knowledge Graph track. They will share best practices, real-world use cases, and case studies regarding innovative and scalable graph-based approaches and solutions that serve as a foundation for advanced AI capabilities, such as Machine Learning (ML), Natural Language Processing (NLP), Predictive Analytics, and the like.
For more information, visit the event website at: https://graphorum2019.dataversity.net/index.cfm
About Enterprise Knowledge 
Enterprise Knowledge (EK) is a services firm that integrates Knowledge Management, Data and Information Management, Information Technology, and Agile Approaches to deliver comprehensive solutions. Our mission is to form true partnerships with our clients, listening and collaborating to create tailored, practical, and results-oriented solutions that enable them to thrive and adapt to changing needs.
Our core services include:
Knowledge Graphs, AI and Semantic Technologies design, strategy,  and implementation;

Taxonomy and Ontology Design;

Knowledge & Information Management  Strategy and Implementation

Change Management and Communication; and

Agile Transformation and Facilitation.
At the heart of these services, we always focus on working alongside our clients to understand their needs, ensuring we can provide practical and achievable solutions on an iterative, ongoing basis.
About Graphorum
Graph technology has been steadily growing over the years, but recently hit a critical mass. Knowledge graphs, graph analytics, graph databases, graphs and AI are bringing new innovation and new practical applications to the marketplace. Graphorum is designed to accommodate all levels of technical understanding. It will bring together emerging disciplines that are focused on more intelligent information gathering and analysis.