Enterprise Knowledge's Sara Duane, Consultant, and Annabel Lane, Technical Analyst, are leading a session at the upcoming Knowledge Graph Forum 2023, hosted by Ontotext and held virtually from November 14-16. Knowledge Graph Forum 2023 will be covering a multitude of topics related to knowledge graph development, data mesh and data fabric, and text analytics and LLMs.
Sara Duane and Annabel Lane will be leading 'Graph Use Cases for Data-Driven Decisions: Risk Mitigation & Content Personalization' on November 15 from 1-1:30pm EST. Knowledge graphs are incredibly valuable tools for connecting structured and unstructured information to gain a unified view of your data. With relationship-based connections extracted from vast amounts of diverse data, knowledge graphs can power recommender systems for enhanced data-driven decision making for a wide range of use cases across industries and domains. In their session, Duane and Lane will discuss two graph use cases specifically centered on risk mitigation and content personalization that leveraged GraphDB, including a government agency and a healthcare training provider. They will also share best practices for driving successful implementations of semantic recommendation engines that tackle practical business challenges.
Learn more about Knowledge Graph Forum 2023 and register for the event here.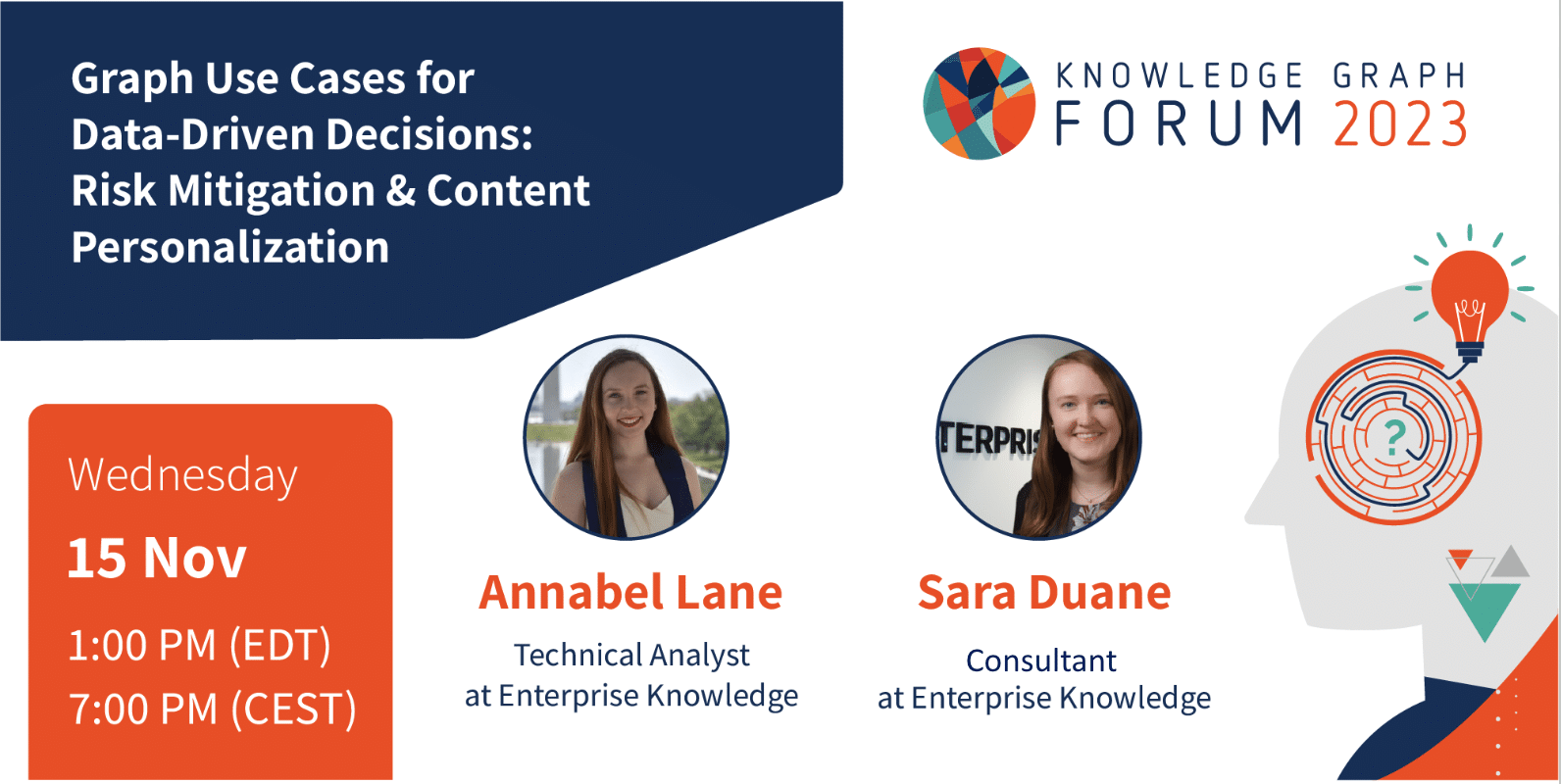 About Knowledge Graph Forum:
Ontotext's Knowledge Graph Forum is an annual event addressing the full spectrum of knowledge graph business applications and the technology partner ecosystem needed to deliver that value.
The forum brings clients, partners, and semantic technology experts together to share their knowledge graph development and application experience and insights.