The Challenge
Pearson is the world's learning company, with expertise in educational courseware and assessment, and a range of teaching and learning services powered by technology. Their mission is to help people make progress through access to better learning. Pearson believes that learning opens up opportunities, creating fulfilling careers and better lives.
The diversity in Pearson's portfolio of businesses, products and services generated the need for a complete and consistent view of performance and trends. As part of the wider transformation of Pearson, they set out to create a common framework to describe and collate information on their product portfolio in order to make strategic decisions most effectively.
The Solution
Enlisting the help of Enterprise Knowledge (EK), the Global Product Strategy team at Pearson set out to create a single Global Product Taxonomy (GPT) to define attributes of all Pearson products. This single, unified taxonomy would be integrated into systems supporting various functional areas, enabling product tracking, finance, and business intelligence to support the strategic decision-making of the organization.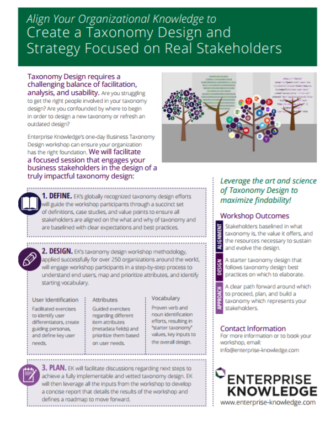 EK worked collaboratively with Pearson's Global Product Strategy team to design a tiered taxonomy structure comprising Pearson's own language and categories as well as industry standard terminology. Multiple tiers allowed for customized and detailed meta-tagging of Pearson's entire body of products and services with the most specific terms applied within its various product categories. As a whole, the GPT is designed to describe the current product landscape while also taking into account emerging strategies for the future.
Using an Agile approach, EK facilitated discussions between diverse groups of Pearson subject matter experts. This year-long active engagement with stakeholders across Pearson's lines of business and geographical regions set the stage for enterprise-wide consensus and acceptance of the Global Product Taxonomy.
The EK Difference
The Global Product Taxonomy detailed over a dozen key product attributes with thousands of associated values. These attributes and values would serve as metadata which, when applied to Pearson's broad product offerings, would help Pearson executives analyze their products across all lines of business and geographical markets as never before possible, and enable streamlined workflows and processes.
EK leveraged an array of taxonomy design techniques to identify, define, and standardize key attributes across Pearson's business lines. EK's taxonomy design techniques included:
Facilitated sessions involving business stakeholders
Subject matter expert interviews
Focus group meetings
A comprehensive review of Pearson products documentation
Additionally, EK consultants brought to the project a depth of knowledge and experience in the publishing and education industries, enabling the team to incorporate relevant, real-world examples into conversations as well as translate professional terminology to a broader audience of stakeholders.
To meet the needs of an organization in the midst of a critical business transformation, EK consultants employed Agile methods such as:
Daily standup meetings, deep dive sessions, and bi-weekly sprints in order to complete the taxonomy and meet the timeline for integration with other systems
An iterative release of the taxonomy. Soon after the completion of the primary tier, its values were successfully integrated into Pearson's financial systems to enable more effective tracking of profits and losses
As a result, the project progressed successfully, ensuring the entire team was in agreement about priorities and day-to-day activities.
The Results
Through a series of EK-led focus groups, workshops, and interviews, the Global Product Taxonomy gained wide acceptance from its large pool of stakeholders. As a result, Pearson's GPT is enabling the company to meet a key strategic objective—to develop an enterprise-level view of their entire portfolio of products and services. The taxonomy is now being operationalised across Pearson's business units via various core platforms including the new ERP (Finance, Supply Chain) CRM and Rights & Permissions management. This will enable evaluation of product performance and lifecycle management, ensuring an easier path toward sound strategic decisions.