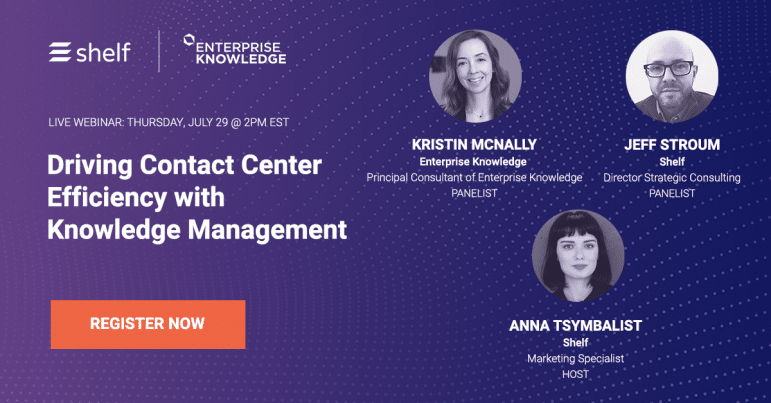 Most critical contact center KPIs all depend on one thing—the agent's ability to quickly provide the right answer at the right time. As companies grow and customers become increasingly smarter, the knowledge needed at the speed they expect gets more challenging, putting added pressure on agents when there's already no time to waste.
Join Kristin McNally, Principal Consultant of Enterprise Knowledge, the world's largest dedicated Knowledge Management consulting firm, and Jeff Stroum, Contact Center Solutions Expert at Shelf, and learn the critical components of a knowledge management solution to drive tangible ROI for contact centers.
Key Topics
Setting up a healthy and scalable knowledge structure;

Expanding content access to improve agent performance; and

Setting hard and soft ROI metrics to gauge success.
Save your seat for the Live Webinar: Thursday, July 29 at 2:00 pm EST.
About the Panelists
Kristin McNally
Kristin is a Principal Consultant with Enterprise Knowledge who has led fortune 500 and federal clients to plan, design, implement, and measure the impact of knowledge management solutions. She works with organizations to shape the processes, structures, tools, and incentives that will help their people work together more effectively and collaboratively.
Jeff Stroum
Jeff has over 20 years of experience in the contact center space and has played roles as Solutions Architect, Sales Director and Alliances Partner Manager. Working with emerging technologies, he has enabled customers on how to optimize SaaS based software to meet their business goals.