As Thanksgiving nears, many of us will be scouring recipe books looking for the perfect meal to prepare for family or friends. Visions of golden, brown turkey, creamy mashed potatoes, and savory stuffing (along with a challenge from one of our principals) gave me an interesting idea – concoct the perfect Knowledge Graph recipe.
Enterprise Knowledge Graphs are becoming extremely popular as many organizations look to introduce them into their information ecosystems. Combined with some commonly used tools, it's possible to develop a solution that satisfies the hunger pangs of even the most mature organizations – lack of findability, irrelevant or outdated content, and other pain points.
Recipe for Knowledge Graph Feast
As with any good recipe, we need a list of ingredients from which to create our final product. What are the individual parts that make up the whole feast?
There are 4 key components to a successful Knowledge Graph implementation:
Ingredients
1 Content Management System (CMS)
1 Taxonomy Management Tool
1 Search Engine
1 Knowledge Graph
Step 1 – Leverage a Content Management System
Your CMS should be more than just a repository for Word documents, PDFs, and other pieces of content. Enhance your content with the perfect complement – metadata. Metadata adds color to your content – an author, a created date, a subject, a description. Further, this metadata builds the foundation for functionality, which you can expose later on in your search engine and Knowledge Graph.
Additionally, make good use of Content Types which provide a means to logically organize your content by applying metadata. My colleague offered a very helpful explanation of what they are and why you need to use them.
Step 2 – Use a Taxonomy Management Tool
Creating good metadata as suggested, requires a pre-existing enterprise taxonomy to normalize the terms you use to describe your content. There are many tools on the market that allow you to easily store and manage your taxonomy in a centralized location. Thus, you can author your taxonomy in one place, yet leverage it in many places by integrating with other systems and applications.
Further, many of these tools provide you the ability to introduce artificial intelligence (AI) into your enterprise through auto-tagging and categorization capabilities. Tags can be simply and effectively applied to your content via these techniques.
Step 3 – Implement a Search Engine
A search engine is a key part of the recipe to capture and expose your company's content, both structured and unstructured. Properly designed and configured, a search engine can ingest content from any repository – turning siloed data into findable, actionable information.
A search engine provides a single application where users can find any information, regardless of the original source.
Policies and procedures in Word documents or PDFs sitting on a file system

Blogs and news items in your web Content Management Systems

Reports aggregated from your database system
Step 4 – Build Your Knowledge Graph
With a CMS, taxonomy management tool, and search engine in place, it's time to add a semantic flavor to the feast. A Knowledge Graph lets you model your domain and expose it to a wider audience. Most importantly, it exposes the connections and relationships that exist between the entities that comprise your organization. From a technical perspective, it can traverse these relationships and find new ones quickly and efficiently.
As an example, you can store information on your employees (Employee Name, Employee ID, Department, Location) as well as information on your projects (Project Name, Project ID, Description and Subject) all in one centralized location, which is one of the key capabilities of a knowledge graph. Further, from those connections, you can gain valuable insights like Employee A must be very proficient at Subject B since many of their projects were about (e.g. "tagged") Subject B.
The Finished Product
Like every good recipe, we can conclude with a sneak peek at the finished product. How do the individual pieces discussed previously fit together?
Imagine this Search Results page on your organization's intranet.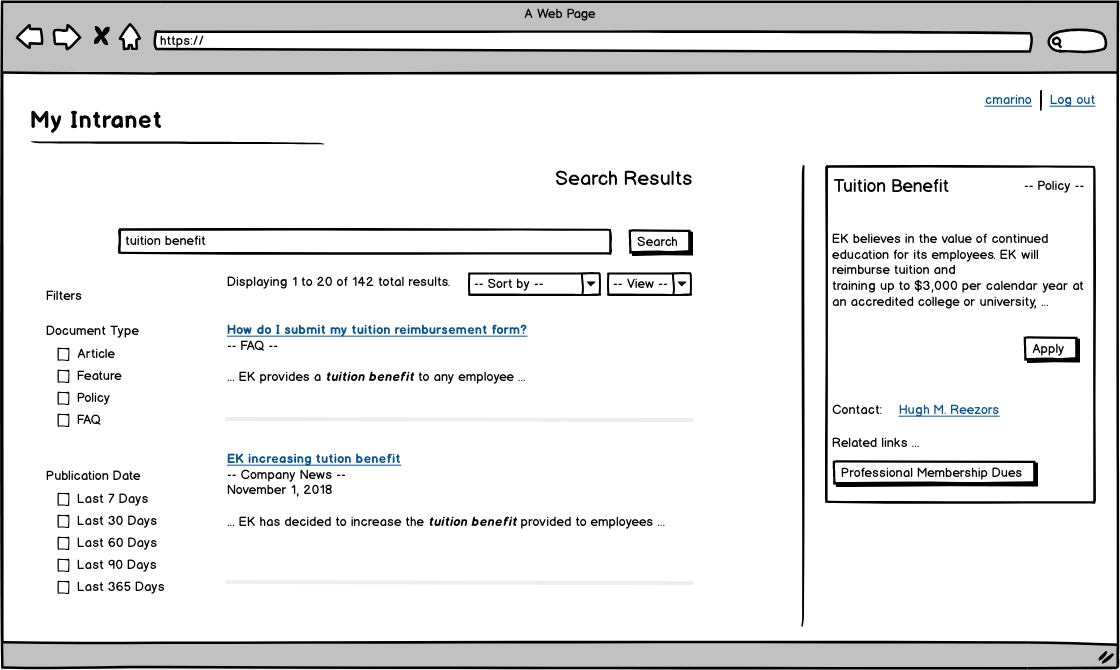 Further, suppose an employee is looking to expand their professional development and wants to find information on your tuition benefit policy. If you followed the recipe, you would have done things like:
Created a

Company Policy content type

which includes metadata like title, description, topic, and populated them with your company policies, like tuition assistance.




Added r

elevant terms to your business taxonomy

which describe your company's content like "tuition", "professional development", "FAQ", and "article."




Provided a single application

for easily retrieving relevant content

by indexing a vast array of content like FAQs and company news articles into a search engine.




Created a Knowledge Graph and

populated with the "things" that comprise your organization

– employees, projects, policies, etc. – along with the

connections

between them.
Thus, when an employee performs a search on the company intranet, an information feast appears.
Search results containing relevant items like FAQs and company news articles, indexed and served from the search engine.




Facets (left-hand side) powered by the search engine but managed in the taxonomy and exposed to the search engine via the CMS which allows employees to filter on the content that meets their needs.




Relevant concepts (right-hand side) returned from querying the Knowledge Graph which allows employees to quickly and easily take action.
As with preparing any fine meal, crafting the perfect Knowledge Graph solution requires great care and effort. But with the proper guidance, the daunting becomes surmountable. And the finished meal is well worth it. So learn more and contact us, we're here to help.