Collaboration:  It's How Business Happens
Whether you're co-designing the solution to a technical problem with your end users, facilitating a distance learning class, or leading a retrospective with your Agile team, the ideal scenario is generally for you to be together in the same room. But sometimes reality gets in the way and, as the old saying goes, "Don't let the perfect be the enemy of the good." Sometimes, we have to collaborate with distributed teams.
When this is necessary, it's great to have some top-notch technical tools under your belt. Here are a few ideas.
Online Meeting Tools
The most important technology decision you'll make when managing your distributed team is your online meeting software. This decision will also be the most complex.
There are a lot of factors to consider including cost, number of participants allowed in a single meeting, meeting security, platform support, and interactivity features such as desktop sharing, whiteboard tools, and in-app chat. The most important factor to consider, however, is the user experience the tool provides for your meeting participants.
As with any other user experience decision, consider the particular needs of your audience when deciding on an online meeting tool. Are your users technically sophisticated, or are they easily overwhelmed by too many features? Do most of them expect to connect via a mobile device because they're on the go? Are you meeting with busy executives who expect customized meeting reminder messages? The answers to all of these questions should impact your decision.
Tools for Audience Interaction
Sometimes, you need to present new information so that your distributed team has the knowledge they need to take action. We've all watched a PowerPoint on a webinar, and it's hard to stay focused and engaged. Help your audience by interacting with them. Most online meeting tools have features like "raise hand" and "chat." Use those features to engage your participants with prompts like, "Raise your hand if you've ever experienced this scenario before," and "Do you agree or disagree with that assumption – type your response in the chat box."
You can take this to the next level by using online polling tools with better visual effects. Poll Everywhere lets you collect feedback from your audience and display the real-time results in your slides (they have an integration with PowerPoint, Keynote, and Google Slides). You can ask simple multiple choice question, or you can ask open-ended questions and display audience results in a cluster of responses – or even a word cloud.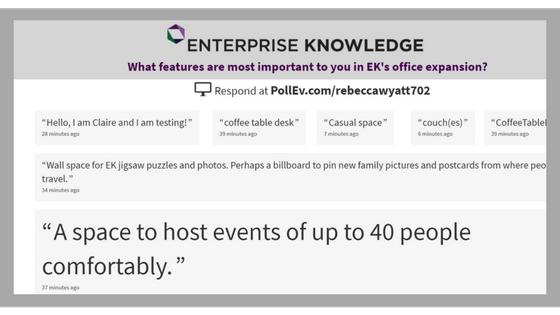 Tools for Prioritizing
There's no way to avoid it – getting stakeholders to set meaningful priorities is difficult. My colleague Mary has written an extremely helpful post about some prioritization best practices. Those best practices depend on collaborative decision-making, however. And that is difficult to achieve with distributed teams.
One of my favorite free tools for this is Trello. Set up a Trello board before your meeting or workshop, create a product backlog that lists all of the tasks which must be prioritized, and help the team collaboratively sort each task into one of four categories based on a classic Eisenhower Matrix. You can even set up one Trello board as described and make copies. Small groups can sort the tasks and then report back to the larger group. Facilitate a discussion about discrepancies between the way the various small groups sorted the tasks and agree to a final, prioritized list.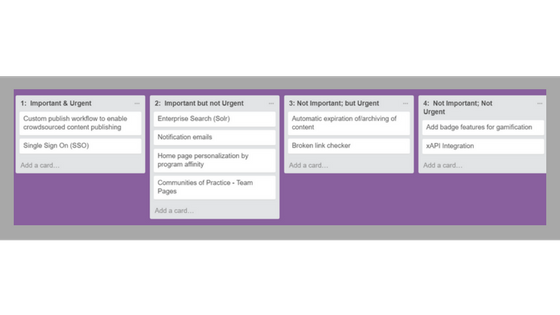 Tools for Brainstorming
Mind maps are a great way to collaboratively brainstorm because mind maps organize information the same way the brain does. We generate one idea, and new ideas sprout off of that one in an ever-growing network. Ideas are generally not created in a linear fashion.
Coggle is a free online tool that allows distributed teams to build a mind map together. And for a free tool, it's got a shocking wealth of features. Users can not only build the mind map collaboratively, they can also upload images, add links, format, and add icons to their ideas as they add them to the web. Once your team has completed the map, you can download or share it.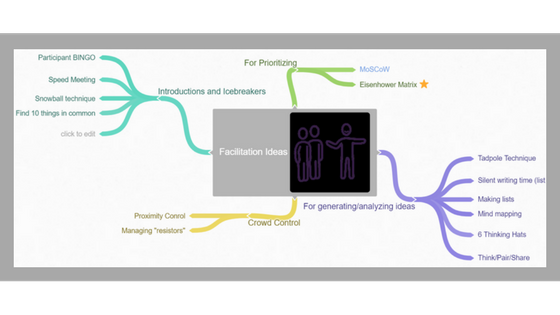 Conclusion
Collaborating with stakeholders and trainees is crucial to both project and learning outcomes, but it can be difficult to facilitate authentic collaboration and engagement with distributed teams. Experiment with technology to engage stakeholders regularly during workshops and meetings. If you need some help facilitating collaboration with distributed teams, our expert facilitators at Enterprise Knowledge can help.