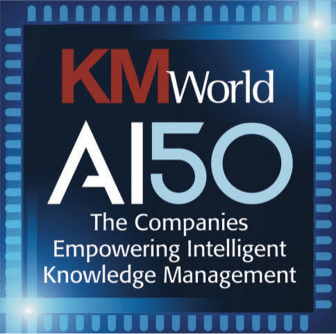 Enterprise Knowledge (EK) has been listed on KMWorld's 2021 list of leaders in Artificial Intelligence, the "AI 50: The Companies Empowering Intelligent Knowledge Management." This is the second year in a row EK has been included. To help spotlight innovation in knowledge management, KMWorld developed the annual KMWorld AI 50, a list of vendors that are helping their customers excel in an increasingly competitive marketplace by imbuing products and services with intelligence and automation.
Unique to the list, EK is one of the few dedicated consultancies that made the list, offering end-to-end technology selection, strategy, design, implementation, and support services for the full range of Enterprise AI components, including knowledge graphs, natural language processing, ontologies, and machine learning tools.
"A spectrum of AI technologies, including machine learning, natural language processing, and workflow automation, is increasingly being deployed by sophisticated organizations," stated KMWorld Group Publisher Tom Hogan, Jr.  "Their goal is simple. These organizations seek to excel in an increasingly competitive marketplace by improving decision making, enhancing customer interactions, supporting remote workers, and streamlining their processes. To showcase knowledge management solution providers that are imbuing their offerings with intelligence and automation, KMWorld created the 'AI 50: The Companies Empowering Intelligent Knowledge Management.' "
Lulit Tesfaye, EK's Practice Leader for Data and Information Management, shared, "Given our continued leadership in this space, and the growth of our team and its capabilities, I'm proud to be recognized in this way. We are increasingly seeing our work with customers grow from initial assessments and prototypes into enterprise engagements that are transforming the way they do business. I'm proud to be leading in this exciting space."
EK CEO Zach Wahl added, "Thanks to KMWorld for this recognition. KM and AI are increasingly coming together, and we're pleased to be leading organizations in their transformations to intelligent knowledge organizations."
To read more about the recognition, visit Lulit's AI Spotlight article on KMWorld and explore EK's knowledge base for the latest thought leadership.
About Enterprise Knowledge
Enterprise Knowledge (EK) is a services firm that integrates Knowledge Management, Information Management, Information Technology, and Agile Approaches to deliver comprehensive solutions. Our mission is to form true partnerships with our clients, listening and collaborating to create tailored, practical, and results-oriented solutions that enable them to thrive and adapt to changing needs.
About KMWorld
KMWorld is the leading information provider serving the Knowledge Management systems market and covers the latest in Content, Document and Knowledge Management, informing more than 21,000 subscribers about the components and processes – and subsequent success stories – that together offer solutions for improving business performance.
KMWorld is a publishing unit of Information Today, Inc.