Leaders from every organization need accurate and up-to-date information about their employees to support key corporate decisions, enhance business profitability, and remain competitive in today's world. One of the best ways to better understand your employees is through an Employee 360 View. 
Imagine if a C-level executive could predict what skill gaps the organization will be experiencing within the next quarter and identify the right talent needed for organizational capacity building. What if a team lead could get a complete picture of an employee profile, job activity, and performance before deciding on an individual's promotion or encouraging them to pursue a new training opportunity? And what if an employee could easily identify who the right experts are in a particular subject to support a project at a time of need?  These are the kinds of questions that an Employee 360 View can help answer. This blog will discuss what Employee 360 views are, which corporate data can feed them, and in which cases an organization can leverage them to increase productivity and efficiency.
Collecting data about an employee from multiple sources is a big challenge for many organizations. By attempting to solve various internal people and operational data challenges with targeted technology solutions, organizations have ended up with multiple, siloed systems that don't talk to each other or that aren't necessarily easy to integrate. These include HR systems of record, learning management systems (LMS), Client Relationship Management (CRM) and Enterprise Resource Planning (ERP) systems, just to mention a few among a long list of common operational and transactional platforms. When employee related data sits on multiple systems, it becomes very difficult for HR leaders to access the right information at the right time to make better informed decisions about the staff.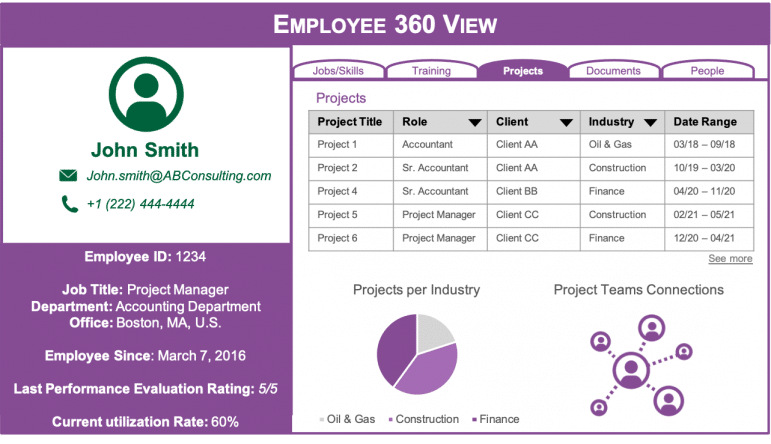 What are Employee 360 Views?
You may be familiar with a few other employee performance evaluation related terms that use the concept of 360, but these are often solely focused on HR processes. These include 360-degree review, 360-degree evaluation, and 360-degree feedback, among others. Even though they can provide helpful information about an employee, they are different from Employee 360 Views. An Employee 360 View is a single, robust, and centralized view of each employee's digital information and professional career at a company. It gives corporate leaders and employees the ability to view and understand everything about an employee across their life cycle within an organization, leveraging all the information and data available in multiple, disparate systems and consolidating it into a single view for better decision-making. This can be achieved by developing a data management strategy and systems architecture that appropriately extracts, tags, transforms, standardizes, integrates, and warehouses employee related information siloed across disparate systems. This requires a combination of strategies to appropriately categorize and centralize the content into a single view. For example:
Recognizing all potential employee identifiers across siloed systems and consolidating the data into a unique employee ID;

Designing and implementing an

enterprise taxonomy

(e.g. skills, job roles, industries, topics, etc.) to categorize and tag data extracted from different systems; and

Designing and implementing an

ontology

and a

knowledge graph

to imply hidden relationships between entities (e.g. job roles and skills, training courses and skills, projects and industries, etc.).
The networks that an employee is part of and the interactions that they have with others within the organization aren't always explicit. Those may not be reflected in an organizational chart or other formal representations of an organization's structure. An Employee 360 View is very powerful because it can help uncover people's connections, relationships, and hidden networks. This may help identify 'star performers' or the 'go to' employees that staff typically reach out for support or who become part of project teams. Employee 360 Views can also help inform why an employee may be underperforming, what skills would be valuable to them to acquire to increase efficiency, or how their skills could be better leveraged to benefit their project teammates or colleagues.
Data Sources
So what are the main sources of information that can feed Employee 360 Views and what data can be collected from each of them? The following diagram illustrates the various information systems that contain employee information and can be used to create a unified view of the employee lifecycle.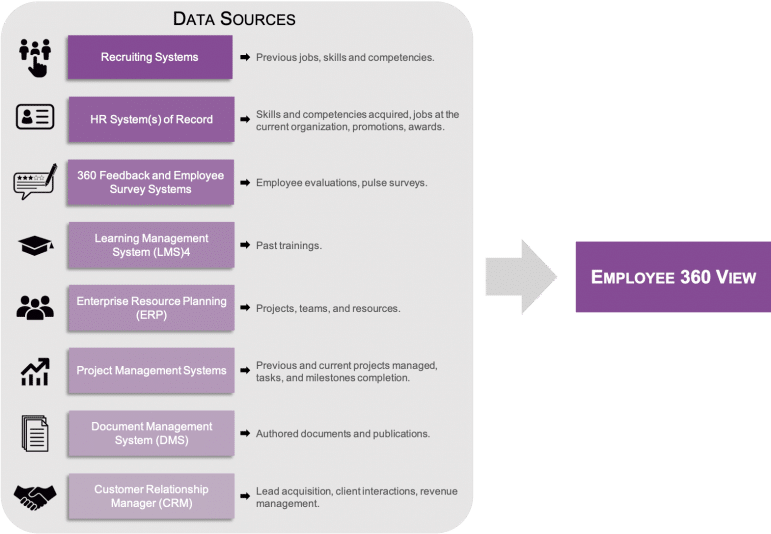 Recruiting Systems:

employee's previous jobs, skills, and competencies acquired prior to applying or joining an organization.

HR Systems of Record:

jobs performed at the current organization, skills and competencies acquired, promotions, recognitions, and awards. 

360 Feedback and Employee Survey Systems:

feedback provided by supervisors and colleagues as part of employee evaluations, pulse surveys to measure employee satisfaction and other HR topics.

Learning Management Systems (LMS):

past training courses, either internal or external. 

Enterprise Resource Planning (ERP) Systems:

projects and teams that the employee has been part of, products and services led or supported.

Project Management Systems: p

revious and current projects managed, tasks and milestones completed.

Document Management Systems (DMS):

documents and publications authored by the employee.

Customer Relationship Management (CRM) Systems:

lead acquisition, client interactions, revenue management, target goals. 
A combination of some or all of these systems can help organizational leaders address specific use cases and answer particular questions about employees for better decision making. In my next blog, we will take a look at some of the most common Employee 360 View use cases, what organizational challenges they help solve, and why they are important.
Conclusion
Employee 360 Views aren't just about the ability to consolidate an employee's information into a single view. They help you gain valuable insights about your employees so that you can leverage that unified information to improve decision making at the right time, increase business value, retain your best people, and remain competitive. 
Do you need help designing and implementing an Employee 360 View for your organization? Contact us. We will be happy to help!