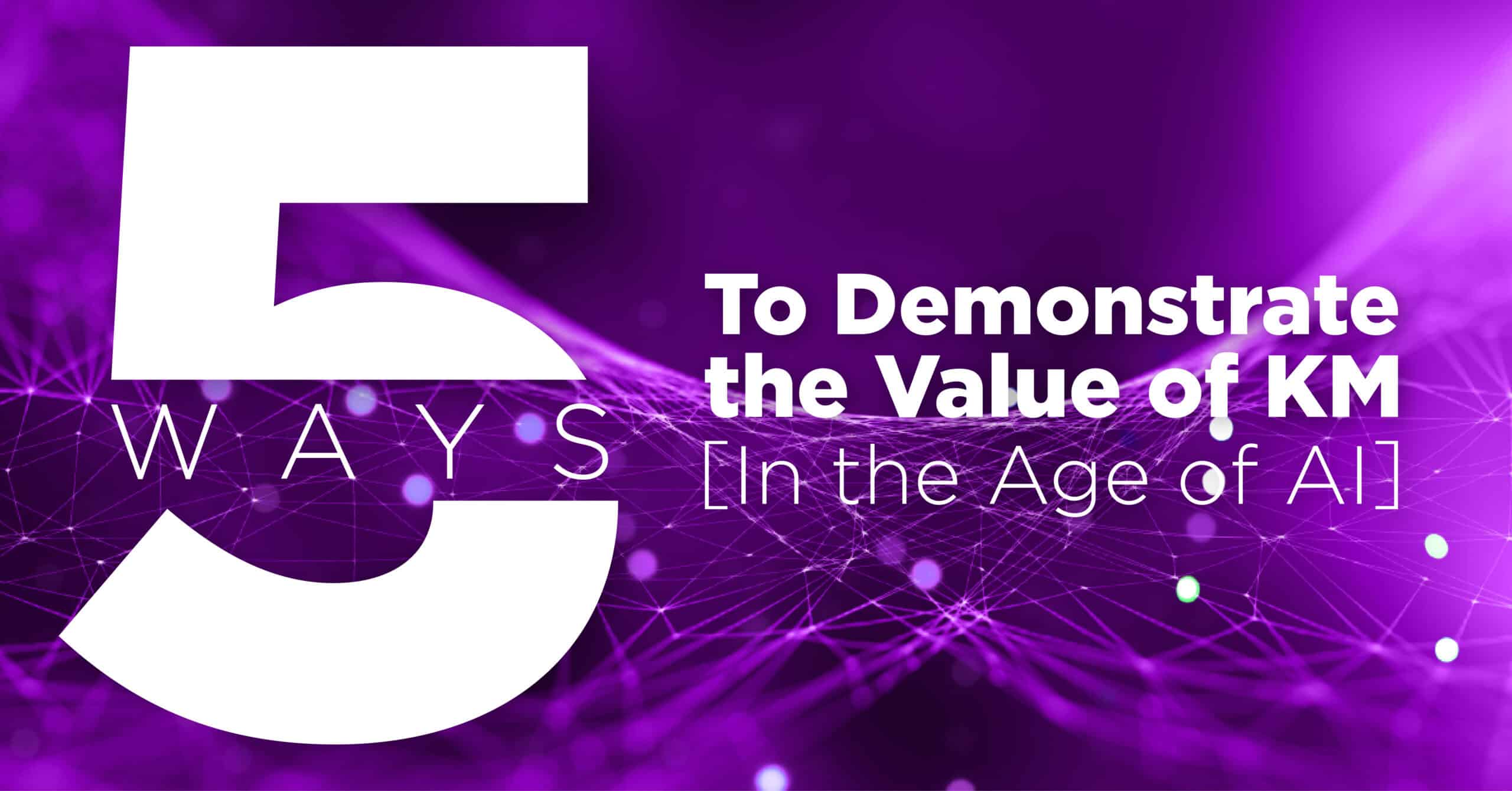 Knowledge management (KM) is steadily growing beyond its traditional role of providing the framework for sharing, using, and managing the knowledge and information of an organization: it now also serves as the foundation for advancements in Artificial Intelligence (AI).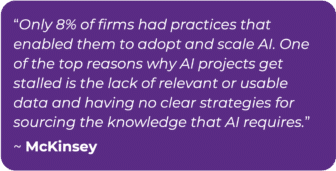 We have been seeing this shift in the role of KM at an enterprise level increasingly over the past 10 years. This heightened visibility for KM has pushed us to identify more advanced ways to measure and convey value to organizational leaders.
A few years ago, I shared case studies demonstrating the cost of inaction when it comes to KM. Here, I will provide a selection of approaches that we have been testing and found effective to help convey the value of KM in order to garner continued support, generate investments, and drive adoption, especially when it comes to taking advantage of advancements in enterprise AI solutions.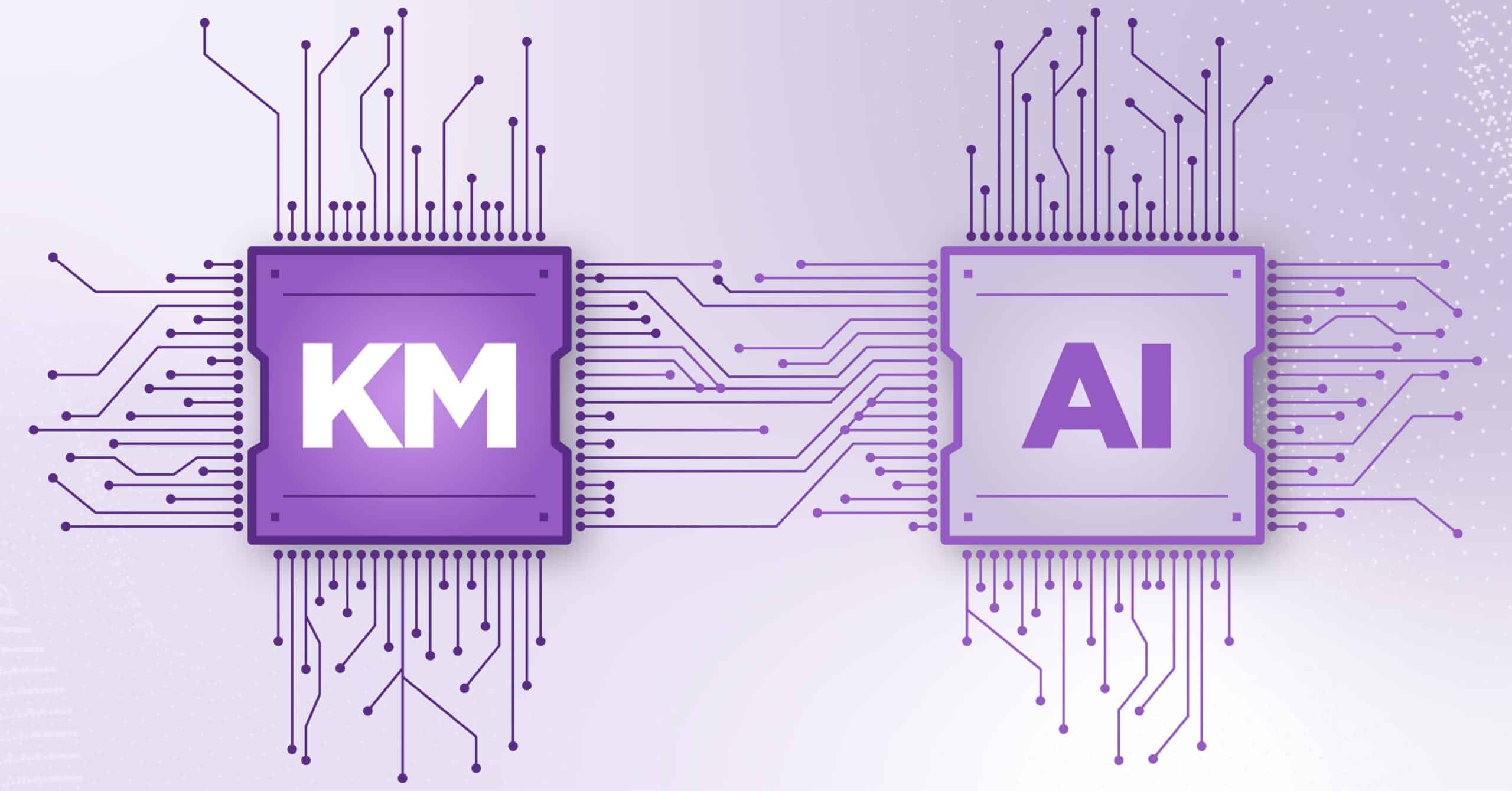 1. Show How KM Ties To Organizational Advancements And AI Objectives
The most powerful KM solutions we have built to date have one key aspect in common: their KM use cases and challenges are directly linked and measured, not only by the values of the group driving a KM initiative but also by the impact they have toward helping the organization achieve their overarching business strategy and mission. Today, more than 80% of organizations are investing in AI but only 21% of firms are able to adopt AI at scale. The primary challenge is the lack of clear strategies for sourcing the knowledge that AI requires from the organization and its data: this is where KM is becoming more visible. More specifically, mapping KM activities to the organizational OKRs (Objectives and Key Results) that are separating the successes from failures of advanced, enterprise AI initiatives allows organizations to track direct business impact or ROI to the bottomline.  
For example, for one of our clients – a large equity and wealth management firm – one of their organizational objectives for AI was to improve customer retention through automated, personalized service and product recommendations. In this case, KM played a key role in providing the appropriate information architecture and content quality procedures to serve their AI objectives through their website. Internally, their KM Portal was revamped as their cross-departmental knowledge layer, providing customer-360 information across 8+ systems and applications to their sales representatives. This KM framework is now facilitating effective sales and marketing via applications like semantic search and Q&A bots that are built to increase findability and AI insights at the time of need (self-service), while enabling their sales teams to have meaningful customer conversations and shortening their sales cycles.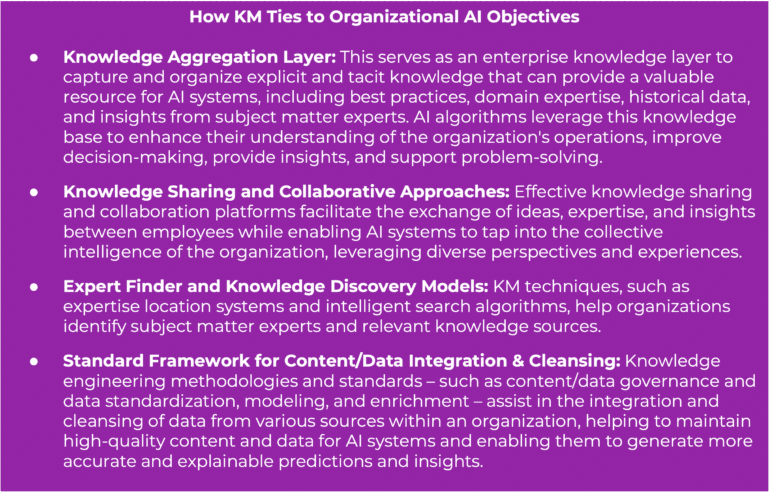 2. Develop Before and After Journey Maps
One of the reasons why KM has been too abstract for many organizations is because it is usually gradual and not very apparent when it is done right. This has traditionally posed a couple of challenges: 1) there is usually misalignment on what the scope of KM is and where it fits within the organization, and/or 2) those impacted by KM transformations usually have a hard time envisioning how their daily activities will change with good KM.
What we have found effective to address this age-old reality is taken from our Agile KM Manifesto: employing Personas, Use Cases, and Journey Maps to consistently communicate and measure value and direct impact from KM initiatives. These tools have traditionally given us a medium to define specific user profiles, capture their priorities and pain points, and give a visual representation of the steps they take to complete a task or achieve a goal. Today, AI algorithms can further help us analyze this data; visualize our personas in digital forms (think digital twins); recommend relevant information, resources, and solutions tailored to individual users' requirements; and improve the effectiveness of knowledge delivery, enhancing user satisfaction and increasing engagement with KM systems.
For a global consultancy we worked with, their associates, referred to by the organization as knowledge assets, were spending a sizable amount of time manually aggregating and curating content and data across multiple systems to provide reports and recommendations to their respective clients. We developed a digital journey map to demonstrate how KM streamlines the analysis process into digestible steps, leveraging analytics dashboards while showcasing the change in process and impact to their analysis tasks. 
3. Show Work In Progress (Even If It's Not Pretty Yet)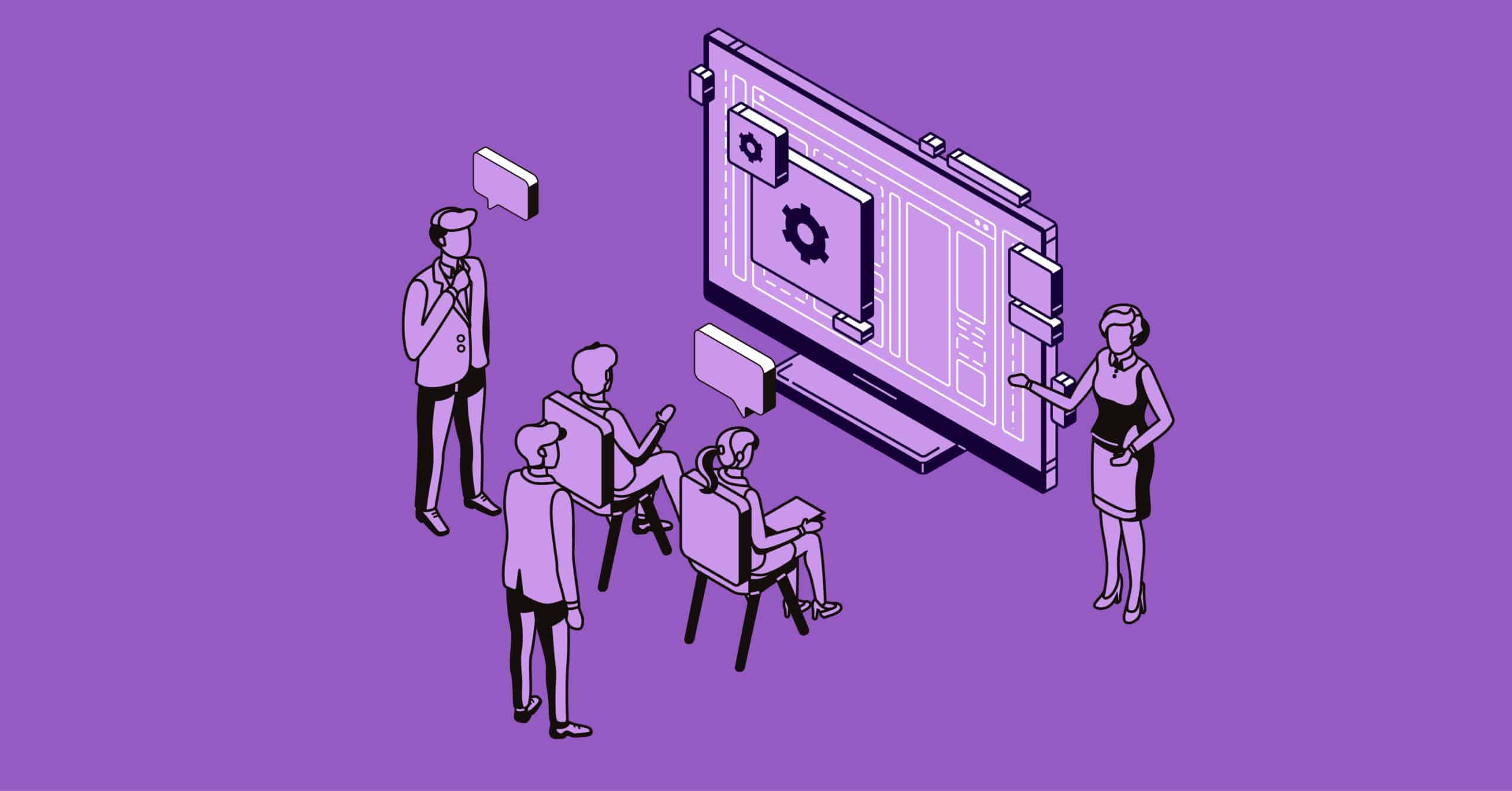 KM is often difficult to visualize, particularly in the early stages of a KM strategy and design project, because it does not include the development of visible outcomes. One effective way to show the value of KM is to demonstrate work in progress and incremental value. We do this in our KM strategies through lessons learned, outlines of strategy and approach templates, low fidelity wireframes, and the measurement of early process or activity metrics such as the level of participation in the KM program. 
AI-powered analytics tools – such as usage rates, content and engagement performance, and engagement thresholds – help to extract actionable insights from vast amounts of KM solutions and data, allowing for a deeper understanding of knowledge usage patterns, content gaps, and user behavior. This helps us highlight how these insights can influence decision making and improve KM strategies on a regular cadence.
Another way to demonstrate incremental progress involves highlighting the various stages of the knowledge management process and building in phased milestones and small wins within larger KM & AI efforts. This allows the program team to break projects down into key milestones or phases and track the completion of each milestone. Using an Agile delivery framework for KM and AI efforts lends itself well to planning and showcasing work within each sprint (or iteration). For many of our clients, for example, we break down long-term KM solutions such as governance into several iterations: we start with 1-2 processes or role types and define an AI approach (e.g., automating some governance features like content auto-tagging), then pilot/demonstrate the end-to-end process from roles and responsibilities to approval workflows and publishing across various systems. 
4. Make It "Clickable"
The reason why KM efforts fail is usually attributed to several common challenges: 
The struggle to find a good starting point for implementing a large transformation;

The lack of early and consistent involvement of end users, or using inappropriate methods and tools for user engagement; or 

The inability to anticipate technical barriers when planning KM strategies.
One effective way to address this primary KM challenge is by defining a series of prototypes and pilots that are time-boxed to a matter of weeks and months, provide a limited scope, and are focused on quickly demonstrating value to stakeholders by leveraging clickable solutions and exploring new technologies and practices. A clickable prototype or pilot allows users to visualize and directly interact with an incremental KM solution and enables stakeholders to see KM in action and experience its benefits firsthand. Specific examples of clickable prototypes we have leveraged for KM solutions include: simple search utilizing OpenSource tooling, Chatbots based on Large Language Models (LLMs) that provide direct answers to specific user questions (modeled for an organization's content and context using knowledge graphs), content personalization for select user profiles, and a dashboard for selected reporting needs.
AI specifically presents organizations with a plethora of features and functionalities to make KM not only tangible but convenient for users by providing options for their preferred way of navigating knowledge. For example, we leverage AI features like Natural Language Processing (NLP) and Text Analytics to enhance the findability experience, allowing users to access information through voice, Chatbots, personalized recommendations, and dashboard searches, to name a few.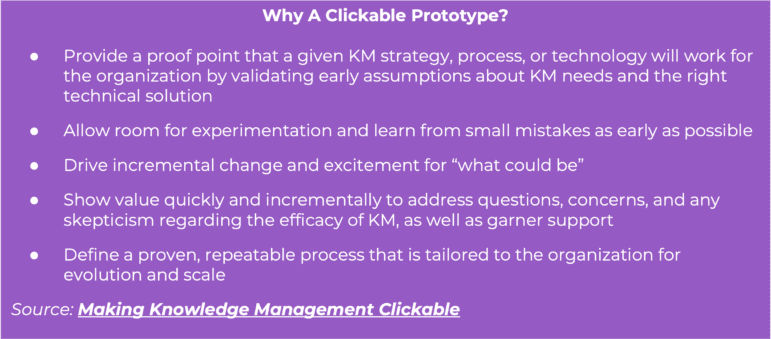 5. Use AI To Measure And Learn From Early Successes (As Well As Failures)
Much of the success of our KM projects comes from us finding a relevant and reliable way to measure the investment and impact of KM, or from building a business case for KM that is visible to company leadership. This topic is of particular importance for me because it's an area that is heavily dependent on real world experiences and benchmarking, and ties all of the above pieces together in order to truly understand and justify the organizational investment that KM requires. 
Although it is relatively easy to measure the value of KM through traditional "hard-dollar" business metrics like direct cost savings, improved efficiency, increased productivity, or tangible revenue growth, advancements in AI are now allowing organizations to connect previously-siloed data points in order to tell a more compelling story. Today, most KM platforms on the market have some form of automation or AI integrated within them to help organizations measure progress, track activities, and generate insights from their technical stack, including customer relationship management (CRM) systems, document or content management systems (DMS or CMS), knowledge bases, and/or knowledge portals. 
Enterprise AI solutions are specifically providing KM programs with the ability to link early indicators and trends through cloud tracking capabilities, visualization of data through augmented/virtual reality (digital twins), and data monitoring, storage analytics, and security features. It is no longer a pipe dream to imagine a living KM portal or solution that keeps on improving itself based on algorithms and analytics, powered by what it is generating from its users and connected applications. By connecting these data points with digital KM personas, you can start embedding progress and activity measures that help organizations assess overall program health, improve the usability of individual KM processes and solutions, and inform next steps as solutions and the program roadmap evolve. 
Conclusion
The bottomline is that KM programs and transformations require investment in organizational resources and technology in and outside of your organization. As such, consistently demonstrating the value of KM requires a strategic approach that evolves with the changes in technology, aligns with organizational objectives, and shows tangible benefits. The right KM metrics to select and track depend on what is meaningful for your organization; for example, it is more relevant to measure progress in terms of hard business ROI for commercial corporations than for the public sector or non-profit organizations. The most useful value indicators and approaches are likely to be a combination of factors across the aforementioned examples and depend on the culture of your organization, what long-term success means to different stakeholders (senior management, operational, or individual contributors, customers, and suppliers), and what data they will need to be convinced. By building a clickable pilot, basing it on use cases and personas, tying it to organizational objectives, and employing emerging AI capabilities, organizations can show how KM improves processes, outcomes, and ultimately, the bottomline.
Are you looking to ensure that your knowledge management initiatives receive the support they need to succeed? Learn more from our knowledge base or contact us.