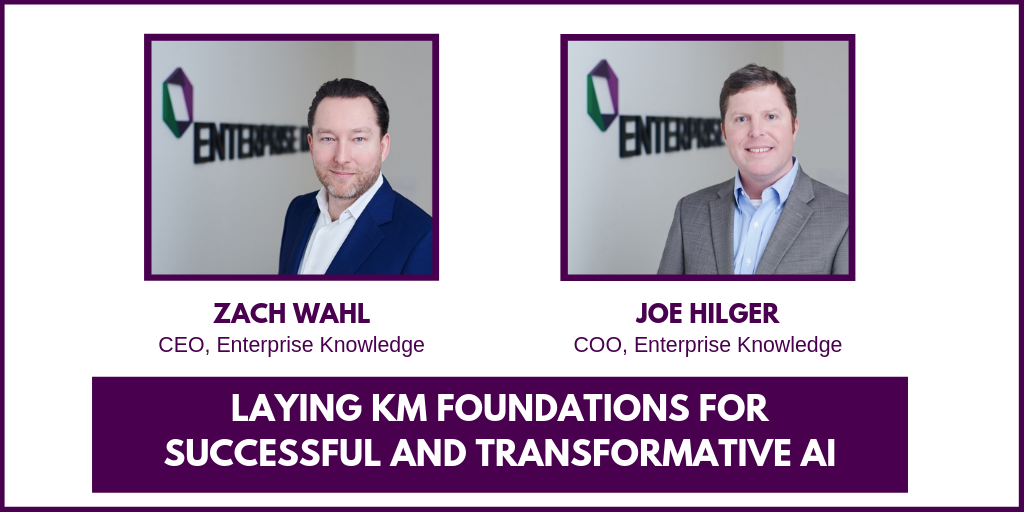 Enterprise Knowledge's CEO Zach Wahl and COO Joe Hilger are presenting a new webinar titled "Laying KM Foundations for Successful and Transformative AI" on Thursday, September 5th from 1:00 PM – 2:00 PM EDT.
Artificial Intelligence (AI) is an increasing priority for organizations in every sector. Effective Knowledge AI can ensure your organization's knowledge, information, and data are connected, enhanced, and findable by the right people, leading to greater efficiency, productivity, and service. However, many organizations lack the appropriate foundational design and governance elements to get started with Knowledge AI, resulting in an inability to harness their knowledge, information, and data.
What you will take away from this session:
Why Knowledge Management is critical to laying a foundation for AI in your organization.

How AI can deliver value to your organization through integration with Enterprise Search.

What you need in place to realize the benefits of AI and create a competitive advantage through improved Knowledge Management.
Date and Time:
Thursday, September 5th

1:00 PM – 2:00 PM EDT

10:00 AM – 11:00 AM PDT

6:00 PM (18.00) – 7:00 PM (19.00) CET
View event details and register here