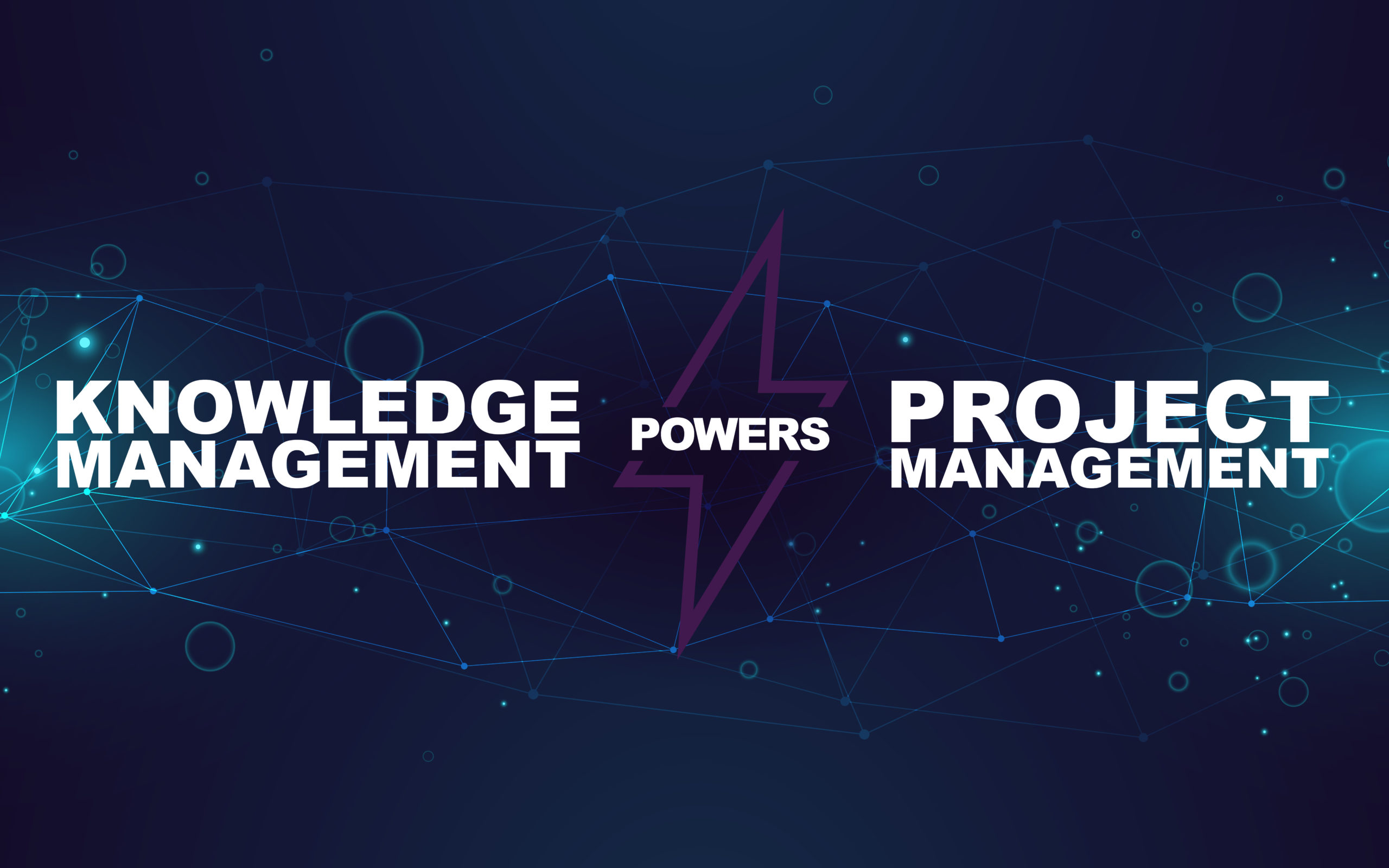 Knowledge Management (KM) for projects is vital for organizations to compete and survive in a dynamic environment. In this vein, a great Knowledge Management strategy powers more effective project management. Project managers need reliable and appropriate information to perform their tasks and Knowledge Management guarantees the obtainability of such information.
As project professionals, we must leverage existing knowledge in our project work at all levels. By using knowledge, and therefore knowledge management, we can best achieve success in all projects.
In this blog, I have outlined five ways a quality Knowledge Management solution can lead to more effective company-wide project management and increase project success.
1. KM allows organizations to embrace a constantly changing landscape
Organizations that make the greatest use of their knowledge assets understand the competitive edge they can develop as they manage projects more efficiently. Knowledge Management tools can help project managers in creating and maintaining a large knowledge database to ensure that every employee is on the same page and all policies and codes regarding a process, old or new, are transparent. Ultimately, a sound Knowledge Management strategy allows you to improve the internal practices and processes of your organization so that it operates better, faster, and more efficiently.
2. KM allows for early and effective risk mitigation
For many organizations, the decision to invest in Knowledge, Data, and Information Management initiatives is driven by high-level business objectives such as increased efficiency, productivity, competitive advantage, and enhanced engagement. However, it is also important to recognize the importance of a quality KM strategy in mitigating potential organizational risks. If potential risks are not identified and analyzed at the start of a project, the outcome cannot be predicted. It is also critical to identify lessons learned and successful practices, so that proven practices can be duplicated and mistakes avoided. A solid KM strategy allows for the flow of information from person to person in a way that will level the playing field for all stakeholders, so there is no project-related information getting lost, wasted, or miscommunicated.
3. KM can help in maintaining and preserving company-wide knowledge
Knowledge Management in the realm of project management necessitates a strategic methodology that brings together various facets to satisfy project managers' requirements for information.Furthermore, Good KM results in better use and reuse of existing information. As PMs, we seldom want to start with a completely "blank page," we want to use the best of what has been done before as starting points, resulting in greater productivity, lessons learned,and organizational alignment. Without a Knowledge Management system to capture current information resources, combined with the reality of having to rehire in the future, companies will have to start rebuilding these information resources, further complicating the learning curve for fresh workers.
4. KM can improve company-wide decision-making
Successful Knowledge Management efforts are focused on ideal outcomes that help project teams meet critical business objectives. Before implementing a KM system, organizations are encouraged to identify critical objectives based on multiple roles or personas. These typically include individual outcomes, department-level outcomes, and corporate outcomes. Such objectives allow the organization to place a 'laser focus' on work processes, information management methods, and knowledge capture procedures that result in those desired outcomes.
With a quality Knowledge Management strategy in place, users can quickly find the information they need, when they need it; empowering them to make more informed decisions at the time of need.
5. KM is a tool that fosters organizational collaboration
A core component of Knowledge Management revolves around content collaboration. However, today's average organizational landscape results in siloed people, information, and knowledge. Knowledge Management-backed efforts that focus on the organizations' content, users, user stories, and processes, and the documentation of all of these, can greatly support collaboration-oriented efforts.
A collaborative, knowledge sharing culture is an asset to any organization, small or large. It is vital for organizations to build a comprehensive knowledge management strategy that supports a common understanding of content and information within the organization. An organization that has consistent processes for handling their information, and enterprise taxonomies for talking about or describing this information in the same way will be more effective in collaborating and making decisions. Furthermore, This allows project managers to have access to organizational knowledge which ultimately leads to project success.
Final Thoughts
Regardless of size, successful organizations functioning in today's world face an increase of competition, not only nationally, but globally. Businesses have to continually learn and transform their knowledge to stay relevant and applicable, and Knowledge Management makes sure that the right assets are always accessible at the right time, allowing for necessary continual growth.
Project management prioritizes valuable information and requires that project managers have the right knowledge wherever and whenever they need it. Knowledge Management is essential to maintaining a competitive advantage and keeping relevant and necessary knowledge accessible. Having a quality Knowledge Management strategy to apply to your organization's project management initiatives will result in an abundance of long-term benefits including better communication, increased team collaboration, and a decrease in project risks. Need help crafting your Knowledge Management strategy? Enterprise Knowledge can help!