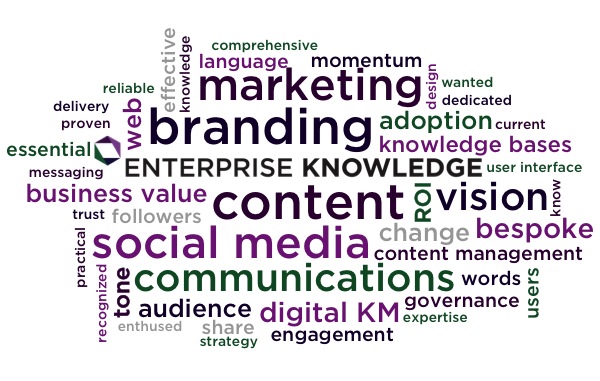 When it comes to knowledge and information management, enterprise systems possess very specific content needs. Even at high volumes, content needs to be sleek, user friendly, and brand appropriate. Yet, very few firms think in terms of content strategy, never mind branding, when it comes to approaching the content within knowledge management systems.
With all the focus on system organization, management, and implementation, the actual content (the words, images, and related language-centric materials) being created and managed often becomes a secondary matter. To the user, content is primary as it is the substance through which they understand and interact with any knowledge management system. As a result, organizations often fail to appropriately apply their limited resources. These resources need to be applied to the quality and enhancement of the content at least as much, if not more, than to the design and development of the systems that house it.
Branding is critical to content strategy. While it is often treated as a vague marketing term, "branding" – referring to the vision, purpose, and focus of an organization – is, in fact, essential to every type of business, big or small. Your "brand" is inherent to your content. Whenever you talk about your company in written or verbal language, you are representing your brand. This means your content strategy should not only be organized and diversified but also closely tailored to your company's vision, services, and people.
Here are a few tips to help connect your brand to your content strategy:
Your vision is not your elevator pitch.  Most organizations need to be cognizant of both their organizational vision as well as their "branding statement," which is, in a nutshell, their "elevator pitch." This refers to how they talk about their organization and value-add to potential clients, the public, and even internally within the company. No matter what level of content you're presenting, branding needs to be communicated in an effective, consistent, and appropriate manner with attention to tone, point of view, and audience.
Meaning and audience matter.  You can have the most organized, well-structured content ever but it does not bring value to your client if the taxonomy or naming conventions you use are illogical or ill-defined. Similarly, understanding your audience (i.e. your client) when it comes to figuring out site naming and navigation is key if you're going to create a sustainable and meaningful knowledge management system. Content needs to be targeted to your audience: understand to whom you're trying to communicate, what information they need/expect, and organize it in a way that will maximize the emotional and personal impact of that knowledge.
Bespoke is the new methodology.  Content strategy, like many areas of knowledge and information management, is all about customization, no matter what big firms may preach. The buzz word "curated" – a concept that social media people use to death – is fundamental in the world of digital knowledge management, especially for enterprise systems, no matter how out of the box the system may be. The most effective content strategy is client-centric, custom, tailored: the language, words, concepts, and materials involved in content means something to the people who created it and who own it. In this way, content should be developed in collaboration with your client and feel personal to them.
Effective content is all about effective governance.  In the world of content, it's not only about what you're saying but also how and when you're saying it. You need a solid governance plan to outline and guide your content management. Content strategy is information management: content needs to be implemented in a timeframe and schedule consistent with system development and implementation, as well as an integral part of user testing. The process and timing of content development, upload, and review matter at every stage. Are user roles logical? Have you allowed enough time for editorial review and content troubleshooting? Is there a main point person for overall site consistency, presentation, and flow? Have you set in place the appropriate analytics to gauge content efficacy?
At the end of the day, content strategy, like much of knowledge and information management, comes down to knowing your organization and your audiences. Knowing your end user's brand, their content, and the context in which it will be utilized will assist you in crafting a tailored, sustainable strategy that will manage and present information in a powerfully effective way. Need assistance defining your organization's content strategy? EK is here to help.