A critical component of an organization's knowledge is its learning material. Organizations often focus on the development of formal learning courses and programs, but our experience designing and building knowledge bases and learning management systems shows this is only one aspect of an organization's learning environment.
We live in a world of information abundance and training materials are no exception. Self-directed learning opportunities (such as instructional YouTube videos) and social learning opportunities (like asking a colleague a question over a corporate Slack channel) have redefined the way people learn on-the-job skills.
In her book, Learning Environments by Design, Catherine Lombardozzi defines a learning environment as a curated collection of learning resources and activities related to a specific learning need. The design practices required to cultivate such an environment are illustrated in Dr. Lombardozi's diagram: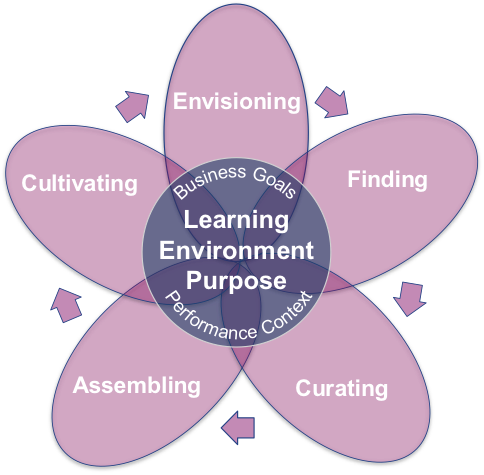 EK's own Knowledge and Information Management design practices align with the steps to designing a Learning Environment as described in Dr. Lombardozzi's diagram. Critical inputs including goals, persona development, taxonomy, tagging, and search strategy all play an important role in ensuring the full range of learning content types can be intuitively discovered for use and reuse.
Envisioning
Learning Environment Design Description
Imagining the purpose, context, and components of the learning environment
EK Design Practices
As experienced Agile practitioners, EK starts any new project by facilitating the creation of a product vision. Our consultants collaborate with you to define:
Audiences: Who are the various categories of learners who will use the Learning Environment? Are there administrators who need access to data about learning outcomes?
Audience needs: Are your learners technically savvy or are they inexperienced with eLearning? Are your learners motivated to learn or are they resistant? To what degree are they experienced with managing their own learning?
Key features: Do you need to implement a new Learning Management System or extend an existing one? Will you need an internal social network to facilitate collaboration between coworkers?
Once your product vision is well-defined, it becomes the North Star of your project. All potential features of this Learning Environment will be evaluated against this standard: Does it help us achieve the product vision? This ensures your organization can design the most focused solution possible, applying your limited resources to addressing the specific needs of your end users.
Finding & Curating
Learning Environment Design Description
Finding: Locating a range of resources and activities that are on topic
Curating: Using expert judgment to recommend the most relevant and useful components for the learning environment's specific learners and purpose.
EK Design Practices
Just as any potential features of the Learning Environment are evaluated against the product vision, any learning content must be evaluated against the same standard. If the product vision states that the audience for the learning environment is airline pilots and flight attendants, then any learning materials which would not support learners in those specific roles should not be included. Leveraging this approach helps organizations clear away content and functionality that doesn't provide maximum value. As a result, the administrative burden of maintaining less valuable content is removed. This allows your organization to focus on enhancing the most valuable content to best serve your end users. Moreover, this focus improves the overall findability of your learning content by removing distractions and impediments from the environment.
Assembling
Learning Environment Design Description
Collating and packaging the resources and activities, and making them available to your learners
EK Design Practices
There is so much that goes into "assembling" learning resources into an online Learning Environment. Some of the best practices and approaches EK applies include:
Content Definitions: What types of content (online courses, instructional videos, guidelines and professional best practices, etc) will be included? What information will you need to capture about each type of content? For example, for courses you'll need the course title, a brief description, and learning objectives. For a reference document of professional best practices, the information will be different.
Taxonomy Design: Effective taxonomy design will help you improve findability (through navigation and search) and also promote content discovery. It's a great thing when someone comes to your Learning Environment looking for a specific online course, but discovers there's also an active forum discussion on the topic. This concept of discovery ensures the complete set of learning content will benefit your users.
Search Design: It should be simple, right? You type in a keyword, you get relevant search results. But we all know it's not as simple as it looks to optimize the relevance of those search results.
User Experience Design: Your Learning Environment should be easy enough to use that no learners will need training in order to find the curated learning materials best suited to meet their needs. In addition to improving learning outcomes, effective user experience design is critical to user adoption and satisfaction. A clean and attractive site will further drive adoption by engaging your users, encouraging them to benefit from the environment and participate in the social aspects of it.
Cultivating
Learning Environment Design Description
Ensuring the environment continues to be fresh, enticing, and useful
EK Design Practices
By developing an effective content governance plan you will be able to generate and analyze the relevant data from which resources in your Learning Environment used the most to what things learners are searching for and not finding. In addition to analyzing the data, we can help your content team make strategic decisions to continuously improve the user experience (and performance outcomes) of learners.
Summary
Learning Environments have the potential to harness the power of informal and social learning as a complement to formal learning, but users have to be able to find all of those carefully curated resources to maximize the value of the enterprise. Catherine Lombardozzi offers a much more poetic description of the importance of the design process:
The Learning Environment design framework provides would-be learning gardeners with the tools needed to create rich environments for learning. And just like a gardener has a process to follow to cultivate a picture-perfect patch of earth, so an L&D professional can engage a flexible learning environment design process to support deep learning.