Enterprise Knowledge (EK) Partner and Division Director Lulit Tesfaye will be presenting a keynote presentation as part of the upcoming Knowledge Management Reborn, Modern KM: Latest Technologies, Strategies and Techniques virtual conference.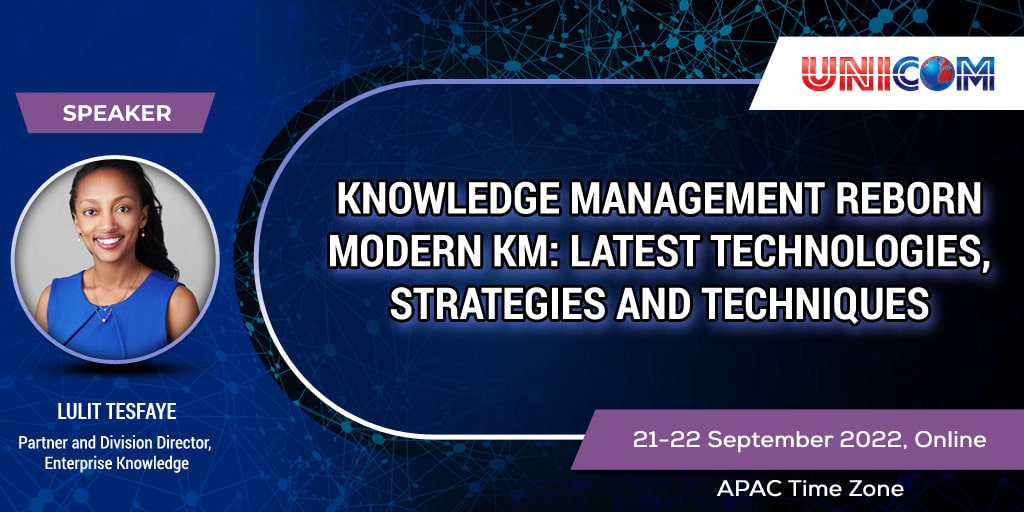 The KM Reborn conference, hosted by Unicom Seminars, consistently brings together leading thought leaders in the field to share their expertise on a range of KM topics. The conference will occur on September 21st and 22nd. The two days will include a mixture of presentations and and in-depth workshop presentations. At these sessions, topics are delved into in detail with interactive elements.
Tesfaye will be presenting on the 21st, on the topic of "How Knowledge Graphs are Fueling the Rebirth of Knowledge Management." In the presentation, Tesfaye will detail how the dawn of knowledge graphs are helping organizations to unlock a critical key to successful KM transformations and realize their KM goals for the enterprise. Knowledge Graphs, when designed and implemented properly, can connect all of an organization's knowledge assets, both structured and unstructured, creating a logical and intuitive web that can drive relationships, make connections, ensure the right information gets to the right people, and even drive artificial intelligence for the organization.
In her presentation Lulit Tesfaye will answer these questions:
– What are knowledge graphs, how do they work, and what can they do for your organization?
– How do knowledge graphs fit into the KM landscape?
– How can organizations get started harnessing the power of knowledge graphs?
– How are knowledge graphs used to achieve Enterprise AI?
EK CEO Zach Wahl will also participate in the conference, speaking on a panel titled "Knowledge Management in the Hybrid Work Environment," in which he will share his own experience helping organizations better leverage KM to enable successful hybrid work transitions.
To register for the conference and for more information, visit: https://conference.unicomseminars.org/knowledge-management-conference/apac-september/