For the third year in a row, Enterprise Knowledge (EK) has been listed on KMWorld's 2022 list of leaders in Artificial Intelligence, the AI 50: The Companies Empowering Intelligent Knowledge Management. KMWorld developed the annual KMWorld AI 50, a list of vendors that are helping their customers excel in an increasingly competitive marketplace by imbuing products and services with intelligence and automation.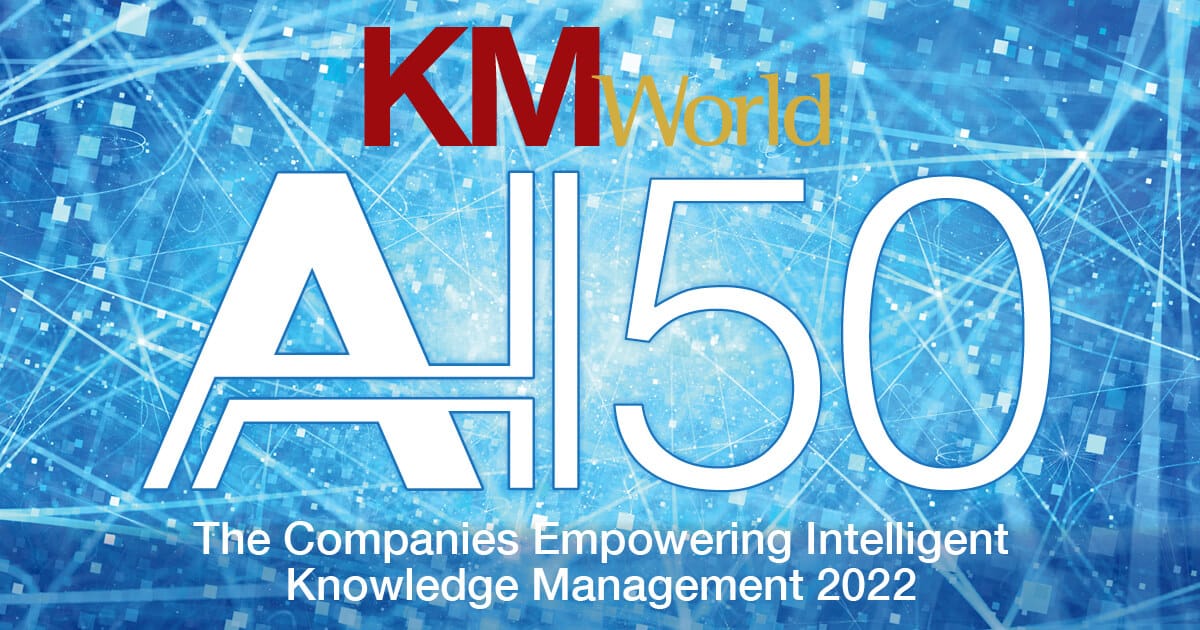 EK is one of the few dedicated services organizations that made the list, offering end-to-end services around advanced semantics and artificial intelligence including use case definition, technology selection, design, implementation, and support services for the full range of Enterprise AI components which include knowledge graphs, natural language processing, ontologies, and machine learning tools.
"AI and a host of related technologies such as augmented intelligence, machine learning, deep learning, process automation, and natural language processing are being deployed in areas as diverse as supply chain management, manufacturing, healthcare, medical research, and financial services," said Tom Hogan, Group Publisher, KMWorld. "With organizations recognizing the great potential of AI, it is not surprising that the market size is also expected to increase dramatically. As part of our efforts to focus attention on the innovative knowledge management vendors that are imbuing their offerings with AI and automation, in this issue, KMWorld presents the KMWorld AI 50: The Companies Empowering Intelligent Knowledge Management."
EK's Division Director for Data and Information Management Lulit Tesfaye stated, "EK has been at the forefront of Enterprise AI since the field began, implementing real solutions at scale. We're proud of our recognition in this space."
EK CEO Zach Wahl added, "Thanks to KMWorld for this recognition. We're grateful to be recognized as leaders in the field and we're committed to continued delivery of practical AI solutions."
To read more about the recognition, visit Lulit's AI Spotlight article on KMWorld and explore EK's knowledge base for the latest thought leadership.
About Enterprise Knowledge
Enterprise Knowledge (EK) is a services firm that integrates Knowledge Management, Information and Data Management, Information Technology, and Agile Approaches to deliver comprehensive solutions. Our mission is to form true partnerships with our clients, listening and collaborating to create tailored, practical, and results-oriented solutions that enable them to thrive and adapt to changing needs.
About KMWorld
KMWorld is the leading information provider serving the Knowledge Management systems market and covers the latest in Content, Document and Knowledge Management, informing more than 21,000 subscribers about the components and processes – and subsequent success stories – that together offer solutions for improving business performance.
KMWorld is a publishing unit of Information Today, Inc. (www.infotoday.com)