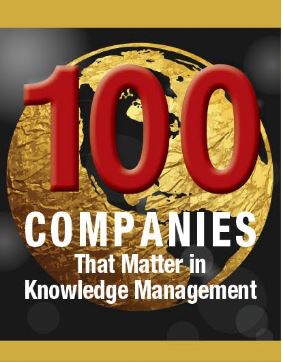 For the third year in a row, Enterprise Knowledge has been named one of the "100 Companies That Matter in Knowledge Management" by KMWorld Magazine, recognized for their superior Knowledge Management Consulting services.
EK was recognized for providing practical knowledge and information management, application development, and agile project management solutions focused on end user value. This is the 18th year KMWorld Magazine has published the list of Global Consultancies and Solution providers in the knowledge and information management field.
"Those designated to this year's list of KMWorld 100 Companies That Matter in Knowledge Management run the gamut of capabilities, but share such similar characteristics as innovation, ingenuity, usefulness and resourcefulness," said KMWorld Editor Sandra Haimila.
"Moreover, the companies on this list create solutions that help their customers turn vast amounts of data into usable knowledge that they can leverage to enhance collaboration, gain insights and achieve their goals."
"I'm glad to see EK has received this recognition for three years running," said EK CEO Zach Wahl. "It is a testament to the unique, innovative work we are doing in the knowledge and information management space, delivering sustainable, valuable solutions to our clients." KMWorld published more from Zach in their "View from the Top" article.
Having provided innovative KM solutions to an array of organizations, including the National Park Service, Sodexo USA, Pearson, Inter-American Development Bank, and World Bank, EK has a long list of success stories maximizing the value of KM for a diverse array of organizations.
EK COO Joe Hilger added, "We are thrilled to make the list of 100 Companies That Matter once again, and look forward to continuing our leadership in global knowledge and information management for years to come."
This award is the latest in a string of recognition for EK. This summer, Arlington Economic Development recognized Enterprise Knowledge with the "Fast Four" award, singling out the organization as the fastest growing company of its size. In February, the Washingtonian named EK to its list of the 50 Great Places to Work in the Washington, DC area.
About Enterprise Knowledge
Enterprise Knowledge (EK) is a services firm that integrates Knowledge Management, Information Management, Information Technology, and Agile Approaches to deliver comprehensive solutions. Our mission is to form true partnerships with our clients, listening and collaborating to create tailored, practical, and results-oriented solutions that enable them to thrive and adapt to changing needs.
About KMWorld
KMWorld (www.kmworld.com) is the leading information provider serving the Knowledge Management systems market and covers the latest in Content, Document and Knowledge Management, informing more than 21,000 subscribers about the components and processes – and subsequent success stories – that together offer solutions for improving business performance.
KMWorld is a publishing unit of Information Today, Inc. (www.infotoday.com)