Enterprise Knowledge has been named one of the "100 Companies That Matter in Knowledge Management" by KMWorld Magazine, recognized for their world-class Knowledge Management Consulting services. This is the fifth consecutive year that KMWorld has recognized EK with this honor.
EK was recognized for providing leading knowledge management consulting and KM thought leadership, including services in KM Strategy and Design, Information Management, and Knowledge Artificial Intelligence.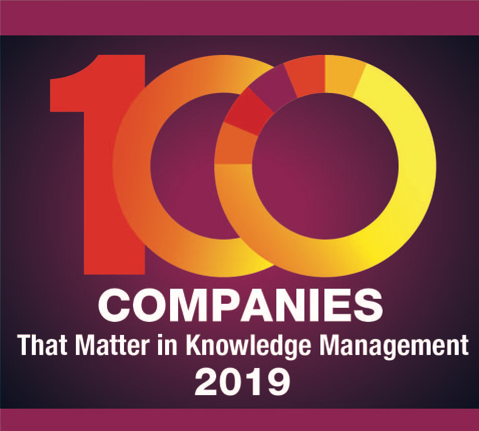 This is the 20th year KMWorld Magazine has published the list of Global Consultancies and Solution providers in the knowledge and information management field.
"I'm glad to see EK has received this recognition for the fifth year in a row," said EK CEO Zach Wahl. "We've invested heavily in our KM consulting capabilities and are proud of our thought leadership in this space." KMWorld published more from Zach in their "View from the Top" article.
This award is the latest in a string of recognition for EK. EK was recently named by Inc. Magazine to their prestigious list of the fastest growing companies in the United States and was also recognized as a best workplace by Inc. and Washington Business Journal.
About Enterprise Knowledge
Enterprise Knowledge (EK) is a services firm that integrates Knowledge Management, Information Management, Information Technology, and Agile Approaches to deliver comprehensive solutions. Our mission is to form true partnerships with our clients, listening and collaborating to create tailored, practical, and results-oriented solutions that enable them to thrive and adapt to changing needs.
About KMWorld
KMWorld (www.kmworld.com) is the leading information provider serving the Knowledge Management systems market and covers the latest in Content, Document and Knowledge Management, informing more than 21,000 subscribers about the components and processes – and subsequent success stories – that together offer solutions for improving business performance.
KMWorld is a publishing unit of Information Today, Inc. (www.infotoday.com)