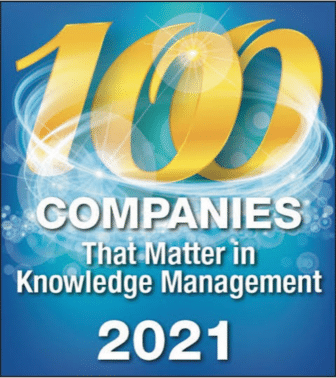 Enterprise Knowledge has again been named one of the "100 Companies That Matter in Knowledge Management" by KMWorld Magazine, recognized for their global leadership in Knowledge Management Consulting services. This is the seventh consecutive year that KMWorld has recognized EK with this honor.
EK is uniquely recognized as one of the only KM Consulting firms on the list. As in past years, EK has been distinctly noted for offering the complete range of KM Consulting services, including strategy, design, implementation, and operations. EK has also been recognized as a global leader in Knowledge AI, leveraging ontologies and knowledge graphs, amongst other advanced technologies for a wide range of global organizations. 
With its consistent growth, EK is the largest dedicated knowledge management consulting firm in the world. This is the 22nd year KMWorld Magazine has published the list of Global Consultancies and Solution providers in the knowledge and information management field.
"Thanks to KMWorld for their continued recognition of EK's leadership in the Knowledge Management community," said Zach Wahl, CEO of Enterprise Knowledge. "With the global challenges of the last year, organizations are realizing the critical role that KM plays in enabling effective work from home, remote learning, and connected data. Leveraging our proprietary KM Benchmark and Enterprise AI Readiness Assessment, we're working with organizations to understand where they are, help them define a vision for where they need to be, constructing detailed road maps and strategies to attain their goals, and then working side-by-side with them to transform their organizations and implement they KM systems."
The complete list of awardees can be viewed here. 
EK CEO Zach Wahl's View from the Top article regarding this recognition can be viewed here. 
"Flexibility, agility, and the ability to pivot are attributes that have become critical to forward-thinking companies—and that is particularly the case now. Successful organizations don't want to merely survive; they want to dominate their market sectors. But to do that, they need the right tools and products," said Tom Hogan, Group Publisher at KMWorld. "Amidst the dramatic changes taking place today, innovative organizations are seeking new approaches to improve their processes. The 2021 KMWorld 100 is a list of leading-edge knowledge management companies that are helping their customers to expand access to information, leverage new opportunities, and accelerate growth."
About Enterprise Knowledge
Enterprise Knowledge (EK) is a services firm that integrates Knowledge Management, Information Management, Information Technology, and Agile Approaches to deliver comprehensive solutions. Our mission is to form true partnerships with our clients, listening and collaborating to create tailored, practical, and results-oriented solutions that enable them to thrive and adapt to changing needs.
About KMWorld
KMWorld is the leading information provider serving the Knowledge Management systems market and covers the latest in Content, Document and Knowledge Management, informing more than 21,000 subscribers about the components and processes – and subsequent success stories – that together offer solutions for improving business performance.
KMWorld is a publishing unit of Information Today, Inc.