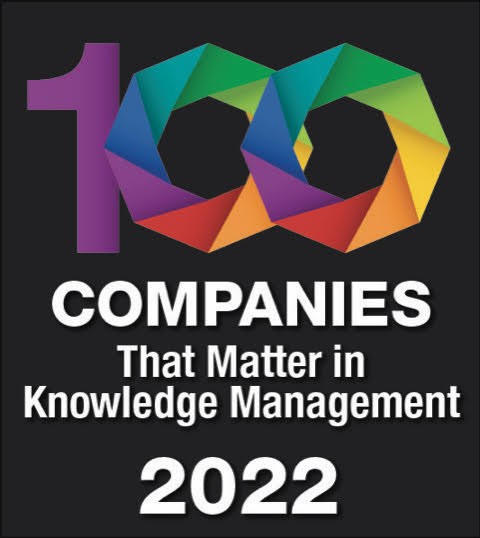 Enterprise Knowledge (EK) has once again been named to KMWorld's prestigious list of the 100 Companies That Matter in Knowledge Management. Recognized for their global leadership in Knowledge Management consulting services, this is the eighth consecutive year that KMWorld has recognized EK with this honor.
EK is unique not just for its longevity on this list but as one of the only KM consulting firms to receive the honor. As in past years, EK has been distinctly noted for its thought leadership shaping the field of Knowledge Management, as well as its comprehensive set of KM consulting services, including strategy, design, implementation, and operations. 
With its consistent growth, EK is the largest dedicated KM consulting firm in the world. This is the 23rd year KMWorld Magazine has published the list of global consultancies and solution providers in the knowledge and information management field.
This new recognition comes on the heels of additional recognition by KMWorld on their list of leaders in Artificial Intelligence, AI 50: The Companies Empowering Intelligent Knowledge Management. EK was recognized specifically for leadership in the knowledge graph and enterprise AI space. This acknowlegment from KMWorld adds to a long list of accolades, wherein EK has not only been recognized for leadership in KM but also as a great place to work by The Washington Post, Washington Business Journal, and Inc. Magazine.
"This continued recognition really belongs to all of my colleagues at EK," said Zach Wahl, CEO of Enterprise Knowledge. "Their consistent dedication to the field of KM and specifically to our clients is what has allowed us to continue our leadership in the space and maintain our pace of innovation and growth."
View the complete list of awardees here: https://www.kmworld.com/Articles/Editorial/Features/KMWorld-100-Companies-That-Matter-in-Knowledge-Management-2022-150943.aspx
Read EK CEO Zach Wahl's View From the Top article regarding this recognition: https://www.kmworld.com/Articles/ReadArticle.aspx?ArticleID=151071
"While digital transformation was well under way more than two years ago, the trend accelerated rapidly when the pandemic hit. It's true that the tumultuous business climate continues unabated, but smart, knowledge-driven organizations have been successfully seizing products and services that help them identify new opportunities, improve customer service, modernize operations, thwart fraudulent activity, make the right information available to staff members who need it, and, when possible, enhance decision making with real-time information," said Tom Hogan, Group Publisher for KMWorld. "Against that reality, KMWorld presents the KMWorld 100 for 2022, a list of inventive Knowledge Management companies whose offerings are targeted at helping organizations expand their use of information and knowledge and accelerate their growth."
About Enterprise Knowledge
Enterprise Knowledge (EK) is a services firm that integrates Knowledge Management, Information Management, Information Technology, and Agile Approaches to deliver comprehensive solutions. Our mission is to form true partnerships with our clients, listening and collaborating to create tailored, practical, and results-oriented solutions that enable them to thrive and adapt to changing needs.
About KMWorld
KMWorld (www.kmworld.com) is the leading information provider serving the Knowledge Management systems market and covers the latest in Content, Document, and Knowledge Management, informing more than 21,000 subscribers about the components, processes, and subsequent success stories that together offer solutions for improving business performance.
KMWorld is a publishing unit of Information Today, Inc. (www.infotoday.com)