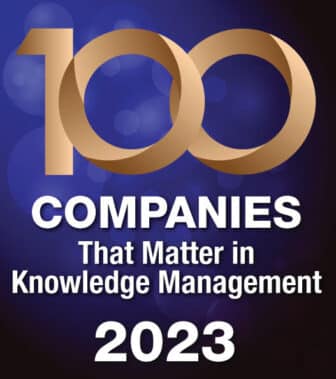 For the ninth year in a row, Enterprise Knowledge has been named to KMWorld's list of the 100 Companies That Matter in Knowledge Management. As the world's largest dedicated Knowledge Management Consulting firm, EK has been recognized for global leadership in KM Consulting services, as well as overall thought leadership in the field.
EK hosts a public knowledge base of 500 articles on KM thought leadership, produces the top-rated KM Podcast, Knowledge Cast, and has published the definitive book on KM benchmarking and technologies, 'Making Knowledge Management Clickable.' EK is one of the only KM Consulting firms to receive recognition on the Top 100 list, distinctly noted for its thought leadership shaping the field of knowledge management, and for its comprehensive set of KM, Data, and Learning Consulting services.
This is the 24th year KMWorld Magazine has published the list of Global Consultancies and Solution providers in the knowledge and information management field. This latest recognition comes on the heels of additional recognition by KMWorld on their list of leaders in Artificial Intelligence, the AI 50: The Companies Empowering Intelligent Knowledge Management. EK was also awarded KMWorld's 2022 KM Reality Award alongside Walmart. The KM Reality Award recognizes an organization in which knowledge management is a positive reality, not just rhetoric. 
"I appreciate KMWorld's recognition, and I directly want to thank all of my colleagues for ensuring we continue to lead the field of Knowledge Management," said Zach Wahl, CEO of Enterprise Knowledge. "We're leading KM in places most never would have dreamed, and I'm proud to see the concrete business value we're delivering for our clients."
The complete list of awardees can be viewed on the KMWorld website. EK CEO Zach Wahl's article regarding this recognition can be viewed on their site as well, where he writes about EK's merged capabilities in KM, Data, and Learning. 
"The increasing power of augmented and artificial intelligence, machine learning, natural language processing, semantic layering, knowledge graphs, cloud computing, chatbots, text analytics, and more has revolutionized many aspects of KM," said Tom Hogan, Group Publisher, KMWorld. "Putting together the list of 100 companies that matter in KM causes us to look at companies with pioneering solutions. We applaud innovation, agility, and a focus on the customer. We are excited about the future."
About Enterprise Knowledge
Enterprise Knowledge (EK) is a services firm that integrates Knowledge Management, Information Management, Information Technology, and Agile Approaches to deliver comprehensive solutions. Our mission is to form true partnerships with our clients, listening and collaborating to create tailored, practical, and results-oriented solutions that enable them to thrive and adapt to changing needs.
About KMWorld
KMWorld (www.kmworld.com) is the leading information provider serving the Knowledge Management systems market and covers the latest in Content, Document and Knowledge Management, informing more than 21,000 subscribers about the components and processes – and subsequent success stories – that together offer solutions for improving business performance.
KMWorld is a publishing unit of Information Today, Inc. (www.infotoday.com)