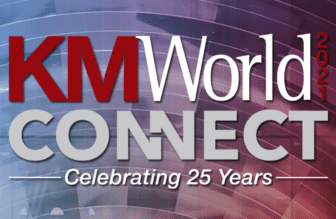 Enterprise Knowledge (EK) is playing a central role at this year's KMWorld Conference. Continuing EK's principles of thought leadership and industry guidance, EK is playing an unprecedented role at KMWorld, the world's leading KM conference. This year, EK experts are delivering an unprecedented thirteen different sessions across KMWorld and the related events including Taxonomy Boot Camp, Enterprise Search and Discovery, and Text Analytics.
The virtual conference runs from November 15-18th, with preceding workshops delivered on the 12th. The conference will provide practical advice, inspiring thought leadership, and access to in-depth training and workshops on how KM and related disciplines can provide value for your organization and transform your business. This year's conference theme, Knowledge Sharing in the Age of New Technologies, focuses on culture, people processes, and the many different types of technologies supporting organizations as they excel in their industries.
To continue our tradition of thought leadership and in order to add a social and interactive element otherwise missing from many virtual conferences over the last two years, EK will also be hosting an open live stream reception on EK's Youtube channel on Monday the 15th of November from 5-7pm. Over the course of two hours, EK's CEO Zach Wahl and EK Consultant Adam Eltarhoni will speak with each of EK's KMWorld presenters as well as assorted other guests. All KMWorld attendees, as well as the wider Knowledge Management community will be able to join the session, ask questions, and participate in the conversation via chat.
On the final day of KMWorld, following the closing keynote, Wahl will also present a live version of Knowledge Cast, the number one KM Podcast in the world, as ranked by Feedspot. This special episode of Knowledge Cast will include several KMWorld attendees sharing a live discussion on the themes from this year's conference. In addition to EK's prominent speaking roles and other thought leadership, EK is serving as a sponsor at the conference for the eighth year in a row. 
The full list of EK speakers and topics is below. Register for the conference here. 
11/12/2021 9:00–12:00 – Sara Mae O'Brien-Scott, Semantic Engineering Consultant and Zachary Wahl, CEO – Taxonomy 101

11/16/2021 2:00–2:45 – Jenni Doughty, Senior Solutions Consultant, Taxonomy & Ontology Design and Megan Salerno, Knowledge Management Consultant – Virtual Tools & Techniques to Promote a User-Centric Taxonomy Design

11/16/2021 4:00–4:45 – Joe Hilger, COO – Implementing Search in the New World of AI & ML

11/16/2021 4:00–4:45 – Polly Alexander Director, Knowledge Management, HealthStream, Inc.; Sara Nash, Technical Consultant, Data and Information Management – Enabling KM in Health Enterprises

11/17/2021 12:45–1:45 – Laurie Gray, VP, Customer Experience and Design, RGP; Tatiana Cakici, Senior KM Consultant – Taxonomy Case Studies: RGP and Health Education England

11/17/2021 12:45–1:45 – Helmut Nagy, COO, Semantic Web Company and Joe Hilger, COO – Enriching Knowledge Graphs – A Two-Way Street

11/17/2021 2:00–2:45 – Ann Bernath, Software Systems Engineer, NASA Jet Propulsion Laboratory (JPL); Bess Schrader, Senior Consultant; and Daria Topousis, Software Systems Engineer, NASA Jet Propulsion Laboratory (JPL) – Institutional Knowledge Graph: Leveraging Semantic Tech

11/17/2021 3:00–3:45 – Liz White, Senior KM Analyst – Understanding Your Users Through UX Design

11/17/2021 4:00–4:45 – Liz White, Senior KM Analyst – Maximizing KM Value With UX & Knowledge Graphs

11/17/2021 4:00–4:45 – Zachary Wahl, CEO – Stump the Taxonomist/Ontologist: Q&A with Experts!

11/17/2021 5:30–7:00 – Guillermo Galdamez, Senior Consultant – Crafting & Selling a KM Strategy to Your Organization

11/18/2021 12:30–1:30 – Aylin Cetin, Senior Analyst and Instructional Designer; Cari Kreshak, Learning Experience Manager, National Park Service – Learning & Culture for Better KM

11/18/2021 2:45–3:30 – Amber Simpson, Senior Manager, Learning & Development, Walmart and Todd Fahlberg, Senior KM Consultant – CM, Digital Workplaces, & Information Architecture
About Enterprise Knowledge 
Enterprise Knowledge (EK) is a services firm that integrates Knowledge Management, Information and Data Management, Information Technology, and Agile Approaches to deliver comprehensive solutions. Our mission is to form true partnerships with our clients, listening and collaborating to create tailored, practical, and results-oriented solutions that enable them to thrive and adapt to changing needs. At the heart of these services, we always focus on working alongside our clients to understand their needs, ensuring we can provide practical and achievable solutions on an iterative, ongoing basis. Visit our website to see how optimizing your knowledge and data management will impact your organization.