Enterprise Knowledge has been named one of Inc. Magazine's Best Workplaces of 2022.
This represents the fourth year Enterprise Knowledge (EK) has been included on this list. The award is the result of a wide-ranging and comprehensive measurement of American companies that have created exceptional workplaces and company culture whether teams are operating in person or remotely. Out of thousands of applicants nationwide, Inc. recognized less than 500 winning companies. As noted on the Inc. website, "Creating a culture teams truly love isn't about working from home or kombucha on tap. These are the 475 companies that get it."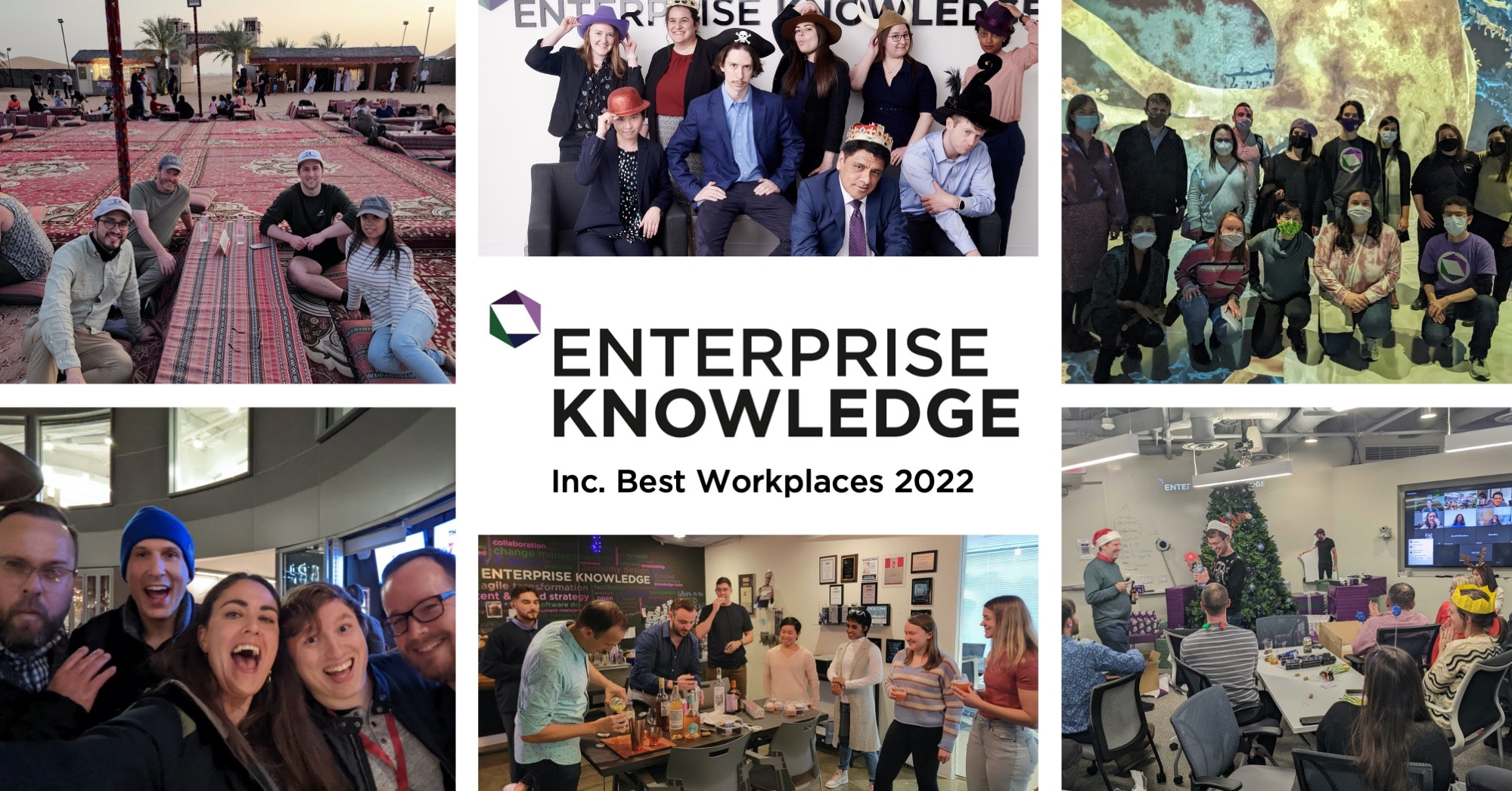 After collecting data from thousands of submissions, Inc. selected 475 honorees this year who best represented dedication to "redefining and enriching the workplace in the face of the pandemic," according to Inc. editor-in-chief Scott Omelianuk. Each nominated company took part in an employee survey conducted by Quantum Workplace, which included sections on management effectiveness, perks, fostering employee growth, and overall company culture. EK's benefits were also audited to determine the overall score and ranking.
Of specific note, EK has also been included on the Inc. 5000, the list of the fastest growing private companies in the United States, for the last four years. This demonstrates EK's ability to scale while maintaining, adapting, and building on its culture.
"Though I am always proud to receive this recognition, this year feels particularly noteworthy as it comes after a full year of the pandemic," said EK CEO Zach Wahl. "I'm extremely grateful for the flexibility and resiliency of our team, especially during this challenging time."
This recognition for EK follows similar awards, including Washington Business Journal Best Places to Work, Arlington Chamber of Commerce Best Business, and Washingtonian Magazine Great Place to Work.
The complete list with details can be found at https://www.inc.com/best-workplaces.
About Enterprise Knowledge
Enterprise Knowledge (EK) is a services firm that integrates Knowledge Management, Information Management, Information Technology, and Agile Approaches to deliver comprehensive solutions. Our mission is to form true partnerships with our clients, listening and collaborating to create tailored, practical, and results-oriented solutions that enable them to thrive and adapt to changing needs.
The world's most trusted business-media brand, Inc. offers entrepreneurs the knowledge, tools, connections, and community to build great companies. Its award-winning multiplatform content reaches more than 50 million people each month across a variety of channels including websites, newsletters, social media, podcasts, and print. Its prestigious Inc. 5000 list, produced every year since 1982, analyzes company data to recognize the fastest-growing privately held businesses in the United States. The global recognition that comes with inclusion in the 5000 gives the founders of the best businesses an opportunity to engage with an exclusive community of their peers, and the credibility that helps them drive sales and recruit talent. The associated Inc. 5000 Conference is part of a highly acclaimed portfolio of bespoke events produced by Inc. For more information, visit www.inc.com.
Quantum Workplace, based in Omaha, Nebraska, is an HR technology company that serves organizations through employee-engagement surveys, action-planning tools, exit surveys, peer-to-peer recognition, performance evaluations, goal tracking, and leadership assessment. For more information, visit QuantumWorkplace.com.