The Arlington business community celebrated our area's best in business at the Arlington Chamber of Commerce's 32nd Arlington Best Business Awards, held on May 2, 2018, at the Key Bridge Marriott Hotel. This annual event recognizes the most illustrious and accomplished businesses that have made significant contributions to the Arlington community. Enterprise Knowledge was honored as the winner of the 2018 Business of the Year.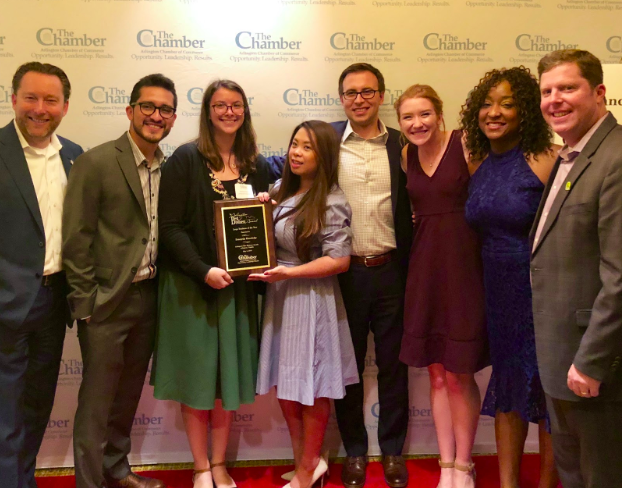 "Enterprise Knowledge has proven that it meets the tough criteria for winning this coveted award," said Kate Bates, Arlington Chamber President & CEO. "The Chamber is pleased to present this award to them, and our community is fortunate to have such a quality organization operating in Arlington."
Arlington Best Business Award recipients are nominated by the Chamber membership and are evaluated by a committee of past award winners, whose scores determine the winners. Criteria for this prestigious award are as follows:
Be a member of the Arlington Chamber of Commerce and located in Arlington.

Be a viable, ongoing, full-time business that has experienced significant growth or stability over its business life.

Be well-known and respected by customers or clients for consistently delivering exceptional quality or service.

Be a leader in its industry in Arlington OR have a significantly unique approach to delivery of its goods or services.

Display an interest in and concern for the Arlington community – either corporately or through its owners and/or employees backed by the company.
"This recognition, and our broader success, is due to the energy, dedication, and commitment of each member of our team," said EK CEO Zach Wahl. "I am so grateful to have these phenomenal colleagues who are driving our culture of excellence recognized by the community."
Joe Hilger, EK COO added, "Every day I am more amazed with what this company has become and where we are headed."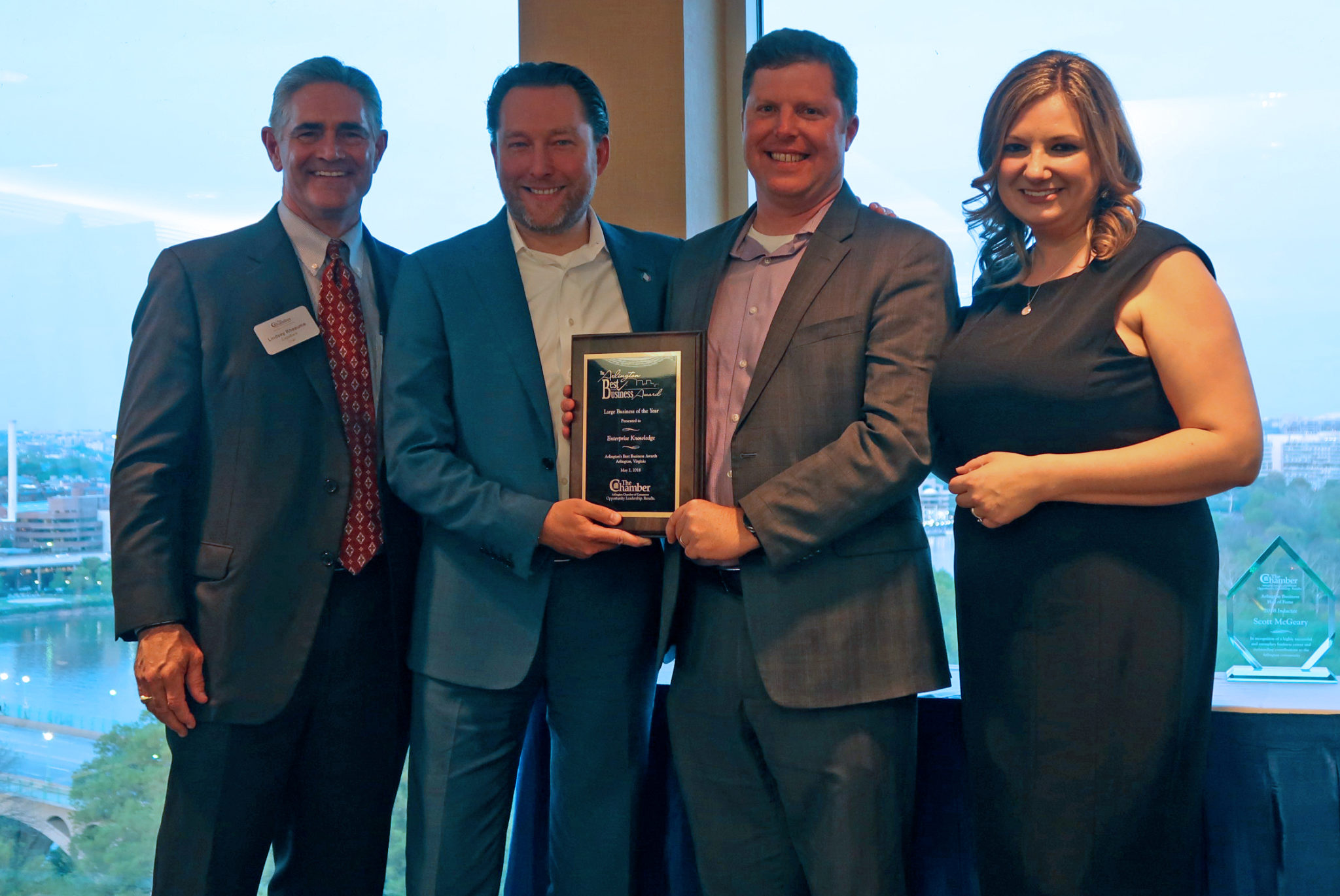 In addition to being named a Great Place to Work, EK has won a number of other recent awards, including:
50 Great Places to Work by Washingtonian Magazine (2017)

Best Places to Work in DC by the Washington Business Journal (2017, 2018)

KMWorld 100 Companies that Matter in KM (2015, 2016, 2017, and 2018)

"Fast Four" award for fastest growing companies from Arlington Economic Development (2016)
To learn more about what it's like to work at EK, visit our Day in the Life page.
About Enterprise Knowledge
Enterprise Knowledge (EK) is a services firm that integrates Knowledge Management, Information Management, Information Technology, and Agile Approaches to deliver comprehensive solutions. Our mission is to form true partnerships with our clients, listening and collaborating to create tailored, practical, and results-oriented solutions that enable them to thrive and adapt to changing needs.
About the Arlington Chamber of Commerce
The Arlington Chamber of Commerce is a 501(c)6 voluntary membership organization of approximately 700 businesses. Businesses and nonprofits primarily join the Chamber for networking and business development, community engagement, educational opportunities, marketing, and to influence the voice of the business community through government affairs and advocacy. The Chamber's efforts are focused on business-to-business and business-to-community opportunities.