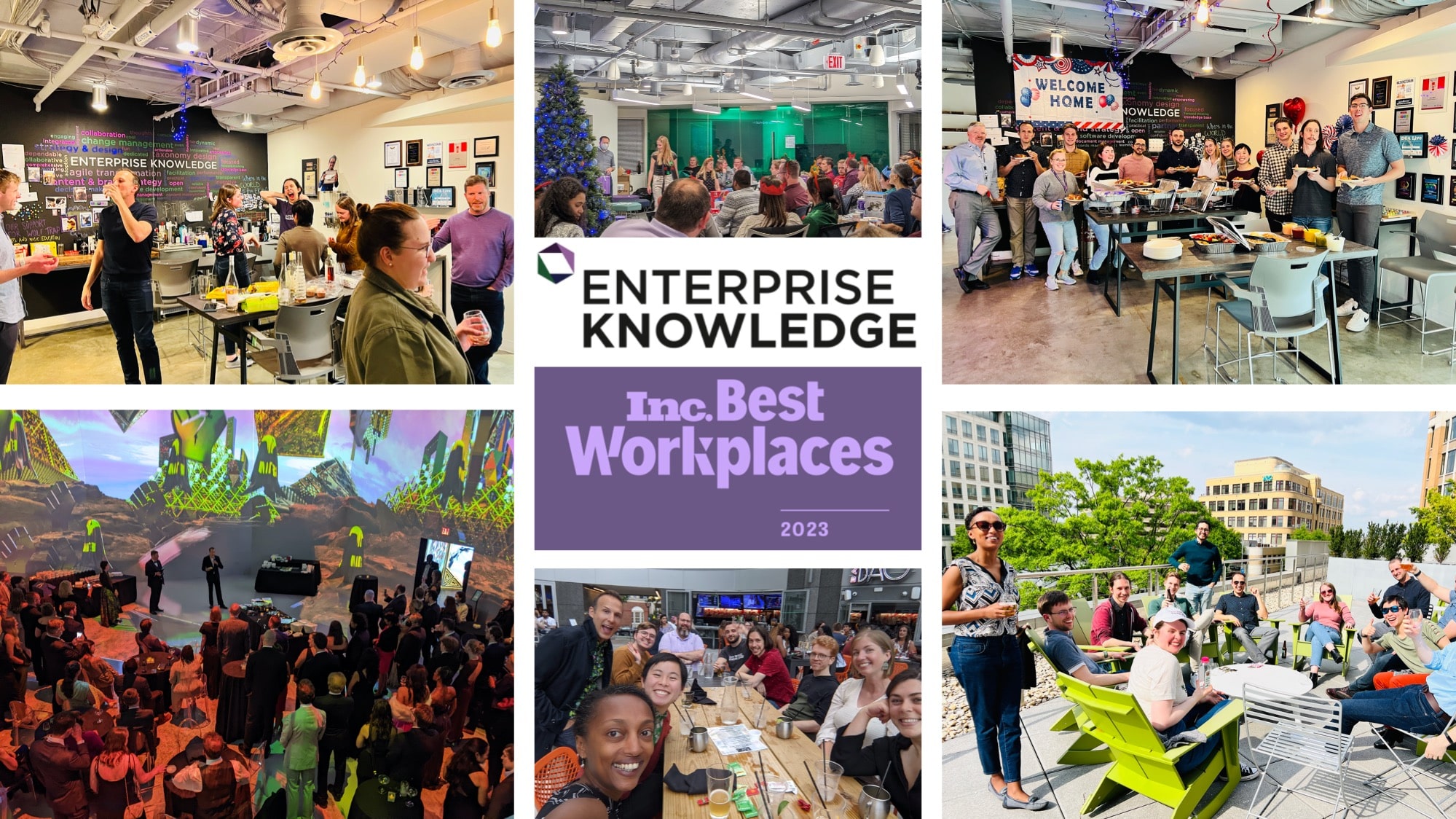 Enterprise Knowledge (EK) has been listed on Inc. Magazine's list of Best Workplaces again for 2023. This is the fifth year EK has been included on this list. The award is the result of a wide-ranging and comprehensive measurement of American companies that have created exceptional workplaces and company culture.
EK has been included on the Inc. 5000, the list of the fastest-growing private companies in the United States, for the last five years as well, demonstrating stewardship of both performance and culture. 
"It's a wonderful feeling to know the team is happy, feels supported, and is growing," said EK CEO Zach Wahl. "We put a massive amount of time and energy into making that the reality, and we're thrilled to see it come to fruition."
"There is nothing more rewarding than being recognized as one of the best companies to work for, where 'going to work' means spending the day with a group of kind and talented individuals who share the feeling and are redefining the future of work," added Lulit Tesfaye, Vice President of Knowledge and Data Services.
This recognition for EK follows similar awards, including Washington Business Journal Best Places to Work, Arlington Chamber of Commerce Best Business, and Washingtonian Magazine Great Place to Work.
The complete list with details can be found at https://www.inc.com/best-workplaces/2023.
About Enterprise Knowledge
Enterprise Knowledge (EK) is a services firm that integrates Knowledge Management, Information Management, Information Technology, and Agile Approaches to deliver comprehensive solutions. Our mission is to form true partnerships with our clients, listening and collaborating to create tailored, practical, and results-oriented solutions that enable them to thrive and adapt to changing needs.