Enterprise Knowledge (EK) has been recognized by the Virginia Chamber of Commerce as one of Virginia's 50 fastest growing companies, ranking at number 19 on the prestigious list. Virginia's FANTASTIC 50 award program is a signature event of the Virginia Chamber of Commerce. Now in its 24th year, the FANTASTIC 50 program is the only annual statewide award recognizing Virginia's fastest growing businesses.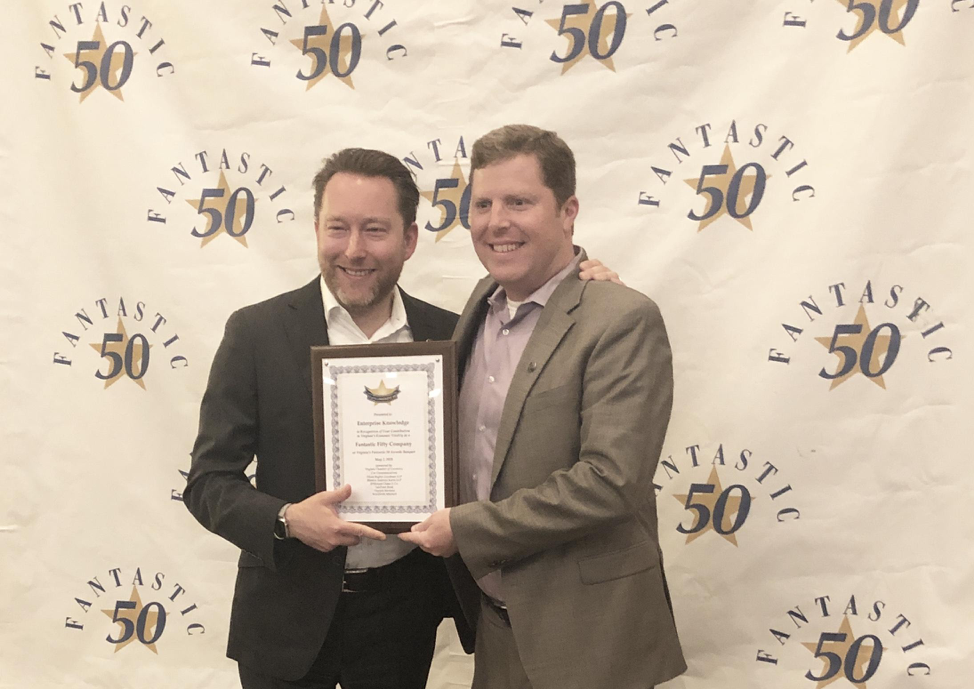 Nominations for the 2019 FANTASTIC 50 were sought last fall from local chambers of commerce, economic development organizations, and through the sponsors' networks.
To be eligible, a company must be privately held with headquarters in Virginia, show revenues between $200,000 and $200 million, and demonstrate positive revenue growth and positive net income in its most recent fiscal year over the previous year. Companies are judged on their four-year revenue history.
"I'm proud to have EK's substantial growth recognized by the Virginia Chamber," stated Zach Wahl, CEO of Enterprise Knowledge, "As we've grown, we've taken great care to maintain our company culture of support and kindness, and I'm thrilled that our employees continue to be extremely happy and engaged at EK. It's our team culture, energy, and commitment that is fueling our continued growth."
Joe Hilger, EK COO added, "We have an incredible team that makes all of this possible. Zach and I are lucky and proud to have such a great group of people who are as invested in the success of EK as we are."
For more on the awards, visit https://www.vachamber.com/event/2019-virginias-fantastic-50-awards-banquet/
About Enterprise Knowledge
Enterprise Knowledge (EK) is a services firm that integrates Knowledge Management, Information Management, Information Technology, and Agile Approaches to deliver comprehensive solutions. Our mission is to form true partnerships with our clients, listening and collaborating to create tailored, practical, and results-oriented solutions that enable them to thrive and adapt to changing needs.

About the Virginia Chamber of Commerce
The Virginia Chamber of Commerce is the largest business organization in the Commonwealth, with more than 26,000 members. The Chamber is a non-partisan, business advocacy organization that works in the legislative, regulatory, civic and judicial arenas to act as the catalyst for positive change in all areas of economic development and competitiveness for Virginia. In December 2017, the Chamber released an update to its long-term strategic economic development plan, Blueprint Virginia 2025, which engaged over 6,000 business and community leaders to lay out a plan to getting Virginia back to the top of national business climate rankings. Learn more at www.vachamber.com.