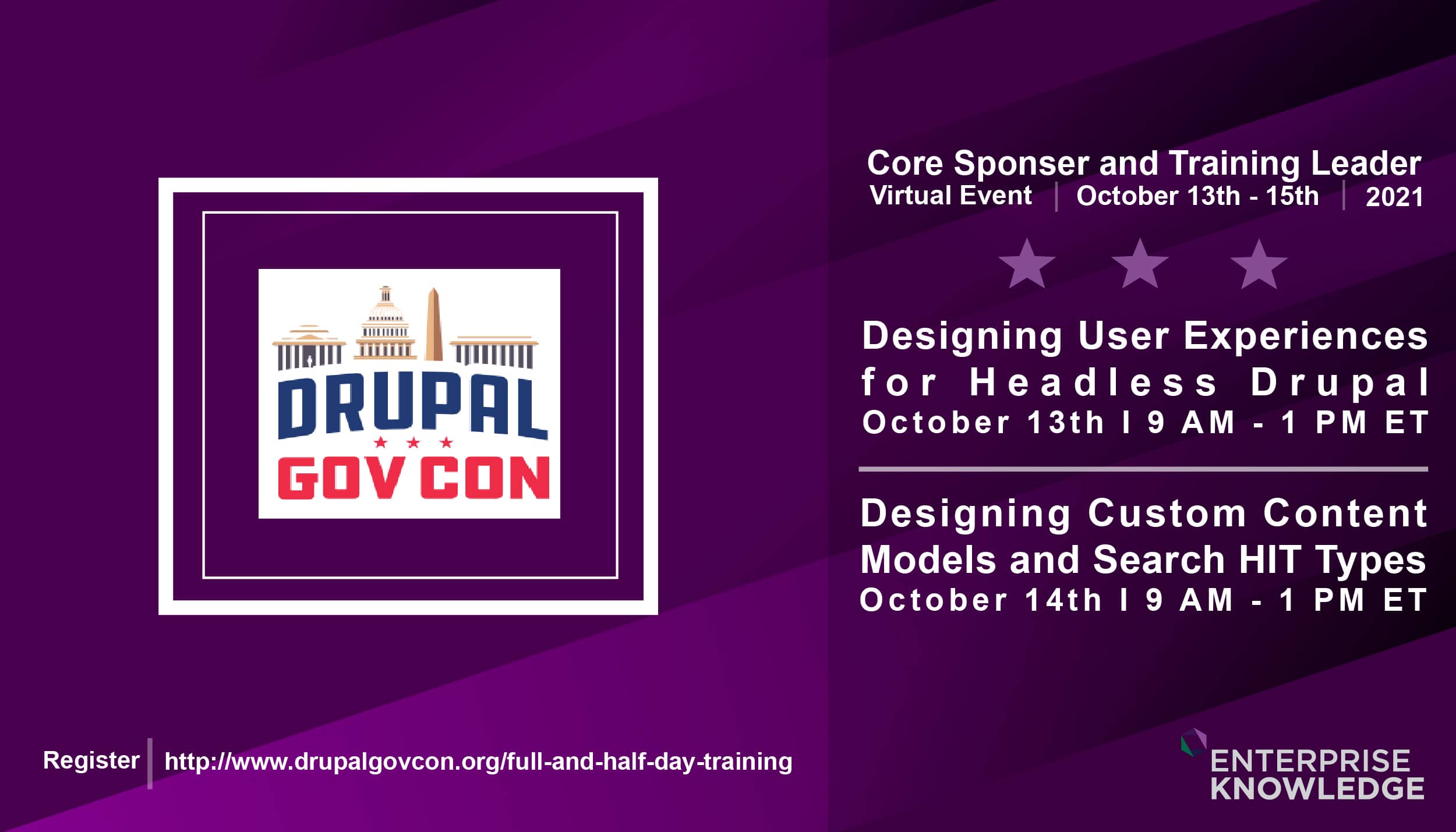 Enterprise Knowledge (EK) is a Core Sponsor of Drupal GovCon 2021! The virtual conference will take place from October 13th to the 15th. This year five EK experts will lead two half-day training sessions at the Drupal GovCon conference. Drupal GovCon brings together people from all over the country who use, develop, design, and support the Drupal platform. Although there is a focus on government, there is also a heavy representation of attendees from the private, non-profit, and education sectors. 
Andrew Ratner, Consultant, will lead a training session with Yanko Ivanov, Principal Solution Consultant, and Nick Sacoman, Drupal developer, on "Designing User Experiences for Headless Drupal" on Wednesday, October 13th, 2021 from 9 AM to 1 PM ET.
Their session will focus on the principles of user-centric design that should be leveraged when designing multi-channel user experiences. Additionally, the session will discuss where the future of content management is going and how to best leverage content components in Drupal. With instructional guidance from EK's experts, participants will have an opportunity to create and design a user journey map to deliver targeted omnichannel content, restructure large documents for content reuse, and perform semantic content modeling.
Lisa McCray, Senior Drupal developer, and Corinne Aherne, Senior Analyst, will lead the training session "Designing Custom Content Models and Search HIT Types" on Thursday, October 14th, 2021 from 9 AM to 1 PM ET.
Their training session will focus on industry best practices for developing a successful content strategy, including how to use elements of content structures to both build content types and design content models. McCray and Aherne will guide participants through an analysis of unstructured content to identify important semantic patterns and will then teach participants how to apply the findings when defining content types. Participants will also learn skills for intentionally structuring their content to improve search. 
Register first for the conference by creating an account here: Drupal GovCon 2021 in order to access EK's half-day training sessions Designing User Experiences for Headless Drupal and Designing Custom Content Models and Search HIT Types.