The Knowledge Management Institute, along with Enterprise Knowledge CEO Zach Wahl, announced the initial speakers for the 2019 KM Showcase: Beyond the Theory.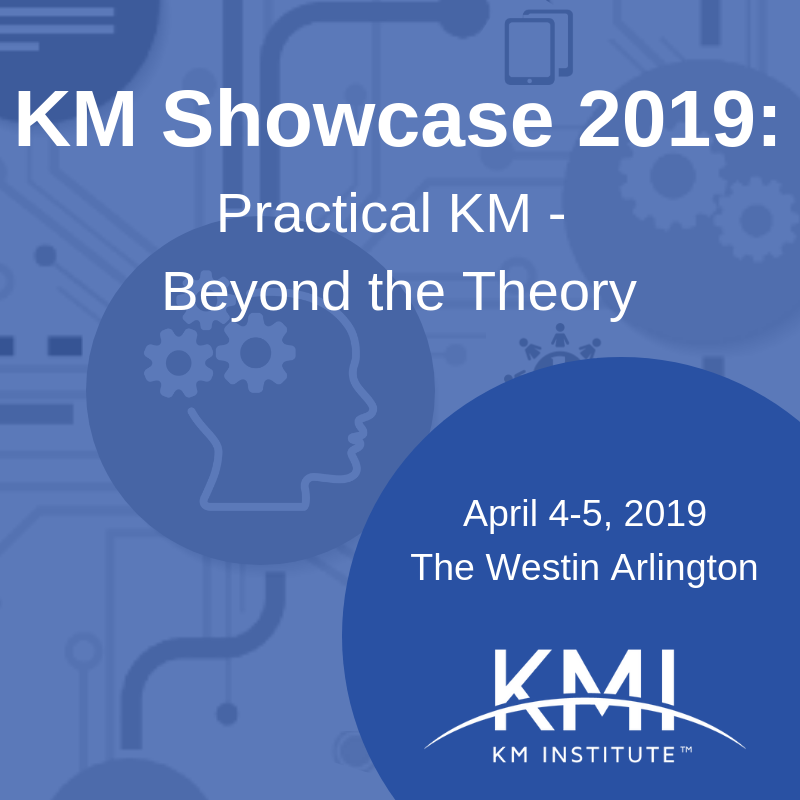 The Knowledge Management conference, hosted by the Knowledge Management Institute and chaired by EK's Wahl, will take place in Arlington, VA on April 4-5, 2019, bringing together Knowledge Management and IT professionals representing public and private sectors, military, and NGOs. 
The speakers consist of global leaders in the Knowledge Management field. In addition, active KM practitioners will share real-world case studies from an array of public and private organizations.
The confirmed speakers include:
Dale Carpenter, Distance Learning Program Manager at the U.S. National Park Service

Jeff Kwaterski, Chief of Knowledge and Learning at Peace Corps

Norma Palomino, Chief of Information Services; Knowledge, Innovation, and Communications Sector at Inter-American Development Bank (IDB)

Bill Kaplan, Founder and CEO of Working Knowledge CSP

Ahren Lehnert, Senior Manager of Text Analytics Solutions at Synaptics

Kristina Podnar, Founder and CEO of NativeTrust Consulting
Now in its fourth year, the Showcase is expanding to a two-day, two-track format in order to delve deeper into comprehensive and practical Knowledge Management practices and case studies. The first track of the conference will feature global experts in KM exploring best practices and applied methodologies, with the second track focused on real-world case studies and KM success stories.
"Our intent with these speakers is to provide practical, actionable, real-world learning and discussion that conference participants will be able to apply immediately," said Zach Wahl.
In addition to a series of world-recognized speakers and panels, the conference will integrate innovative sessions leveraging Agile games and Design Thinking exercises, a networking reception, and Sponsor Exhibitions.
The Showcase will be highly applicable for KM professionals and beginners alike, with a range of focused content, breakout workshops and exercises, and opportunities for networking. To learn more and register for the event, visit: www.kmishowcase.com.