Putting the Knowledge in Knowledge Bases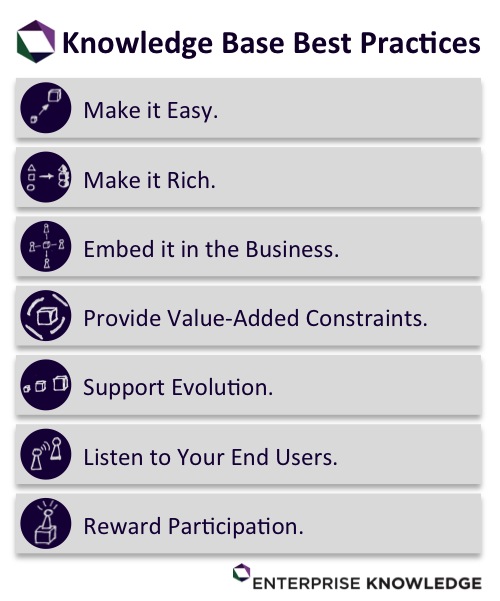 Across the spectrum of the Knowledge and Information Management services offered by Enterprise Knowledge, one of the common themes of late has been the design and development of knowledge bases for helps desks and call centers.  We've all heard the phrase that content is king, recognizing that knowledge and information management systems are only as good as the information within them.  This is especially true for knowledge bases, where getting quick access to a complete set of meaningful "answers" is directly related to customer satisfaction and end user service.
There are many aspects to the design and implementation of knowledge bases that will determine return on investment and overall success and adoption.  In our experience, the below are the most critical best practices to ensuring the appropriate information is captured and enhanced, ensuring your organization's knowledge will be used and reused by those who need it.
Make it Easy
Through our many knowledge gathering activities at organizations around the world, we consistently hear that one of the greatest impediments to information sharing is that it is too hard to load information into the systems at hand.  Often times, this is an issue with poor user interface design or overly complex workflows.  Knowledge bases must be designed and configured to allow information to easily flow into them.  We often use email as a comparison for this:  It should be simpler and faster to load a piece of information into a knowledge base than it would be to send an email with an attachment.
There are several means to support ease of information sharing.  As mentioned above, one is user interface design and related content "uploading" functionality.  Creating a simple "drag-and-drop" type of interface will help users easily upload content.  Ensuring the process to upload content is simple and straightforward, requiring as few clicks or manual entry of information will help minimize the time and complexity of information uploading.
Make it Rich
Well-designed knowledge bases also offer significant opportunities to improve the state of content and enrich it to be easier to find and manage.  One way to achieve this is to ensure that knowledge base designs and systems go beyond text to allow for the inclusion of images, videos, logical decision flows, and integrated functionality.  If a picture is worth a thousand words, a succinct video from an organizational expert is worth a million.  When designing your knowledge base, think beyond text to support the capture, management, and findability of a wide range of media in an integrated fashion.
Your knowledge base content can also be enriched with metadata tags to support its findability and discoverability.  This is especially important for non-text content, but is important for all.  Designing an easy to use and intuitive business taxonomy and applying it to all your content will support faceted navigation and the discovery of related content on key topics.
Of course, it is incumbent on knowledge base designers to ensure metadata can be applied quickly to support the aforementioned need for easy publishing.  There are three primary options for this:
If you are applying metadata manually and asking your business users to apply it, focus on the one or two most valuable fields that won't take undue time or consideration to apply.
Consider leveraging supporting staff and a concise content governance plan to own the metadata application process, taking the onus off the business users.
Explore the use of automated metadata tools to speed and simplify the metadata application process.
Overall, a hybrid approach with all three of these options is typically the ideal but there are many permutations that can work.  For a more in depth discussion of ways to simplify metadata management see our blog "Six ways to Simplify Metadata Management."
Embed it in the Business
Like any knowledge or information management system, a knowledge base should exist as one component within an integrated enterprise.  Defining the processes, technical integration points, and related governance between systems will help to ensure meaningful content consistently gets captured within the knowledge base.
Integrating your knowledge base with other knowledge and information systems provides easier means of information sharing.  For example, EK recently helped a client integrate their existing social platforms and content management system with their new knowledge base to allow key content to "flow" into the knowledge base with one click.  Now, select users can easily share their knowledge through a range of means, ensuring that it is captured for others to leverage and enhance
Provide Value-Added Constraints
Many organizations make a mistake of overly constraining the means by which information flows into a knowledge base, who's allowed to publish into knowledge bases, or what types or formats of information may be placed within the knowledge base.  Overly constrained systems tend to choke.  At the same time, "Wild West" systems that allow anyone to load anything in any place will quickly run out of control, diluting the most valuable information to the extent that finding it will be like looking for a needle in a haystack, with an additional haystack getting dumped on top of the pile every few months.
Organizations have to endeavor to provide value-added constraints that walk the line between overly loose and overly tight governance models.  Simple workflow that provides quick content editing and metadata enrichment is great, but overly complex workflows that delay the publication of content must be avoided.  Equally, clear definition of article types and development of templates for consistently formatted content is a huge value-add, as long as it is designed with involvement from the business users to ensure the right article types are defined and the templates actually meet the business needs.
Support Evolution
Knowledge and knowledge systems, like the business itself, will die if they don't continuously evolve.  As discussed above, content governance and supporting processes are critical to ensuring good information is consistently captured and enhanced within the system.
Smart application of technology also plays an important role.  For instance, we recently worked with one of our customers to design a two-tier knowledge base.  Official content that has gone through established content governance reviews is the anchor of the knowledge base, but working content in the form of collaborative blogs serves to support the evolution of the system.  The call center agents are empowered to use their time in between calls to create or edit working content, which is then reviewed by content reviewers and "graduated" as official content following review and approval.  This two-tier process makes the best use of agent time and knowledge, content processes, and supporting technologies.  It holds the added value of elevating call center agent responsibilities and giving them the welcome responsibility to enhance their own tools by sharing their expertise.
Listen to Your End Users
Along with the evolution of content, organizations must focus on understanding and serving the needs of their end users.  Ideally, this can be accomplished through a combination of active and passive means.  Active engagement will include polling your call center agents or providing them with technical means to report on commonly asked questions or topics and potentially engaging your end users directly to understand their satisfaction with the knowledge base, the topics they care about, and the areas they wish for more depth of content.  Passive monitoring will focus on knowledge base system metrics including common search terms, most popular content and topics, and navigational paths of users.
With a combination of Active and Passive metrics, organizations will have the means to focus their knowledge creation on the topics that are most important to their users.  This also requires an active governance model and an investment in knowledge capture to ensure the evolution of content discussed above.
Reward Participation
Finally, the most successful knowledge base efforts will be those where content creators and contributors are rewarded for their efforts.  There is any number of means to do this.  This may simply mean identifying the most active or most valued contributors or providing them simple incentives.  One organization with whom EK works decided to reward additional hours of paid leave each month for the MVP content contributors.  Another provides gift cards each quarter.  Yet another took a much more advanced view of content contribution and created a gamification model that includes knowledge base content contribution as one of 10 factors that figured into bonuses and promotions.  Regardless of the specifics, content contribution should be celebrated and rewarded within an organization.
Getting the right knowledge into your knowledge base, and offering supporting processes and technologies to ensure this continues to happen over time is a key factor for success of your systems over time.  Whether you're designing a new knowledge base or seeking to improve the value of an existing system, EK is poised to help by providing the strategic guidance, design, and implementation services necessary for success.  Contact us to learn more.