As part of my keynote address at the KM Showcase last week, I wanted to kick off the conference with a view of what I see as the top KM trends today. These are based on the discussions I'm seeing online, the talks I'm hearing at KM conferences and other trade shows, and, most importantly, the questions and inquiries I'm getting from clients and potential clients.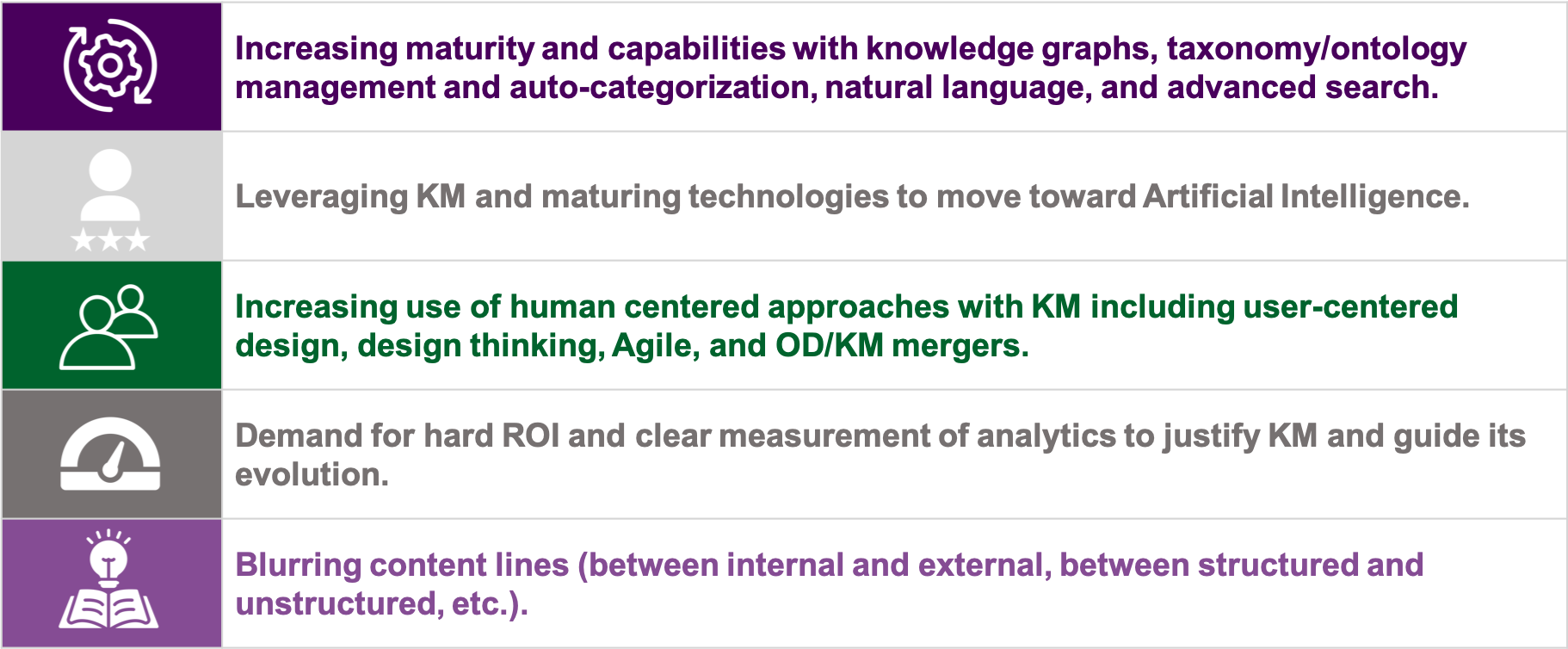 I limited the list to the top five items and encouraged all conference participants to listen for these themes. Though I didn't intend to do so, in discussing this list of trends I realized that I was also covering EK's defined elements of KM: People, Process, Content, Culture, and Technology. This list included:
Increasing maturity and capabilities with knowledge graphs, taxonomy/ontology management and auto-categorization, natural language, and advanced search

: Though we refer to Technology as an enabling factor of KM, the fact is that we are at a very exciting place with some of the latest technologies. Concepts and ideas that have been discussed for years, like reliable auto-tagging, natural language processing, and ontological mapping of different types and sources of data are now a reality. What this means is that the findability, discoverability, and relatability of knowledge and information is improving.

Leveraging KM and maturing technologies to move toward Artificial Intelligence:

As I mentioned above, the various technology suites that often come up in the context of KM have improved drastically to the point where they're realities for organizations. The next step in this evolution is

Knowledge Artificial Intelligence

. Organizations that have invested in their KM foundations (taxonomy, content types, content architecture, content governance, tagging, etc) are finding themselves vastly more prepared to address their AI goals. Combining a solid KM foundation with ontology management, semantic web, and knowledge graph technologies translates into an extremely "smart" system powered by your organization's best knowledge. This isn't the future. If you are taking the right approach, this is your organization's now.

Increasing use of human-centered approaches with KM including user-centered design, design thinking, and Organization Development/Knowledge Management mergers:

The trend here, in short, is long overdue. KM will always fail if the end users and stakeholders aren't in the center of the strategy, design, implementation, and operations. I'm proud that EK has been a major driver in this space, and we will continue to be so. It is great to see the field as a whole becoming increasingly aware that KM needs to consider humans and human behaviours in order to succeed.

Demand for hard ROI and clear measurement of analytics to justify KM and guide its evolution:

I've been doing this long enough to have experienced several rather uncomfortable economic downturns. In each one, I saw my client's KM efforts cut due to economic constraints. KM has for too long been considered a "nice to have" as opposed to the necessity it is. Too many practitioners continue to stress theory instead of practice and business value. Every KM effort should include a clear justification of business value and outcomes and I'm pleased to see that as a core element of the discussion.

Blurring content lines (between internal and external, between structured and unstructured, etc)

: This point speaks to technology changes, but significantly moreover, to the different manners in which organizations are capturing, managing, finding, and using their information. The days of a list of links to files serving as a good search result have long passed. We're at a point where our users want the right information (regardless of its source, structure, or form) in an easily consumable manner, and also within the context of the question asked and the need expressed. What this means is that the actual state and location of content is increasingly less important. What matters is the ability to integrate, contextualize, and surface it amongst other knowledge in order for end users to take action.
I view each of the trends here as encouraging. Each of these, if they continue, will result in KM fueling the business outcomes we want for our organizations. If leveraged properly, KM and the specific trends we see here will lead to organizations better using, reusing, and acting upon their knowledge, resulting in greater productivity, learning, and satisfaction.  
Are you harnessing these trends effectively? Enterprise Knowledge is here to help.