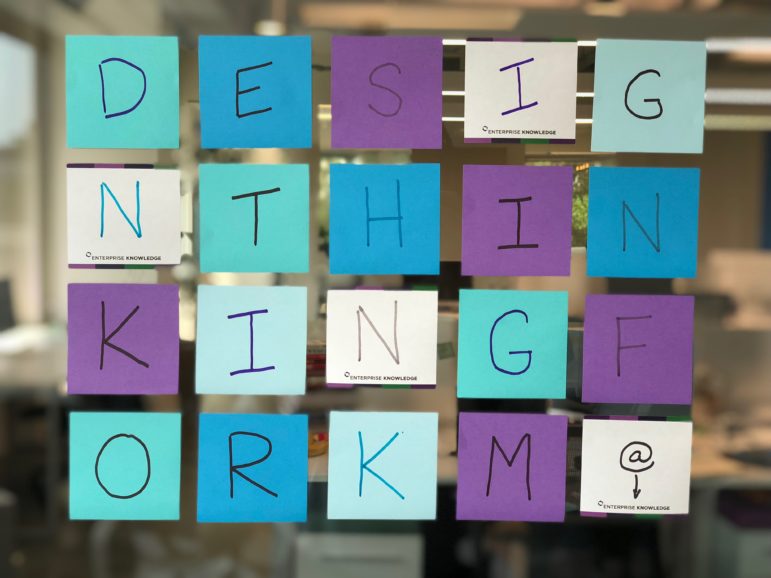 As I've often asserted, one of the major reasons KM efforts fail is the lack of early, frequent, and consistent involvement from end users. We also continue to see organizations struggle with early KM strategy and decision-making, failing to get the buy-in necessary for a true KM transformation. This isn't just about building users into the design effort. Beyond that, it's about engaging them in the initial discussions regarding wants and needs and what's working and what's not, within the focused context of Knowledge and Information Management.
At EK, we counteract this lack of foundational involvement from end users by leveraging a series of top-down activities including interviews, focus groups, workshops, surveys, job observations/shadowing, and brainstorming games. Throughout all of these efforts, we leverage Design Thinking to progress collaboratively with those who need KM, from new employees to senior executives.
Overall, Design Thinking and Knowledge Management are a natural fit. Effective KM requires user-centered design with a laser focus on the real challenges preventing the organization from successfully harnessing their knowledge as well as innovative thinking regarding the practical solutions to address those challenges. The Design Thinking method directly addresses each of those needs and more.
Beyond the core benefit of putting the user at the forefront of the process, approaching KM from a Design Thinking perspective has a broad array of benefits, including:
Helping organizations to cast off assumptions about their KM needs, which often focus too much on a technology solution;

Letting real business needs and individual wants drive the KM strategy, ensuring a focus on business value and practical KM;

Allowing for small mistakes, and learning from those mistakes, in order to achieve a KM strategy that will really stick; and

Keeping a focus on showing value quickly and iteratively, assuaging questions and concerns regarding the efficacy of KM.
Approaching KM from a Design Thinking perspective, above all else, is about empowering your end users (those who will be asked to lead, sustain, evolve, and benefit from the KM program over time) to own KM within their organization from the start. At each step in the process, our Design Thinking for KM approach (DTKM) is equal parts education, coaching, brainstorming, action planning, and prototyping, aimed at helping an organization to get "unstuck" with KM by putting the end users at the center of the journey: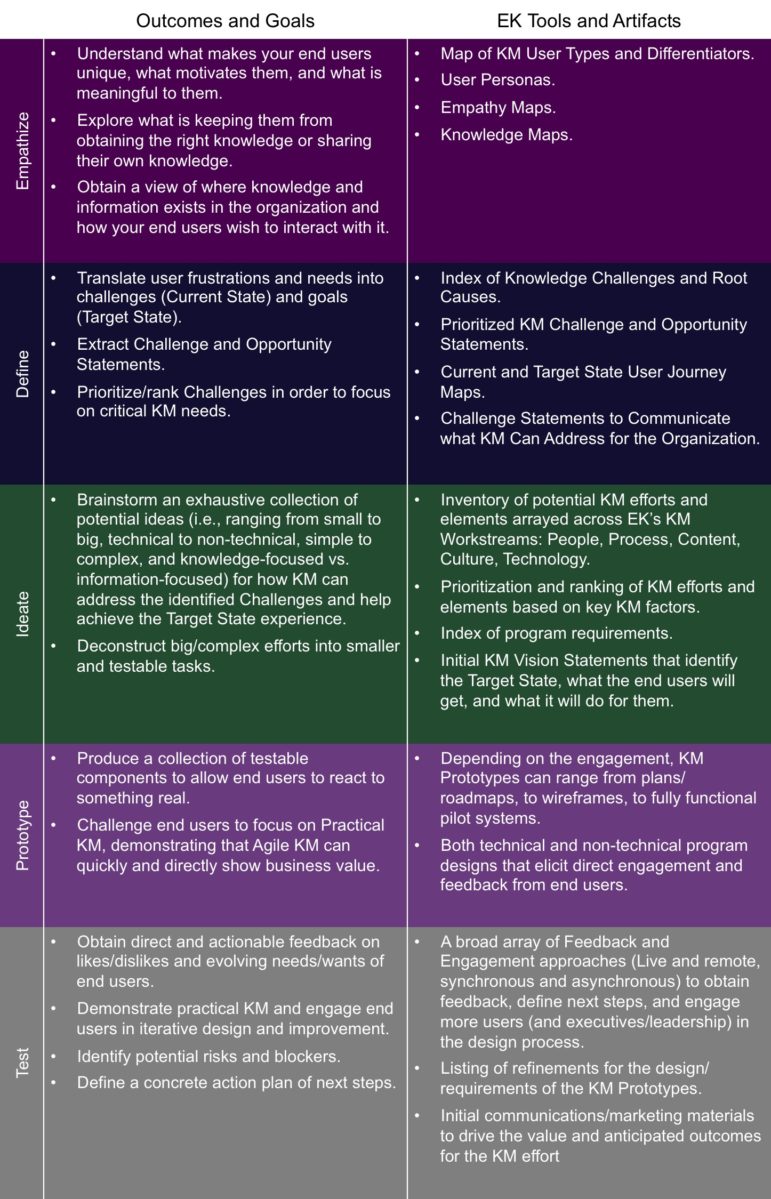 We've developed our DTKM approach into a specific KM Strategy workshop, but it's critical to recognize that Design Thinking isn't just about workshops. At EK, we align complete KM Strategy and Design efforts cleanly and clearly with the Design Thinking approach. What we have found is that the most effective initiatives don't simply follow the Design Thinking stages in a linear fashion. Rather, they evolve and progress from stage to stage in increasing levels of user engagement and practical KM focus — we will often revisit a stage with a client to ensure we have framed the right opportunity and are focusing on what matters to their end users.
Moving forward, my colleagues and I will detail each of the above Design Thinking stages in greater detail, to ensure KM is user-focused, practical, and consistently focused on business value.
Looking for help getting unstuck with KM by engaging your end users and showing practical results? Contact us. EK can help.