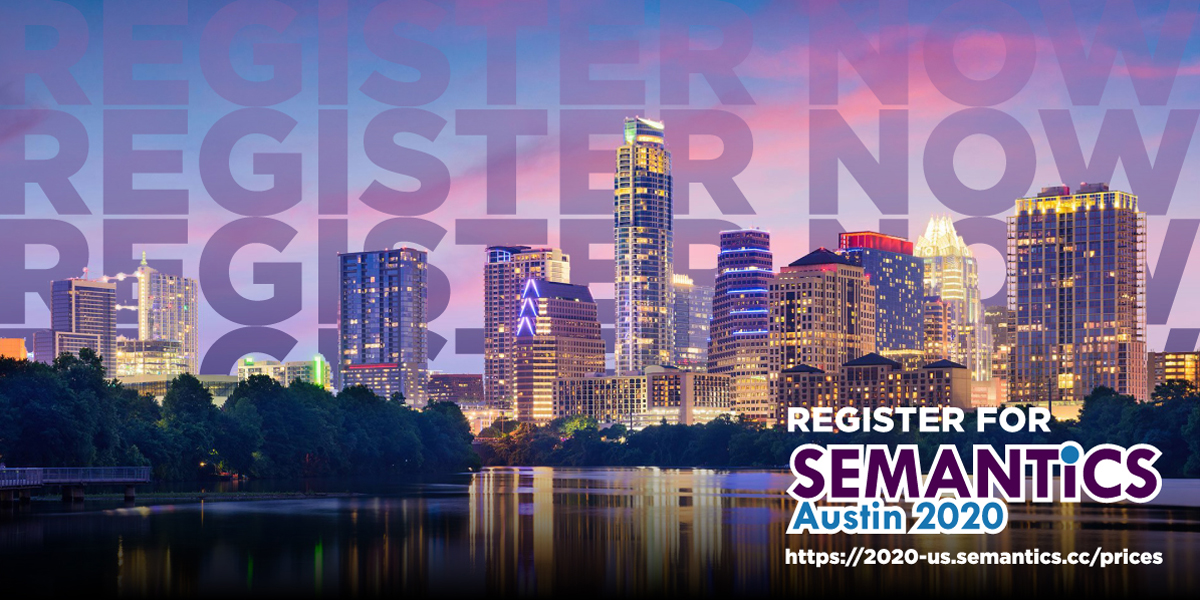 Teaming with Semantic Web Company, Enterprise Knowledge is sponsoring the inaugural SEMANTiCs US conference to be held in Austin, TX, from April 21-23 at the AT&T Conference Center. The multi-day conference will showcase proven practices and real-life case studies of companies using semantics to build artificial intelligence solutions that matter to their business. Additionally, SEMANTiCs US will leverage three simultaneous tracks to ensure active engagement for all levels of interest and experience, from novice to expert.
The conference will cover topics such as Explainable AI, Knowledge Graphs, Semantic Technologies, and Data Governance. A number of renowned experts will speak at the conference, including the following highlights:
Aaron Bradley

, Senior Manager for Web Channel Strategy at Electronic Arts.

Alan Morrison

, Senior Research Fellow, Emerging Technologies at PricewaterhouseCoopers.

Amit Sheth

, Founding Director of the Artificial Intelligence Institute and Professor of Computer Science & Engineering at the University of South Carolina.

Ruben Verborgh,

Technology Advocate for Inrupt.
Joe Hilger, COO of Enterprise Knowledge and Chair of SEMANTiCs US, is excited about the speakers already lined up: "We have fantastic speakers joining the conference. It will be a great opportunity for people to engage with some of the leading experts and business stakeholders in the field and learn more about Knowledge Graphs and Explainable AI."
More information on SEMANTiCS 2020 can be found here: https://2020-us.semantics.cc/.
About Semantics Conference Series
SEMANTiCS is an established knowledge hub where technology professionals, industry experts, researchers and decision makers can learn about new technologies, innovations and enterprise implementations in the fields of Knowledge Graphs, Linked Data and Semantic AI. Founded in 2005 the SEMANTiCS is the only European conference at the intersection of research and industry.
In 2020 the SEMANTICS will be held in Austin, TX in April and in Amsterdam, NL in September.
About EK
Enterprise Knowledge (EK) is a services firm that integrates Knowledge Management, Information Management, Information Technology, and Agile Approaches to deliver comprehensive solutions. Our mission is to form true partnerships with our clients, listening and collaborating to create tailored, practical, and results-oriented solutions that enable them to thrive and adapt to changing needs.
About Semantic Web Company
A leading provider in graph-based metadata, search, and analytic solutions, Semantic Web Company helps global 500 customers manage corporate knowledge models, extract useful knowledge from big data sets and integrate both structured and unstructured data to recommend evolved strategies for organizing information at scale. Founded in 2004,  the Semantic Web Company is the vendor of PoolParty Semantic Suite (www.poolparty.biz) and was named on KMWorld's 2016 until 2019 prestigious list of "100 Companies that Matter in Knowledge Management." The company has recently been added to Gartner's Magic Quadrant of Metadata Management Solutions in the category Visionary. Andreas Blumauer, founder and CEO has been nominated to the Forbes Technology Council.