The Challenge

With a strong commitment to supporting their vast and diverse workforce, Sodexo North America sought an integrated platform to better serve the human resources needs of their employees. Sodexo North America wanted to ensure they provided complete and consistent information and services to their employees across a variety of topics including their benefits, job opportunities, and job progression.
This included the need for a next generation case management system, knowledge base, and employee portal. Sodexo North America approached this challenge holistically, seeking to provide enhanced information resources and functionality to their managers to better serve their employees, as well as directly to the employees themselves.
The Solution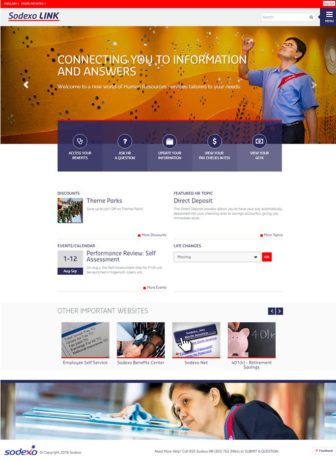 Enterprise Knowledge joined the Contact Center 411 team to provide a range of strategy, design, and implementation services regarding this critical initiative. At the outset of the engagement, EK facilitated a series of strategy sessions in order to help Sodexo North America develop a
complete project strategy and roadmap. This included leveraging Sodexo's own experts and stakeholders in the development of user stories and journeys to guide the initial designs and project priorities.
Early on in the engagement, EK also worked with Sodexo to define a timeline of project phases and tasks, each with measurable success criteria that would help to guide the multi-year project at a more "digestible" level. These activities were critical not just for the project team, but also as a communications tools to help the broader group of stakeholders understand the "HRizon" project and its various components and steps.
EK continued to support Contact Center 411 and Sodexo throughout the engagement, leading the design of an enterprise taxonomy, content governance plan, and content tagging strategy, and supporting the user interface design, wireframing, and overall project strategy.
With Salesforce as the foundational technology, EK worked with Sodexo and Contact Center 411 to design a taxonomy that would work for all system users (call center agents, Sodexo managers, and all Sodexo North America employees) within the context of the environment and chosen technical solution. EK employed our standard taxonomy design methodology, leveraging a combination of top-down (workshops, focus groups, interviews) and bottom-up (content analysis, system analysis, collegial analysis) design activities in order to define the initial design. This approach created context for Sodexo stakeholders and business users to react to, as well as an initial set of requirements from which to design and implement the interface in Salesforce.
Leveraging inputs from the team, we iterated the taxonomy throughout the process. We leveraged card sorting, test tagging, and find-it exercises to validate the taxonomy and ensure it was intuitive to all users and easily translated to an intuitive user interface. We also leveraged workshops and our own internal experts to ensure it was easy to translate into Spanish and supported the overall usability and design goals.
EK employed a similar approach for the Content Governance plan. Beginning with our own set of templates and governance examples, we provided Sodexo with an early draft to respond to via workshop sessions. This process provided Sodexo with the ability to respond to a real product instead of being asked to start with a "blank page," saving critical time in the kickoff of project and content governance planning.
The EK Difference
EK worked with Sodexo from the initial strategy through design, development, and deployment of the comprehensive human resources system. Leveraging our deep expertise alongside our facilitation expertise and workshop methodology, we helped Sodexo stakeholders move quickly from a broad concept to a concerted vision to serve their managers and employees. Our approach helped Sodexo maximize their focus on the end users, designing a system with the functionality, vocabulary, and overall usability that is ensuring their employees embrace this new, powerful system.
Due to EK's focus on business taxonomy design, the HRizon system possesses cutting edge faceted navigation that allows employees to intuitively discover the content that matters to them based on its topic or the life stage they're in. The taxonomy also powers recommendations, showing end users related documents that might also be of value in order to drive the usage of all valuable content. Moreover, the enterprise taxonomy design between the knowledge base and portal integrates the system components to ensure content is most effectively leveraged throughout. The content governance plan plays an equally important role, ensuring the long-term enhancement and growth of the system's content.
The Results
As with all of our clients, EK approached our relationship with Sodexo as a true partnership. We were proud to be with Sodexo on the day the HRizon portal was released. The HRizon system is now fully in production, with Sodexo focused on supporting the system and making iterative enhancements. Sodexo is actively tracking the system based on the established success metrics we helped to define. As a result of the system, Sodexo call agents possess a comprehensive case management system and knowledge base, managers have easier access to consistent information they need in order to support their employees, and employees possess direct, mobile-friendly access to the information they need as well as the people who can support them.